For his increasingly popular topic here's another post in our authoritative guide series: Psychology Credit for Homeschool High Schoolers- An Authoritative Guide.
Psychology Credit for Homeschool High Schoolers- An Authoritative Guide
Back in the day, I wanted my homeschool high schoolers to have a psychology course. Unfortunately, there were no available high school psychology courses back then, especially from a Christian worldview. So, knowing that motherhood is the necessity of invention, I created a psychology text for my teens (and our homeschool co-op).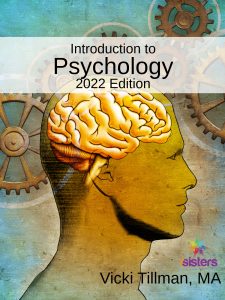 That's been a couple of decades ago, now. 7Sisters has seen that textbook through several editions and the course is as fun as ever. (Since then, there are other texts available to the homeschool community. It's nice to have the variety!)
Of course, the difference between 7Sisters Introduction to Psychology from a Christian Worldview and other texts is our philosophy of education:
Our homeschool high schoolers had opinions about their curriculum. We found that they learned best when their texts followed these guidelines:
Textbooks should not be boring

We want our teens to like their courses, so material is presented in a warm, friendly manner (and sometimes, with a little fun!)

Curriculum should be adaptable

Because every teen has unique goals, needs and abilities, our curriculum includes meaningful ways to "level up" and earn more powerful credits. Teens pick the enrichment activities that help them achieve their own goals.

Textbooks should contain NO busywork

Thus we do not over-teach anything. (Our teens long ago told us they did not appreciate overly long chapters in textbooks that seemed to have non-pertinent information.)

They should prepare students for life

Every text helps teens with practical and/or thinking skills

Curriculum should be affordable

That's why we stick to a pdf format. (Also, for college-bound teens, it helps them get used to working with pdf textbooks that are so common these days.)

It should be written from a Christian worldview
Curriculum should have a 10-day money-back guarantee
It should help students succeed

The texts are written so that most students can work independently
What is Psychology?
Psychology is the study of the mind. That covers a LOT!
Biology of the brain
Sensory awareness
Thoughts
Behaviors and more!
What are benefits of taking a high-school Psychology course
Whether career-bound or college-bound, homeschool high schoolers benefit from increasing their understanding of God's wonderful creation of our mind and personality

They learn some helpful life skills, such as the importance of self-awareness, self-care, sleep and ways to help a hurting friend

These days, it is not uncommon for colleges to look for some Social Sciences on the high school transcript.

(What are Social Sciences? The definition varies from school to school but can include courses such as Psychology, Human Development, Economics, and Sociology.)
What type of course IS Psychology?
Sometimes parents ask how to categorize Psychology for their homeschool high schooler's transcript. I always answer, "It depends…".
It depends on what your teen's goals are:

A teen who needs a Social Science credit on the transcript can categorize Psych as Social Science

Teens who do not need a Social Science credit can count Psychology as:

In some cases, a fourth Science (after the required Biology and Chemistry)
No matter what the goals, Psychology is a helpful homeschool high school course.
What does Introduction to Psychology cover?
Most high school Introduction to Psychology cover the following topics. 7Sisters covers these topics, also, in a user-friendly, no-busywork curriculum that keeps the chapters manageable and interesting!
The Brain and How it Works

Perception

Genetics

Learning

History of Psychology (Ancient to Pre-modern Times )

History of Psychology into Modern Times

Communication

Needs and Motivation

Looking at Personality & Theory

Sleep & Dreams

Abnormal Psychology

Crisis Intervention

Psychological Testing

Christian Counseling

Understanding Research & Statistics

Careers in Psychology
Options for Introduction to Psychology (from 7Sisters)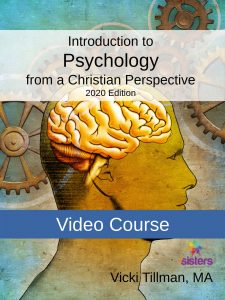 7Sisters has options, including the two versions of the text:
Not only that, but beyond the textbook, teens have been enjoying the optional asynchronous psychology course that can accompany the textbook.
Also, 7Sisters provides extras to help parents and students stay organized with study and record keeping:
When you use the search bar, you'll find LOTS of posts that help you make the most out of your teen's psychology credit.
These posts are great for discussion with teens individually or at co-op:
If you are teaching Psychology in co-op or umbrella-school classes, here are some resources
Introduction to Psychology is such a fun course to teach with a group of teens! Whether teens are thinking about studying Psychology in college or they are just wanting a fun course, they tend to like Psych!
One of the things I hoped for in creating the introduction to Psychology course was that my kids would "like psych" and that maybe, just maybe, one would go into the field. (I can tell you, there are not enough mental health professionals in the world. We need more!)
I hope your homeschool high schoolers like Psych as much as mine did!
Here's a video review of Introduction to Psychology from a Christian Perspective by Hippy Happy Homeschool:
7Sisters email subscribers receive periodic practical encouragement, special offers and NO SPAM EVER.

Click the image above to periodically receive real homeschool value in your inbox.