It may not be everyone's favorite subject, but it is important so here is: Public Speaking for Homeschoolers: An Authoritative Guide.
Public Speaking for Homeschoolers: An Authoritative Guide
Hey, 7th Sisters (and 7th Siblings, for all you dads out there), don't skip this post. You will not regret giving your homeschool high schoolers public speaking training. (In fact, my homeschool grads say it was one of the most important courses during their high school years.)
When he started his homeschool high school years, my second son asked if we could do a speech class. After I got through being amused at the thought of a homeschooler giving a speech to his family around the dinner table (after all, we are homeschoolers, right??), I realized that learning some public speaking skills would be an excellent idea.
We pulled together some ideas and shared them with our local homeschool support group
With their help, we were able to find a group of teens who wanted some speech and debate experience so started a team that is still in existence more than a decade later. Over the years, it has become a steadily popular group. Although I handed off running the group to another homeschool mom years ago, I still love hearing about the progress the teens are making.
One of the things that has made the group so successful is the curriculum we have pulled together. 7Sisters Speech 1: Public Speaking and Practical Life Skills takes teens through a non-threatening, even fun process of learning and practicing public speaking skills.
We will talk more about it later. But first, let's talk about the fundamentals of public speaking:
Why are teens afraid of public speaking?
What are some reasons to teach speech to teens?
Where does public speaking fit into homeschool high school credits?
What formats can you use to teach public speaking?
How do you go about teaching public speaking to teens?
What are tips for handling teaching speech in homeschool co-op?
Why are teens afraid of public speaking?
Many homeschool high schoolers, like many other teens, fear public speaking. When they have to stand up in front of others and speak, many people feel anxious, shy or panicky. That is often because looking at a group of faces looking at them sets their physical alert systems on "fight, flight or freeze mode". Sometimes they have negative self-talk about their abilities or fear of being judged harshly.
So, when your teens express reluctance to learn speech-making skills, tell them that is normal and that any fear they conquer will help them gain confidence in other areas. With that in mind, tell them that when they start small and take fun, baby steps in their public speaking skills, they will get over the nervousness (and maybe even enjoy making speeches).
Why teach speech to teens?
Most people will have to do some kind of public speaking in their adolescent (and adult) years. For instance:
Those who go to college will make presentations in most classes
If they go on a missions trip, they will most likely make presentations at church to raise funds for (or report about the trip)

They will also probably do some sort of speaking on the missions trip

When volunteering as teachers in kids' Sunday School, VBS or other classes, those count as public speaking events
If they become entrepreneurs, likely they will join a business group like the Small Business Chamber of Commerce, for networking and will give elevator pitches to the group. These are both kinds of public speaking.
Where does public speaking fit into homeschool high school credits?
As you know, there's not one right way to homeschool high school, but here are three ideas for ways to cover public speaking with your teens:
Include it as a component of your English/Language Arts credit each year
Generally, one or two speech presentations per year will suffice as part of ELA credits. That is what you will find in 7Sisters' Comprehensive ELA bundles (literature study guides, writing guides, public speaking, vocabulary and grammar integrated).
Give your teen a full or partial elective credit in Public Speaking
Remember, electives are important for the homeschool transcript. Electives give the transcript sparkle while helping teens develop interests or areas where they need to build a new skill. Public speaking is one of those important life skills that often require training and practice.
Simply count Public Speaking as an extracurricular
Teens need extracurriculars on their homeschool transcript. If they are in a team or competition group, homeschool high schoolers might like to list this as an extracurricular on their transcript.
We have found that when teens list speech (or debate) teams on their transcript, it often attracts the attention of college admissions officers (and sometimes military recruiters and academy admissions personnel). This has paid off with favorable acceptance, and occasionally, some scholarship money.
The most important thing you need to do is make it fun! You can make speech fun if you are teaching speech in a co-op, with more than one teen or even an individual teen.
So many times we want to teach our homeschool high schoolers to be great at what they are learning. However, with public speaking, it is just the opposite. Most of our teens will NOT grow up to be professional speakers. They just need to be comfortable speaking when they must.
I always share my favorite quote with our homeschool high schoolers:
Anything worth doing is worth doing badly. -G.K. Chesterton
So if they don't need to be perfect, the can concentrate on having fun!
With the goal of having fun with public speaking, I got together with a homeschool mom-friend and created a public speaking class (called Rhetoric League) that taught our local teens the skills they need in a light-hearted format. Teens liked it so much that we captured it for you in Speech I Teacher's text and Student text.
Here are some exercises we do together to prepare for every public speaking lesson:
Deep breathing exercises

and relaxing shoulder rolls

Smiles (not kidding, plaster a smile on your face and hold it for ten seconds)
Tongue twisters (while smiling) like:

Round and round the rugged rock the ragged rascals ran
Rubber baby buggy bumpers
Where moth and rust doth corrupt
Peter Piper picked a peck of pickled peppers
When we worked with a homeschool co-op we would use the teacher's guide and each student would use the student workbook. When working individually (not in a class, group or co-op), students use the teacher's guide, so they do not miss any instructions.
weekly lesson plans
video links that give examples for each topic
interactive discussion questions/evaluations (this includes teaching teens to give each other specific but encouraging evaluations)
confidence-building activities
lots of practice
a separate download when you purchase the teacher's guide with all the evaluation forms for easy copying
Here is the 15-week schedule (in both the teacher's guide and student guide). Lessons: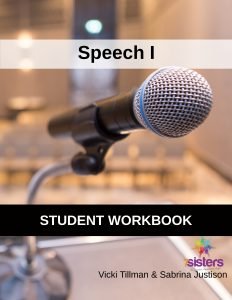 1:

Presenting Kid Lit (Interpretation of Children's Literature)

2:

Presenting a Bible Reading
3: Presenting Spoken-Word Poetry

4:

Presenting a Humorous Monologue

5:

Organizing & Writing a "Visual Aid How-to" Speech (Expository Speech)

6:

Gathering Materials & Practicing a "Visual Aid How-to" Speech (Expository Speech)

7:

Presenting a "Visual Aid How-To" Speech (Expository Speech)

8:

Organizing & Researching a Biographical Report (Expository Speech)

9:

Writing & Practicing a Biographical Report (Expository Speech)

10:

Presenting a Biographical Report (Expository Speech)

11:

Creating & Presenting an Elevator Pitch

12:

Creating & Presenting a Sales Pitch

13:

Presenting an Infomercial (Group Project)

14:

Practicing Beginning Interview Skills

15:

Presenting a Children's Bible Lesson
Click here for some additional resources for Speech 1 Lessons 1-4. Also, take a look at an excerpt from 7Sisters Speech 1 curriculum.)
Then teens practiced outside the lesson time with real-life speaking opportunities, such as:
The dinner blessing at major family events (more than only the nuclear family attending)

Prayer counts as public speaking! This is a good first public speaking exercise (and a stretch for shy teens). Christmas, Thanksgiving and Easter often provide meals and a prayer.

Church Christmas play or homeschool drama camp

Click image for full description.

Drama counts as public speaking (so does drama camp). Teens often enjoy plays and readers theater so much that they join other drama productions. This is a great way to enrich the transcript!

Local speech competitions

American Legion, English Speaking Union, Poetry Outloud, ASCI competitions (our regional ACSI organization allowed our umbrella school to compete), and more.
Local speech competitions are a marvelous way to practice speech skills in an official speech setting. Not only that, but competitions look great on the homeschool transcript!

Debate Team

Debate counts as public speaking. We used an official curriculum we found at HSLDA. Some of our teens loved this, some not. A few of the teens liked it so much that they went on to college debate/forensics teams.

Homeschool Rhetoric League

My adult kids have all told me that Rhetoric League was the best thing they did in high school- maybe not their favorite- but the skills they learned have been important all through college and career. The activities in 7Sisters Speech curriculum are the exact activities we did in Rhetoric League.

Missions trips communications count as public speaking! This includes:

Teaching VBS or Sunday School

Many teens earn service hours teaching in church programs. This counts as public speaking.

Teaching the preschool or elementary-aged homeschoolers at co-op or group classes

Teaching the littles counts as public speaking. Teens can teach:

Presentations in group or organization activities

Several of our local teens have been involved in Scouts Civil Air Patrol. They often have presentations to give for their Scouting activities or CAP classes.
Online classes often have opportunities for presentations.
In person co-op and group class presentations count, too.

Ideas like Mock Student Legislature and so much more

For more fun ideas to add to your teens' speaking experiences check out this Homeschool Highschool Podcast episode.
What are tips for handling teaching speech in homeschool co-op?
Teaching speech in co-op or group classes is a lot of fun. This is especially true if you share the goal with your teens of having of having fun with public speaking.
Planning for speech at co-op
Decide if you want your co-op Speech class to be 15 weeks or 30 weeks long.
If your co-op is following a 15 week schedule, you will follow the directions for that schedule.
If your co-op would like to spend 2 weeks on each topic for a total of 30 weeks, follow the instructions for additional fun activities for each topic.
The lesson plans are built right into 7Sisters Speech 1.
It's that easy! Share the videos listed in the curriculum. Then, follow the instructions for hands-on, group activities that help homeschool high schools take baby steps towards confidence in public speaking. With these experiences, full of success-oriented, fun activities, you and your homeschool high schoolers will gain increasing levels of comfort in public speaking.
Here are some more tips for building communication skills for teens.
Listen, you can do this, so can your teens! What you and they might find is that learning the skills of public speaking opens up a world of confidence and connections. You'll be glad you gave them the opportunity!
Follow our Pinterest board on Public Speaking for Homeschoolers. 
7Sisters email subscribers receive periodic practical encouragement, special offers and NO SPAM EVER.


Click the image above to periodically receive real homeschool value in your inbox.