If you want to create a vision for your teen of what a good life is, one great way to do it is reading about role models for character development in your homeschool high school.
Role Models for Character Development in Homeschool High School
When my kids were in high school, they read biographies of people that God had used to:
take courageous stands

work selflessly for God

faithfully face dangers

overcome disabilities or discouragement
Here were some of the books we were reading about role models for character development in homeschool high school: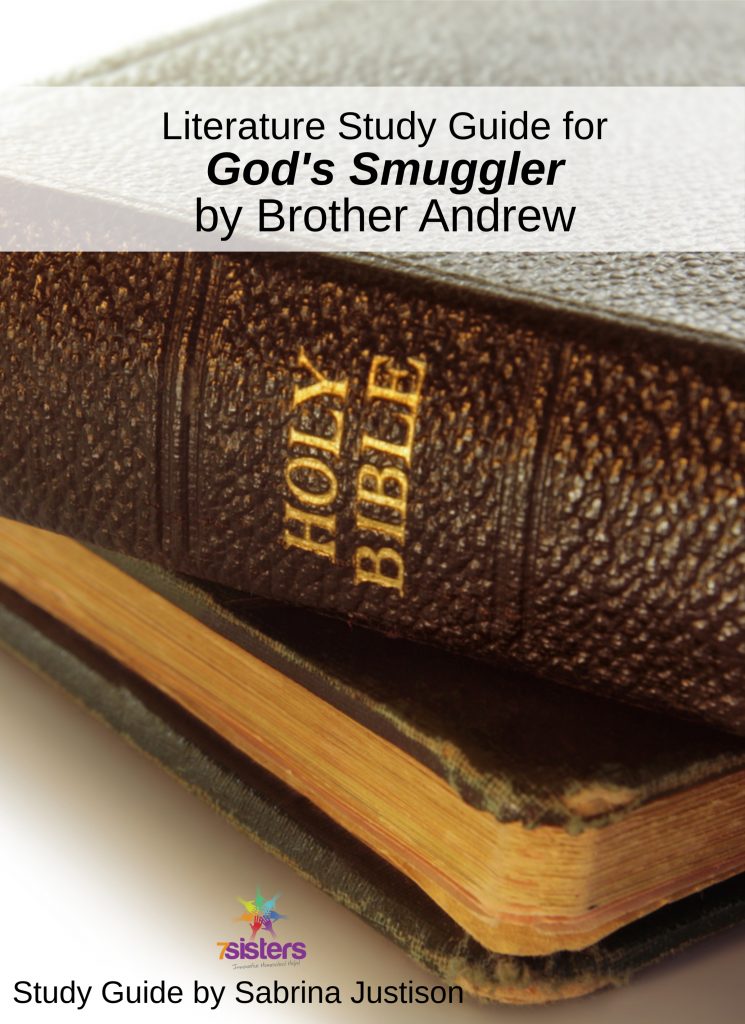 God's Smuggler by Brother Andrew. This was kid #5's favorite book for all of high school. This is Brother Andrew's own story of smuggling Bibles into Russia during the Cold War.
One of his favorite quotes from the book is, "God, you made blind eyes see, now make seeing eyes blind!" (His prayer as his car full of Bibles was being searched at the border.)

Joni by Joni Eareckson Tada. Joni has changed lives around the world through her ministry Joni and Friends. Paralyzed as a teen in a diving accident, Joni's relationship with God helped her pull through depression and grief and find purpose in helping others with disabilities. All teens should read this book!
Something Beautiful for God by Malcolm Muggeridge is the story of Mother Theresa. This is a beautiful and honest portrayal of a woman who selflessly served God by ministering to the poor and dying in Calcutta. Catholic and Protestant readers alike will benefit from reading about such persistent faith and service in this great role model!
The Hiding Place by Corrie ten Boom. My teens all loved this book- it truly is one of those rare biographies that should be read several times over the years. What a courageous stand Corrie and her family took hiding Jews from the Nazis in WWII and that courage survived through concentration camp life and the loss of her father and sister. What a powerful role model for character development.
The Practice of the Presence of God by Brother Lawrence. Written in the 1600's this delightful, little book tells how to keep one's mind on God and prayerful even in the mundane chores of life. Brother Andrew worked in the kitchen at his monastery- yet he found God's presence wherever he was. Perfect role modeling for teens who are growing up in a technology-noisy world.
Born Again by Chuck Colson. From prison after the infamous Watergate scandals of the Nixon administration to one of the 20th century's greatest apologists, Chuck Colson's biography honestly presents the story of repentance and redemption. All people need to have role modeling for a humble, repentant lifestyle!
Because these stories were so important in role modeling for character development, 7Sisters' Sabrina Justison developed study guides for each of the books that helped our teens and local co-ops and group classes.
Teens learned the stories with study guides that were NO busywork, had solid background and comprehension/inferential questions, and vocabulary WITHOUT killing the book!
Download some literature study guides from 7Sisters today!
What are some of your teens' favorite biographies?
Read more about developing Christlike character in your teen.
Help your teens develop great character and critical thinking skills.
7Sisters email subscribers receive periodic practical encouragement, special offers and NO SPAM EVER.

Click the image above to periodically receive real homeschool value in your inbox.
Role Models for Character Development in Homeschool High School