It's time for recalibrating goals for second semester homeschool high school.
Recalibrating Goals for Second Semester Homeschool High School
We homeschool families work hard at academics. Sometimes our homeschool high schoolers finish their first semester right on task with their syllabi and goals for the year. Or life has happened during the first semester and some courses have fallen behind. Occasionally a curriculum has just NOT worked and we need to start over.
So how can we set priorities and tweak what we are doing for a mid-year reboot for our homeschool high schoolers?
Here is a guide to recalibrating goals for second semester homeschool high school.
Before we even start, let me remind you of three important facts:
Motherhood is all about guilt.
No matter how hard you try, you will never be the perfect mom for your teens. We homeschool moms tend to take education (and life) seriously, so we WANT to be the perfect homeschool mom. The fact of the matter is: there is NO SUCH THING as a perfect homeschool mom. God did not make us that way. He made us to need HIM, so hand that guilt over to him and let him help you just be good enough through grace.
No matter how hard you try, there will be some other mom who runs her homeschool better (or at least, that is how it looks).
You can do yourself a favor by getting out of the comparison business. We waste our own energy when we are using our efforts to try to create a Pinterest-perfect homeschool. Things are only Pinterest-perfect on Pinterest! Stay out of the mom-shame business.
There's not ONE right way to homeschool high school.
(You've heard THAT from us before!) You can always change course…or curriculum…or schedules!
First things first: Take stock of where your homeschoolers are in their academics
Every January through homeschool high school, I did a one-on-one review with my teens. We looked over:
We had the benefit of also doing a mid-year review with our local homeschool umbrella school advisor. (I particularly liked these reviews because it saved me from being the only "bad guy" when I would say, "I don't care if you don't like algebra, you still have to do it!"
Have an honest evaluation of why the things that aren't working, aren't working
The best place to be is out of denial. Some things just do not turn out as planned. It is healthy for you and your homeschool high schoolers to face the face and identify why somethings are not working!
Are things behind because there's been too much pandemic loss and isolation that sap energy and focus?
This is a real thing. Many American adults (not to mention teens) are struggling with focus and energy for daily tasks after many months of pandemic life. Be gracious about this.
Does your homeschool high schoolers have poor time management skills?
You can find this out with your time audit (link for time audits above). Time management is a life skill that teens must have as they get closer to adulthood.
Are your goals too high for this year?
This can happen when unexpected life circumstances that have interrupted homeschool days.
This can happen when the curriculum or level is too advanced or a poor fit for your homeschool high schooler.
Maybe your homeschool high schoolers are cramming too much into their schedules?
This can happen when extracurriculars, service or jobs take too much time from academics. (Coaches and bosses will sometimes love what good workers homeschool teens are, then over-schedule them.)
Have your teens become bored or frustrated with their curriculum and studies?
This can happen to anyone. Sometimes a cool curriculum is just not the right fit for a teen.
Now, recalibrate goals for second semester homeschool high school
Address each of the issues, write a plan that each of you can agree on. Adjust syllabi, schedules, activities and expectations.
Pandemic stress, tweak self-care and learning styles:
Increase self-care (water, food, exercise, breathing, fresh air- more lifestyle health in 7Sisters Health curriculum)
Change scenery whenever possible (take nature hikes at different state parks, for instance)
Poor time management:
Goals that need to be adjusted: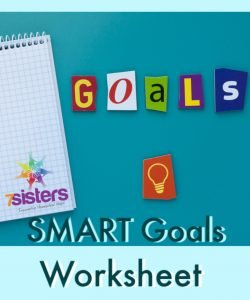 Help your teens learn healthy/assertive communication for boundary-setting with coaches and bosses.
You need to take care of you, too, sometimes YOU need to take a break.
Remember: You can't fit everything in but you can be creative so that your teens has the academics they need and the extracurricular experiences they need. Here's a post to help figure out how to fit things in for homeschool high school.
You can do this! You can recalibrate your goals and have a marvelous second semester with your teens!
Read about New Year's UNresolutions. Also, check out this post on how to do a goals review for your teens.
7Sisters email subscribers receive periodic practical encouragement, special offers and NO SPAM EVER.

Click the image above to periodically receive real homeschool value in your inbox.