Here is a review by Homeschool Teens: The Hiding Place by Corrie ten Boom.
Review by Homeschool Teens: The Hiding Place by Corrie ten Boom
Several years ago, Sabrina was teaching our homeschool group class Great Christian Writers.
This was a powerful class- really charging the teens to think about faith, adventure, and sacrifice. One of the homeschoolers' favorite books so far has been The Hiding Place by Corrie ten Boom.
Here is a review of The Hiding Place by 2 of the students in her class, homeschooled 10th graders, Seth Tillman and James Mears:
The Hiding Place
The Hiding Place is the story of Corrie ten Boom and her family's struggle during World War II. The ten Booms were Christians that abided in Holland. The story covers Corrie's childhood through her later life. Casper, Corrie's father, owned a watch shop that Corrie would work at when she was older.
When she was in her fifties she and her family started hiding Jews from the Nazis. The Nazis eventually apprehended the ten Booms and held them in multiple concentration camps and finally in an extermination camp. Corrie's father died.
Corrie and her sister, Betsy, trusted in God through it all. God used them to witness to the scared prisoners in the camps. Many people were saved through their Bible studies, counsel, and example. They gave thanks in all things, even for their flea-infested barracks (the fleas kept the Nazi guards away).
This book is an inspiring story of God's triumph in heinous times. It tells that God's grace is so profound that He forgives and even loves murderers. If God can love a Nazi, shouldn't we love "that annoying guy at classes"?
=================================================================
Download our Study Guide for The Hiding Place. It is a user-friendly guide with background info, vocabulary, comprehension and inferential questions. It is comprehensive, but not so comprehensive that the kids HATE the book because the study guide was too much. The Hiding Place Study Guide is just $5.99.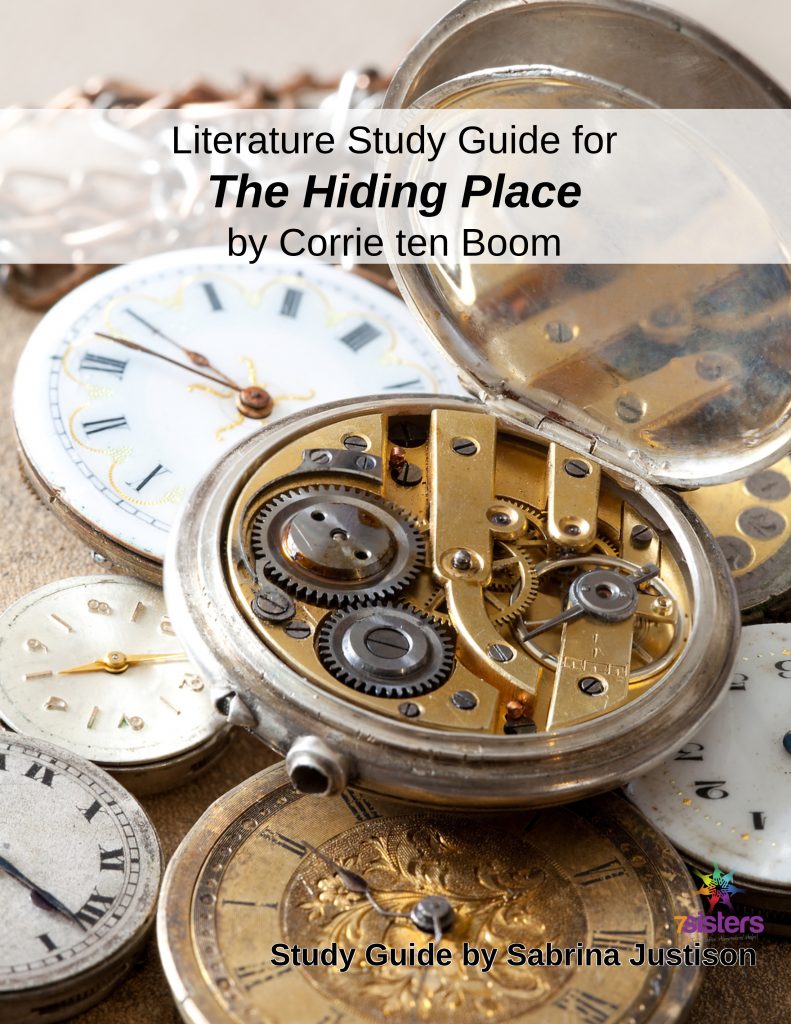 The Hiding Place Literature Study Guide focuses on the following literary devices:
Woven throughout this study guide are questions that:
explore the theme of redemption
This NO-busywork study guide enriches the reading of the book for your homeschooled high school student.
This guide is also part of our Great Christian Writers : A Full-Year High School Course.
Great Christian Writers High School titles covered by these study guides include:
Click any of the above titles to view excerpts from the study guides.
Also, don't forget our FREE DOWNLOADS! Visit the product page to find free resources such as:
Career Exploration Starter Questionnaire
Exploring career pathway possibilities begins with this simple .pdf download.
Excerpts from Career Exploration Free Questionnaire:
This is a questionnaire to get you started on your Career Exploration journey.
We want to start by investigating who God has brought across your path. Who has influenced you and what were their careers?
What were their personalities?
7Sisters email subscribers receive periodic practical encouragement, special offers and NO SPAM EVER.

Click the image above to periodically receive real homeschool value in your inbox.
Review by Homeschool Teens: The Hiding Place by Corrie ten Boom