Try it! Speech I: Public Speaking and Practical Life Skills!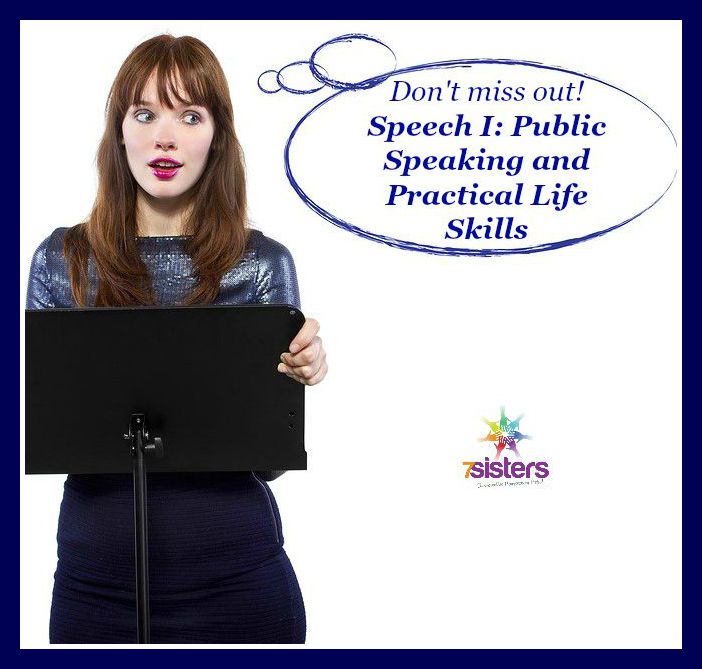 Speech I: Public Speaking and Practical Life Skills
Everyone is going to have to do public speaking someday. Your homeschool high schoolers cannot escape.
At some time in life, they will:
go to college and give presentations in

class

teach Sunday school

give announcements at meetings

SOMETHING will happen that requires them to speak in front of others!
But what if your teens aren't afraid of public speaking? What if they have learned skills and confidence in speaking in front of others? Imagine if they had FUN while learning SPEECH!
Many years ago, we started working with our homeschool high schoolers to give them public speaking skills. Then started a speech and debate team that is still ongoing in our local support group.
My homeschool graduates have told me that it was the most important class they took in high school.
Over time, they have used their skills in college presentations and in spontaneous things that have come up (like a professor asking my daughter to come with her to speak to the Board about the benefits of keeping the photography program).
They have also used their skills in high school by participating in:
These experiences are all POWERFUL transcript building events, by the way!
So, by request, we released our curriculum! Speech I: Public Speaking and Practical Life Skills in our ebookstore gets you a full YEAR of Speech curriculum. Not only that but we include lots of material for making happy memories!
This thirty-week curriculum has fifteen lessons. Each lesson has a section for:
research

warming up 

practicing independently and with a partner

instructions for presenting

evaluation forms (for students and parents)

and a fun "take-away" idea
Throughout the curriculum, the friendly style of instruction includes paragraphs aimed at the students themselves. Not only that but lesson-by-lesson information for the parents to make facilitating the group easy.
Some topics are an all-in-one-session format; some spread over two weeks, and some topics with  more complex content come in this format:
First week: Have fun experiences with the topic being presented, a teaching from the textbook, individual or group practice

Second week: Practice what you learned, develop material or memorize as needed

Third week: Present and the next lesson

(The format, of course, is adaptable to group needs- can be easily spread out over more weeks or contracted into fewer.)
We have learned over time that we cannot just throw homeschool high schoolers into composing and presenting speeches. Actually, they will NEVER learn to love public speaking that way!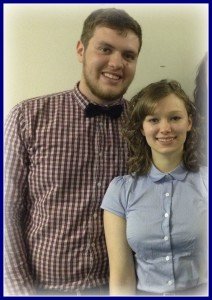 Instead, we ease them into public speaking with non-threatening, familiar, low-preparation-energy experiences and build up to speech writing. We also throw in practical, use-it-in-life material like interview skills and Bible lesson presentations.
That way, the format includes fun and laughter (which makes any kind of learning better.)
1: Presenting Kid Lit (Interpretation of Children's Literature)
2: Presenting a Bible Reading
3: Presenting Spoken-Word Poetry
4: Presenting a Humorous Monologue
5: Organizing & Writing a "Visual Aid How-to" Speech (Expository Speech)
6: Gathering Materials & Practicing a "Visual Aid How-to" Speech (Expository Speech)
7: Presenting a "Visual Aid How-To" Speech (Expository Speech)
8: Organizing & Researching a Biographical Report (Expository Speech)
9: Writing & Practicing a Biographical Report (Expository Speech)
10: Presenting a Biographical Report (Expository Speech)
11: Creating & Presenting an Elevator Pitch
12: Creating & Presenting a Sales Pitch
13: Presenting an Infomercial (Group Project)
14: Practicing Beginning Interview Skills
15: Presenting a Children's Bible Lesson
Also, click here for information on ways to earn various amounts of Speech credit, along with a sample syllabus.
For more on teaching public speaking skills to your teens, check out this post in our Authoritative Guide series and this list of additional helpful resources for Speech class.