Here is how to teach Speech in homeschool high school co-op.
How to Teach Speech in Homeschool High School Co-op
Want to give your teens some powerful (and fun) life-prep experiences? Give them a homeschool co-op Speech class!
I know many teens live in mortal fear of public speaking. Often they're afraid of public speaking because they haven't had any fun, meaningful training. Most of the time Speech classes are stuffy and serious; of course a stuffy, serious class is enough to turn teens into nervous-nellies.
GOOD NEWS! I can tell you from years of experience leading our local homeschool Rhetoric League that when Speech is presented in safe, amusing experiences, teens find out that they CAN do public speaking- and it's not that bad!
They need Speech for their Language Arts credits and a powerful transcript AND they will need to be able to do public speaking in their adult lives:
Giving college-class presentations
Speaking at various community organizations
Leading Sunday school classes
Meeting new people
Building confidence for job interviews
That's why 7Sister Sabrina and I brought together the curriculum and activities that we've used in my Rhetoric League and her Drama Camp and Drama Classes. We've compiled it into a user-friendly Speech I curriculum for homeschool co-ops and group classes.
The curriculum consists of a teacher's guide with all the lesson plans, links to videos, and instructions for the co-op Speech class leader PLUS there is an inexpensive Student Workbook that each student will use (instead of purchasing the more expensive teacher's guide).
Here's how to use this curriculum:
Decide if you want your co-op Speech class to be 15 weeks or 30 weeks long.
If your co-op is following a 15 week schedule, you will follow the directions for that schedule.
If your co-op would like to spend 2 weeks on each topic for a total of 30 weeks, follow the instructions for additional fun activities for each topic.
The lesson plans are built right into the basic text (for teachers or students working individually).
Note: Here are some Lesson Plans for Speech class teachers to help you get organized.
Homeschool high schoolers learn public speaking with Speech I through:
built-in lesson plans
interesting video links
interactive discussion questions/evaluations (kind and sweet evaluations)
confidence-building activities, and lots of practice
a separate download when you purchase the teacher's guide with all the evaluation forms for easy copying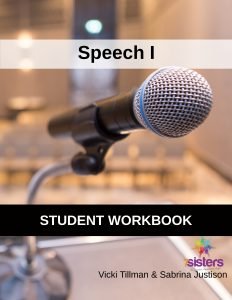 Here is the 15-week schedule:
Lesson 1:

Presenting Kid Lit (Interpretation of Children's Literature)

Lesson 2:

Presenting a Bible Reading

Lesson

3: Presenting Spoken-Word Poetry

Lesson 4:

Presenting a Humorous Monologue

Lesson 5:

Organizing & Writing a "Visual Aid How-to" Speech (Expository Speech)

Lesson 6:

Gathering Materials & Practicing a "Visual Aid How-to" Speech (Expository Speech)

Lesson 7:

Presenting a "Visual Aid How-To" Speech (Expository Speech)

Lesson 8:

Organizing & Researching a Biographical Report (Expository Speech)

Lesson 9:

Writing & Practicing a Biographical Report (Expository Speech)

Lesson 10:

Presenting a Biographical Report (Expository Speech)

Lesson 11:

Creating & Presenting an Elevator Pitch

Lesson 12:

Creating & Presenting a Sales Pitch

Lesson 13:

Presenting an Infomercial (Group Project)

Lesson 14:

Practicing Beginning Interview Skills

Lesson 15:

Presenting a Children's Bible Lesson
My grown kids tell me that Speech was the most important group activity we did in high school. Download your Speech I Teacher's Guide (with evaluation form on separate pdf) and your student texts of Speech I today. Your co-op teens will thank you.
For more on teaching public speaking skills to your teens, check out this post in our Authoritative Guide series. For more on how to teach homeschool co-op classes, check this post.
7Sisters email subscribers receive periodic practical encouragement, special offers and NO SPAM EVER.

Click the image above to periodically receive real homeschool value in your inbox.
How to Teach Speech in Homeschool High School Co-op