There's more to poetry than you might think:Teaching poetry for health and healing (not just ELA).
Teaching Poetry for Health and Healing (Not Just ELA)
Ever experienced the eye roll when your homeschool high schoolers realize their next unit in Writing is Poetry?
It's not uncommon in American culture, these days, to think of poetry as:
Frivolous
Boring
A waste of good academic time (when teens should be writing research papers, essays and learning professional communication)
Right?
It is true that high schoolers need to learn to do research and write about it, communicate their thoughts well through essays and communicate their wishes well through professional writing.
But that does not mean that learning to read and write poetry is a waste of good life-preparation and academic time. In fact, poetry is useful in:
Improving written communication skills
Also, improving spoken communication skills
The process of healing stress, anxiety, depression
Adapting to or healing some learning disabilities
No matter which side of the political aisle you sit on, you were probably moved by National Youth Poet Laureate Amanda Gormon's The Hill We Climb (full text in this article), which presented at President Biden's Inaugural Ceremony.
Amanda was born prematurely and diagnosed as a young child with Auditory Processing Disorder and speech articulation issues. In third grade, her teacher introduced her to poetry and she found it was freeing for her in learning to express her thoughts. From then on she began using poetry as a means of creativity, communication and healing.
At age 16, she became the Poet Laureate of Los Angeles and then the National Youth Poet Laureate. She is now a student at Harvard University. Her learning difficulties did not hinder her from building and achieving dreams, but rather, she used creativity and poetry to communicate in healing was for herself, and now, to the nation.
Amanda Gorman is not the only person who can find health and healing in learning poetry. Our homeschool high schoolers can benefit, also.
Adolescence is a challenging time, as you know. Teens are trying to figure out:
How their bodies and brains work
What they will question stand up for or sit back about
Who their friends should be IRL and digitally
In order to manage all the struggles teens need to be able to:
manage their bodies (that's why they earn Health credit in high school)
and manage their thoughts through action (more on that in 7Sisters Health curriculum)
also, manage their thoughts and feeling through words (which is why we are talking about poetry today)
Poetry reading, recitation and writing can be therapeutic for teens and adults. This is particularly true when:
A teen has a learning difficulty or special need
Or, a teen is anxious or depressed
Even, any teen who has experienced adversity
Poetry has been a supplemental treatment for mental health problems as far back as the ancient Greek physician Soranus. The Bible itself has lots of healing-type poetry written during hard times (the Psalms of Lament such as Psalm 130, Psalm 6, Psalm 38, Psalm 10, Psalm 42 and 43) or the book of Lamentations of Jeremiah.
Research by James Pennebaker found that writing for fifteen minutes per day for as few as four days has brought positive results to people with symptoms caused by traumatic events. There is even a National Poetry Therapy organization. (It has a helpful handout here.)
Poetry is a powerful way to use words for self-awareness and health
God created the world with his words. He created us in his image, so gave us the power of creative word. (That's why the book of James talks so much about healthy use of words.)
When teens write poetry, they use words in creative ways that help them feel better. Before we even explore this, though, it is important that when teens write poetry for health and healing, they are not writing to be great at poetry. They are not writing for a letter grade or a rubric. They are writing from their soul. (Instructions on how to create a poetry journal for health and healing below.)
Because poetry is not expected to look or sound like prose (an essay or paper or story), people do not expect to write or read a coherent set of ideas presented in a logical, systemic order. Instead, teens are free to simply pour their feelings and thoughts into a set of words that:
Describe their experience
Vent and share their feelings
Describe their fears and hurts
Define their hopes
Describe what brings comfort
In pouring out their words in a non-prose form, teens tend to feel better (or at least more self-aware) because they have heard themselves. Writing their own healing poetry allows them to respect their pains and look for their own hope.
How to create a poetry journal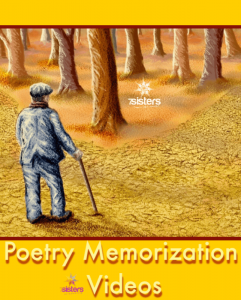 Start with some inspiration.
Watch the illustrated poem videos in this freebie download.
Give teens a journal, notebook, sketchpad (poems can be illustrated or in shape-poem form) or other format for handwriting. (For teens who need it: use dictation software or simply compose on the computer).
Ask them to dedicate 15 minutes per day for an agreed upon time period (four days, one week, one day per week, etc).
Give them a prompt that they can use for inspiration (many teens can forego this step- they know what they want to write about).
Here are some ideas:
What are you sad/angry/afraid about?
How has someone disappointed or hurt you?
What do you say to yourself about you?
How would you describe what you like about your friends/family?
What are you proud of/ashamed of?
Can you define what you want for your life?
What gives you joy/fun/hope/peace?
Give them some tips than can be followed (but do not need to be followed):
Poetry is written in lines. It often has short lines.
One way to know when to start a new line is to break the line when you would take a breath if you were reading it out loud
It can rhyme or use other poetry rules but does not need to
Try to write in the first person (when we write in the third person, we distance ourselves from the feelings which is not what we are after in poetry for health and healing).
Do not worry about:

Saying the "right thing"
Doing it right
Getting a grade

Tell your teen: When you finish, go back and read it. Ask how you feel when you read it. (Also have some fun with it by adding some alliteration, internal rhymes or look up a synonym on dictionary.com)
Poetry cannot solve all of a teens problems but it can be a tool for healing. If a teen is truly struggling, talk to the family doctor or begin working with a counselor- it is worth it.
More on Amanda Gorman
Amanda has overcome several disabilities through the power of poetry. Here are some lesson plans developed by traditional educators for Amanda Gorman's The Hill We Climb:
More resources on poetry
One thing I have noticed over the years is that some teens these days have little experience with poetry. That's why 7Sisters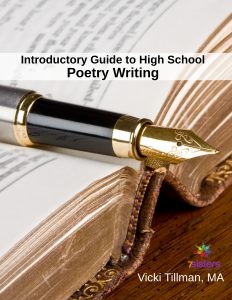 starts from scratch with teens to offer Introductory Guide to High School Poetry Writing a five-week, step-by-step easy to follow writing guide for beginner poets. It is fun and success oriented. The guide includes rubrics. If your teen is working on a poetry journal, I would suggest doing this separately.
This can be followed by:
For more on teaching poetry in your homeschool high school, check out this episode of the Homeschool Highschool Podcast. Also, for teens who get excited and want a full year/full credit of poetry, here's a syllabus for a poetry credit to walk them through the process.
Give your teen some inspiration and health with writing poetry for health and healing.
7Sisters email subscribers receive periodic practical encouragement, special offers and NO SPAM EVER.

Click the image above to periodically receive real homeschool value in your inbox.
Teaching Poetry for Health and Healing (Not Just ELA)