Parents have asked us about time management: Teaching teens to use a schedule.
Time Management: Teaching Teens to Use a Schedule
There might not be ONE right way to homeschool high school, but there is ONE thing that most teens will need: time management skills. Free-ranging one's time is just fine for parts of life. Teens need a chance to relax and explore the things that are important to them, to just hang out and have fun.
They also need to develop the discipline of using a schedule (at least for some parts of life). Why?
They have projects and papers due
Many have part-time paid and/or volunteer jobs that want them to arrive on time and manage their work time well
Many are involved in church or other extracurricular activities, where a group of people depend upon them being dependable with their time
If they are applying to colleges, they will have deadlines for :

Applications
Financial Aide
Reference requests
Transcript requests

Eventually they will graduate and be in the workforce, where managing schedules is central to success
Teaching Teens to Use a Schedule: Time Management Tools
The first thing your homeschool high schoolers will need in order to get their time organized are some basic scheduling tools. There's not ONE right way to schedule, but here are some favorite tools. So I asked our 7SistersHomeschool Facebook group what they used. Here are their ideas:
Teach them to use a syllabus
For academics, especially core courses like Language Arts, Math, Social Studies and Science, having a syllabus is the perfect time management tool. A syllabus teaches teens to use a schedule by giving them a literal schedule for their coursework. Syllabi help with time management and also help build independent learning skills by teaching what to study and when.
For tips on syllabi creation and use for your homeschool high school courses, check these freebie downloads:
On projects, teach them to Schedule Backwards
When a homeschool high schooler has a test, paper to write or a project to complete, it can feel overwhelming. Many procrastinate until the deadline is upon them then pound something out. They can come to believe they "work best under pressure", when really, they just have not learned how and when to start.
That's how scheduling backwards helps!
In short, this is how it works:
Sit with your homeschool high schooler
Using a calendar, note the due date of the test, paper or project
Go back two weeks, write: Start (test study, project or paper)
Go forward three days, write: Be one-quarter way through (test study, project or paper)
Go forward three more days, write: Be halfway through (test study, project or paper)
Go forward three more days, write: Be three-quarters through (test study, project or paper)
Go forward three more days, write: Be finished (test study, project or rough-draft of paper)
Go forward one day: Review, tweak, final draft
Here's the instructions on Scheduling Backwards on projects.
Teaching teens to use a schedule is one of the best ways to help teens get their time under control.
Besides projects, papers and tests, homeschool high schoolers need to start managing their own day-to-day schedules. They need to know for themselves:
What they will be doing
Where
When
For how long
Other details important to the task
When they should start getting ready for the event
When they should leave for the event
You can help teens get started by having a weekly (or monthly) planning session. Help them get their calendar started, but soon they might be able to manage it on their own. Then, at the planning sessions, you will simply need to check in and co-ordinate your two schedules.
Teach teens how to create lists.
Lists help keep thoughts, tasks and priorities organized.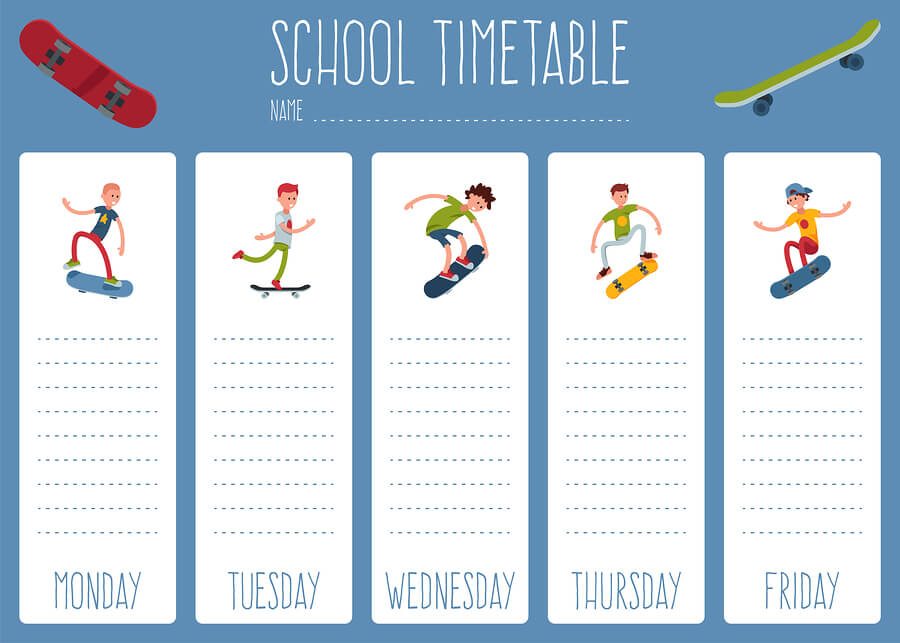 We asked our 7th Sisters what some of their teens like to use:
Periodically, have your teen do a time audit (this is good for you, too)
Time audits are useful life skills. A simple time audit tells homeschool high schoolers (or their moms) how they spent their time. Simply put:
Log activities and time spent on each activity through the day (and night) for a week or two
At the end, make a pie chart of activities
Ask:

Is this how I want my time to be spent?
Are there tweaks or behavioral changes I would like to make?
Download this freebie with how to's from my coaching website.
Of course, you can over-schedule or over-organize your homeschool high schoolers and make them anxious. Remember:
Prayer
Balance
You're teaching them to become an adult, not doing their adulting for them
You get more ideas by reading Helping Teens Learn Productivity Skills. 
You can also get more tips on time management from our best time-management advisor, Dr. Melanie Wilson at Homeschool Sanity Podcast. Here's an interview with her on Skills 101 podcast.
7Sisters email subscribers receive periodic practical encouragement, special offers and NO SPAM EVER.


Click the image above to periodically receive real homeschool value in your inbox.
Time Management: Teaching Teens to Use a Schedule