Here are tips for a fun & useful elective: combining Human Development and Early Childhood Education for homeschool high schoolers.
Fun & Useful Elective: Combining Human Development and Early Childhood Education
One of the best things about homeschooling high school is that we can create tailor-made electives for our teens. They are not limited in their choices, but can have courses that truly:
Build a powerful transcript
Truly prepare them for life
Explore interests
Begin building a career
A number of homeschooling families that I've advised have enjoyed combining 7Sisters' Human Development (check out this Homeschool Highschool Podcast episode which explains why and how to teach Human Development) and Early Childhood Education courses for a powerful, fun and useful elective credit.
Why is this such a great elective? Here's why: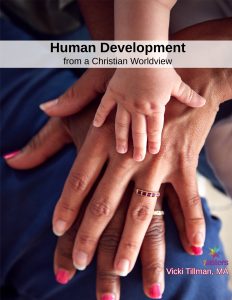 Human Development is the study of the ways people grow and change from womb to old age: physically, cognitively, emotionally and socially.
It is important for teens to get a grasp on these concepts because, it helps them:
understand themselves
also understand their family members (and extended family members)
figure out behaviors in people in the community that they need to interact with
prepare for parenthood
give them skills for helping their parents as they eventually become senior citizens
7Sisters' Human Development course is especially helpful because:
It is presented (without preachiness) from a Christian worldview
The text is level-able to different abilities and interests
It is a NO-busywork curriculum, so it does not waste teens' precious time
There are tests and a separate answer key for parents
Also, there is an inexpensive Lesson Plan Guide for enriching the material for meaningful individual or co-op activities
Not only that, but you can download a free Human Development course syllabus to adapt to your needs
The second part of this project is allowing your homeschool high schoolers to study Early Childhood Education.
Early Childhood Education is a course that builds on the learning in Human Development. 7Sisters' Early Childhood Education e-text:
Prepares teens for meaningful babysitting or nursery-volunteering experiences
Also prepares teens to become intentional, interactive parents someday
Inspires teens who want to study Early Childhood Education in college for their future studies
Explores the ways that children learn from ages two years through five years
Explains various pre-school teaching philosophies in a fun, hands-on, project-based manner
:7Sisters' ECE curriculum is helpful because

It is presented from a (non-preachy) Christian worldview
As always for 7Sisters curriculum, it is a NO-busywork curriculum
Includes an answer key
It's fun!
Here is one way to combine Human Development for a fun and useful credit.
You can create a 2-semester course for your homeschool high schoolers.
Semester 1: Human Development

Using 7Sisters' Human Development from a Christian Worldview , this free syllabus AND our affordable Human Development Lesson Plans, 

outline the first semester's activities.

The lesson plans are broken into eighteen weeks based on each of the nine chapters in the Human Development text. This is a long-ish semester, so feel free to omit any lessons that don't fit the schedule.

This will include videos, hands-on activities and a project
Using 7Sisters Early Childhood Education text, develop a schedule with one chapter per week based on the fifteen chapters in the text.

This will include fun hands-on activities and lesson-plan development and a final project
Recording combined Human Development and Early Childhood Education on the homeschool transcript:
Choose a name for your course. Here are some suggestions:
Human Development (leaving out the ECE title because the topic integrates nicely with Human Development)
OR Human Development and Early Childhood Education (a long title but good detail)
Explorations in Human Development OR
Human Development and Practical Life Skills
You may also record the LEVEL at which the curriculum was completed.
This is not necessary for electives, but for college-bound students it does add power to the credit
For college-bound students: the two courses combined are ONE Level 3 College-Prep credit

This credit may be leveled-up to:

Advanced (Level 4) or
Honors (Level 5) by including the additional activities in the Human Development text

For NON-college bound students: the two courses combined are 1.5 credits at Level 2 (Average High School)
Assign a grade.
Base the grade on your goals for the course. Include:

Tests
Projects
Homework
Lesson Plans in ECE

You may also include:

Class participation (attitude, if done in individual study)
Timeliness of assignments (deductions for late work)
Organization of materials (everything kept neatly and in order in a binder)
There's not ONE right way to combine Human Development and ECE. Let us know how YOU develop your teens' course.
While you are at it, check out these posts:
7Sisters email subscribers receive periodic practical encouragement, special offers and NO SPAM EVER.

Click the image above to periodically receive real homeschool value in your inbox.
Fun & Useful Elective: Combining Human Development and Early Childhood Education