Advice from our Cousin Cheryl Carter: What college bound homeschoolers should do now.
What College Bound Homeschoolers Should Do Now
Welcome to our 7Sisters' Cousin, Cheryl Carter! Cheryl has helped innumerable homeschool families prepare for college every
year. She encourages families to plan to avoid being overwhelmed by the process. She is the through her company, Collegiate Learning, she is the author of several helpful books, including:
Visit www.Learn4college.com for more information.
Cheryl agreed to share some of her top tips on college prep with us.
Advice about what college bound homeschoolers should be doing
It is never too early to prepare for college admission. The summer of your child's junior year can easily be one of the most important times for a college-bound homeschool student. However, I recommend you start the college planning process much earlier.
To help with this, the summer months are very valuable for college bound students and the ability to maximize the time should not be ignored.
Here are seven practical steps rising seniors should do to prepare themselves for college admission:
Here are some steps that have helped the families that I work with.
First, students should prepare to take the SAT or the ACT
The August SAT or the July ACT provides an excellent opportunity for students to do well because they can dedicate substantial time to studying without the added pressure of their schoolwork. Ideally, students should practice every day practicing for tis all important exams. The more time you prepare for these exams, like any other test, you will do well. (Although homeschool students can plan to take the ACT, CLT or SAT at almost any time because they can integrate studying into their school schedule.)
Second, students should spend time writing the first drafts of their college admission essays
The essays topics can be found on the college website and/or a Google search. By completing the essays before their senior school year, students will have time to revise and reconsider their approach to the essay prompts. Students should familiarize
themselves with the main essays and the supplemental essays.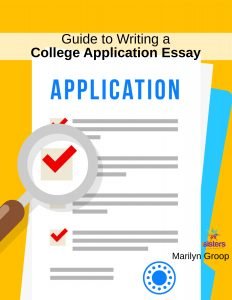 BTW- Check out 7Sisters College Essay Curriculum.
Third, students should devise their strategy for getting into college
Unfortunately, some students do not think of strategy when it comes to getting into college. Most young people assume they have the grades, and the test scores to get into a good college. As students assess their college candidacy they should look beyond academics and consider:
Strategy is important because on one hand students should be a good match for the
college. At the same time, in order to be college attractive, students must also standout from all the other applicants.
Standing-out may mean that students have to do something extraordinary. The summer gives students time to start a new project or do something that will help them become a more desirable candidate.
Fourth, researching scholarships can be a homeschool research assignment
Typically, parents, and students do not think of scholarships, until after they have gotten into colleges. Unfortunately, by then it is too late!
Scholarships should not be a last-minute concern. While it is true that most scholarships will be gained from the institution that you are going to, it is equally true that you can work to build a portfolio of smaller scholarships that will help you pay for your:
Researching legitimate scholarships takes time and effort. While many deadlines will be in the fall, the summer is the best time to plan for these scholarships.
BTW- Your homeschool high schooler might want to turn their research into a research paper! Why not make the most of their efforts and knock out that yearly research paper at the same time?
Fifth, research precollege enrichment and dual-enrollment programs
Many community colleges and online schools have dual course schedules for prospective students, which are ideal for homeschoolers. There is also an array of online colleges and ancillary college credit programs.
Sixth, put time in your schedule for college tours
In a good college tour, you will experience the campus when it is beautiful and quiet. You will also have a time to speak one-on-one with students you may encounter, and, in general, professors are not stressed about meeting deadlines. Younger siblings can also enjoy the attractions which might be nearby college campuses.
Seventh, take the time before your junior year to figure out who is on your college admissions team
Now, if you are in an umbrella school or other supervisory organization, your advisor should be on your team. And you should figure out who else is on your team. For instance, think about:
So, it is really important to think your team! Go ahead and pick a team but if you have not done so.
These seven steps from Cheryl Carter will give you a good start on the college preparation journey. Have fun!
Also, our friend, Kara Walker shares how to graduate from college debt free in this Homeschool Highschool Podcast episode. For parents of homeschoolers heading for college, here are some more tips.
7Sisters email subscribers receive periodic practical encouragement, special offers and NO SPAM EVER.

Click the image above to periodically receive real homeschool value in your inbox.