Want some tips from advisors in the know about what colleges like to see and for college admissions? Check out this week's episode of Homeschool Highschool Podcast.  This episode is running concurrently at the Ultimate Homeschool Podcast Network.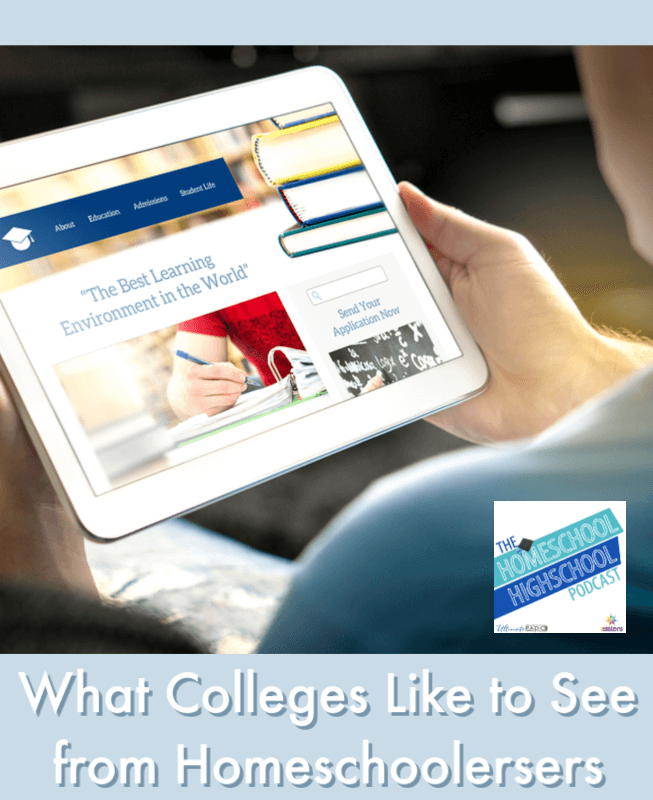 Many colleges, these days, like homeschoolers but they do have standards. What are they looking for in their incoming freshmen, especially those who were homeschooled? What are the latest tips for successful college applications? Vicki is joined today by 7Sister Marilyn and our good friend, Dr. Barbara Varnell. Both ladies serve as high school advisors for the local homeschool community and have helped hundreds of teens get into college. They are going to share their latest tips!
Things are always changing in the college application process. This are always changing in what makes homeschoolers college attractive. So, let's jump in with some updates on what colleges like to see from Barb and Marilyn:
Colleges like to see the Common Application (or their own application)
You have heard of Common Application (we simply call it "Common App"). But just in case you have not heard of it, Common App is an application that a number of colleges accept. High school seniors complete one application that is then sent to several colleges of their choice. Common App makes life much simpler since teens only need to fill out on application instead of an application for each college.
Tip from Marilyn and Barb:
Sometimes it works works better for homeschool high schoolers who do lots of interesting and unique activities to choose the individual colleges' applications. These college applications often allow teens to highlight their unique offerings better than the Common App. Barb tells the story of her daughter's application to Pennsylvania State University. Penn State's application was so much better at allowing her to show off her creative high school extracurriculars. SO, take a look at each college's application and compare it to the Common App.
Some colleges like to see SRAR
SRAR (Self Reporting Academic Record) is a list of your homeschool high schooler's courses and the grades for those courses. It is separate from the Common Application and also from the transcript. Not all colleges require the SRAR so check colleges of interest to see their requirements.
In most cases, transcripts will also be required at some point in the admissions process.
Tips from Marilyn and Barb:
Do not wait until senior year to compile a transcript. Start early. In fact, you should begin your homeschool high schooler's transcript in 9th grade and add to it yearly. You will be glad you did! (It will save many hours and tears while trying to regather and reconstruct all the records of those busy high school years.)
When you send in the actual transcript, make sure that it accurately lines up with everything on the SRAR. If not, it is possible the acceptance offer a student receives might be rescinded.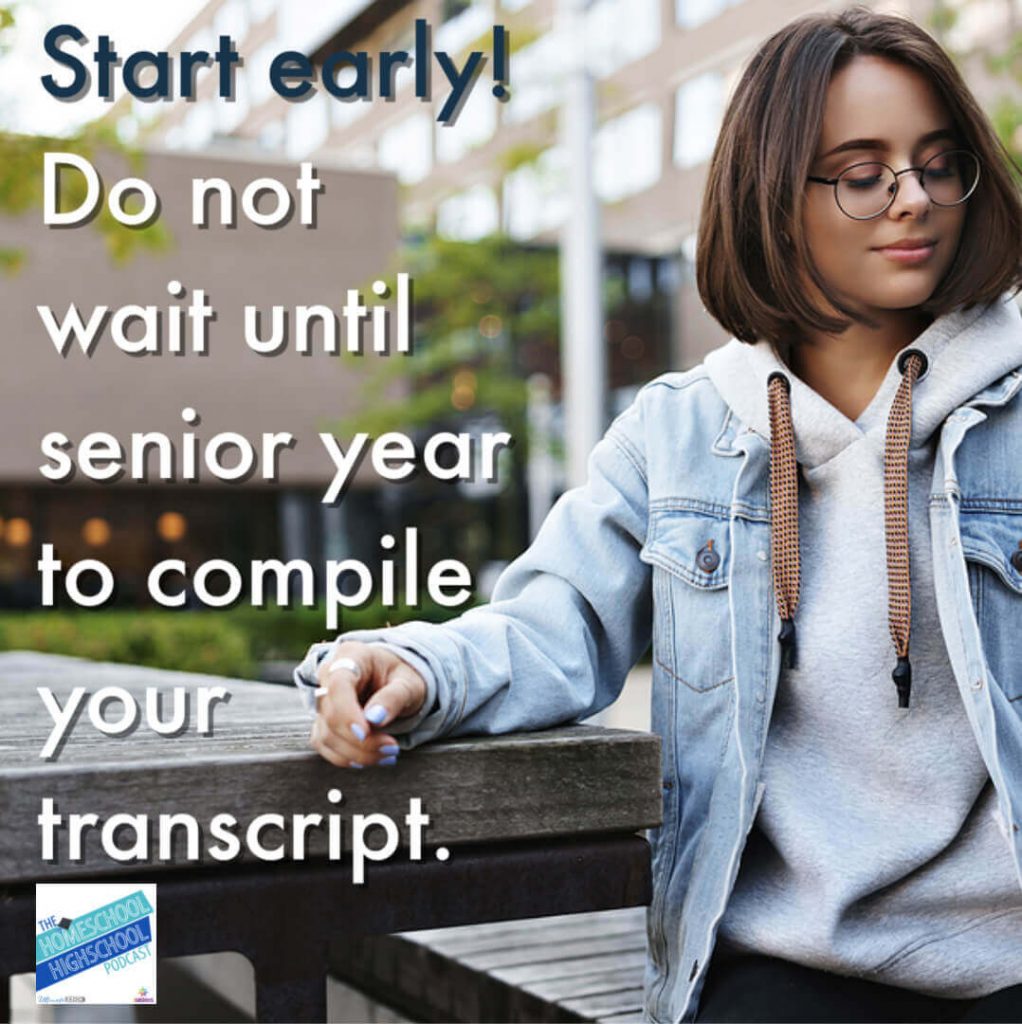 Some colleges like to see SATs and ACTs
In some parts of the country, the use of SAT and ACT exam scores has changed. For many years, colleges in the north and east often required the SATs, while southern colleges preferred the ACTs. Recently many of our eastern colleges have switched to asking for ACTs instead of SATs. Many colleges are not requiring these entrance exam scores at all (they are not requiring SATs or ACTs).
Tips from Marilyn and Barb:
When your homeschool high schooler takes an SAT or ACT exam, tell them not to choose a college to receive those scores. Wait and see how the scores turn out. There may be times when a teen will be better off not reporting their scores to a college at all.

Vicki remembers a year when score reporting first became optional at a local college. Unfortunately some of the local homeschool community's brightest and most active teens had SAT scores that were fine (and would have earned them scholarships in other years). In this particular year, their SAT-score competition was fierce and these students lost out in the scholarships. If they had applied without the scores, they might have been eligible for other kinds of scholarships.
Barb tells about a local homeschooler who did not have great ACT scores but was a leader with the local students. This student applied to one college that required the scores and one that did not. The college that required ACT scores gave such small scholarships (based on ACT score) that she could not afford to attend that college. The college that did not require ACTs looked at her transcript and saw her academic and leadership performance and gave her a full-ride scholarship. (Read more about developing leadership – and followership – skills.)

If your homeschool high schooler is not a great standardized test taker, make sure you bulk up the transcript with:

High level courses
Extracurriculars (that the student is involved in for two or more years)
Leadership opportunities
Take quirky (unusual) courses
Competitions and awards
Service and community work (this is a great thing to emphasize in the college admissions essay)
For more ideas about a great transcript check

Colleges look for these things because they are looking for the kind of student that will make their college work well (and look good)
Colleges like to see Letters of Recommendation
Marilyn and Barb have found that some colleges and military academies ask for letters of recommendation from teachers who have taught the student specific courses (and within the last two years). If your teen is looking at one of these colleges or military academies, make sure your student takes those subjects in their junior and senior years from someone else:
Tips from Marilyn and Barb:
College application is a game. You have to play the game. Play the game.

If you do not like a specific college's game, choose a different college.

Reference letters from academic advisors and teachers make a difference .
Teens need to ask nicely when they ask for a recommendation letter.
They should have behaved well in their course, shown integrity and put forth good effort so the teacher has something to write about.
Give a recommendation-letter writer plenty of time (think at least two weeks).
Check out this Homeschool Highschool Podcast episode on how to ask for a recommendation letter.
Some colleges like to see a College Application Essay
Start early. Have your teen hammer something out during the summer after junior year based on last year's Common Application essay questions. Many years there are several new questions to choose from, but they are similar enough year to year that once a basic essay is written, it can be tweaked to match the new year's questions. (The Common App has recently been keeping the questions the same from one year to the next.)
Tips from Marilyn and Barb:
Start early. Revise often.
For help writing that important essay, download 7SistersHomeschool.com's guide to writing the college admissions essay.

Here are some creative ways to use the College Application Essay Guide.
For more on what colleges are looking for, check out this Homeschool Highschool Podcast interview with Associate Provost of Murray State University, Dr. Renae Duncan. Dr. Duncan also joins us for a discussion on how to choose college degrees.
For college-prep study skills, check out this post and more college success tips in this Homeschool Highschool Podcast episode.
Join Vicki, Marilyn and Barb for solid tips on what colleges like to see from homeschoolers.
PLEASE SUBSCRIBE TO HSHSP VIA COMPUTER
Follow this 

link to our iTunes page

.
IMPORTANT STEP: Under our Homeschool Highschool Podcast logo, click on View in iTunes

This will take you to iTunes and our own podcast page.

Click SUBSCRIBE.
Click RATINGS AND REVIEW. (Please take a minute and do this. It helps others find us. Thanks!)

Thanks!
PLEASE SUBSCRIBE VIA iPHONE
Tap the purple Podcast icon on your phone

Tap the search icon on the bottom-right of your screen

In the search bar type: Homeschool Highschool Podcast

Tap the Homeschool Highschool Podcast icon

Tap *Subscribe*

Please tap *Ratings and Review*
7Sisters email subscribers receive periodic practical encouragement, special offers and NO SPAM EVER.


Click the image above to periodically receive real homeschool value in your inbox.