In my service as a homeschool high school academic advisor, I often get these questions:
"What's the difference between an APA-style research paper and an MLA-style research paper"
"What on earth IS an APA-style research paper?"
"Does my teen NEED to know how to write an APA-style research paper?"
 What is the Difference Between APA and MLA Research Paper
SO, let's have a teeny-tiny, mini-course on high school research papers.
Research papers serve several different purposes.
-Placing students in charge of their own inquiry-based educational situations (in other words, homeschoolers have a chance to dig in and learn about something that is important to them).
-Providing opportunities for homeschoolers to stretch academically (and sometimes personally), as they deal with formatting, details, and data.
-Experiencing valuable preparation for college-bound homeschoolers.
MLA-style Research Papers are perhaps the most common format.

>-The most important distinctive of an MLA-paper is that the homeschooler will need to provide a THESIS STATEMENT in the first paragraph.
-The body of the paper is spent illustrating or defending that thesis.
-MLA-papers rely on transition sentences to move the reader from topic to topic.
-There are distinctive citation and reference page rules.
-For an easy-to-follow, encouraging, no-busywork guide to MLA-style research papers, I like
Allison's Research Paper Writing Guide the best!
APA-style Research Papers are completely different from MLA-style papers!
-There is NO thesis statement! In fact, the entire point of an APA paper is to give the appearance of objectivity and a thesis implies an opinion.
-Instead of a thesis, the homeschooler presents a topic and provides information about that topic. (Kind-of like an old fashioned "report"- remember those from elementary school?)
-At the END of the paper, the homeschooler may add an opinion in the conclusion section but NOT before.
-Transition sentences are not needed.
-In order to move the reader from one section of the paper to the next, APA-style uses Section Titles and Sub-section Titles. (Kind-of like magazines articles…)
-APA-style papers are formal in tone. There is no use of the words "I", "you", or "we". No contractions are allowed, either.
-There is a distinctive citation, reference page, title page, and page numbering format.
Feel a bit overwhelmed and want help with an APA-style Research Paper? Check out our
Introductory Guide to APA Research Papers. In this friendly, light-hearted guide, I take the homeschooler through the complex maze of APA-rules so gently that it is almost easy! It has a semester's worth of step-by-step instructions for learning the format, choosing topics, finding resources, and actually constructing the paper. (I LOVE APA format.)
High schoolers may use MLA-style or APA-style on just about any topic that pleases them. However, in college, they will often find that English-type classes use MLA and science-type classes use APA. So a little of experience with both formats is a good idea for college-bound students.
Just to add to the confusion. When you surf the net, you might find that there are conflicting sets of information on HOW to write an MLA- or APA-style paper. That's because there are different "editions" of those styles. All that matters is that you pick one of the "editions" and stick with it for the entire paper. THEN when your homeschoolers arrive at college, they will find that each professor has some different requirements- but by then, they'll be ready to follow whatever rule comes their way.
Also, while MLA and APA are the most common formats of college-style research papers, there are other formats that individual professors or departments might employ. There is the Chicago-style and CSE-style, for instance. If your homeschoolers are adept at the basic MLA and APA formats, they'll be ready to jump in and learn these formats with little stress.
I really do recommend introducing research paper writing in a non-threatening, don't-take-ourselves-too-seriously, encouraging manner. That is why we are sharing the writing guides that we have used with our own kids and local homeschoolers for years. Research Paper Writing Guide (MLA format) by Allison Thorp, and Introduction to APA Research Paper Writing Guide by me .
An important part of writing a research paper is learning to avoid plagiarism (even unintentional plagiarism). Click here to learn more. Properly paraphrasing is an important step in avoiding plagiarism. Click here for advice from Purdue Owl
Here are some tips from Sabrina on writing papers!
&npsp;

And visit our 7Sisters Homeschool You Tube Channel for more writing tips!
7Sisters email subscribers receive periodic practical encouragement, special offers and NO SPAM EVER.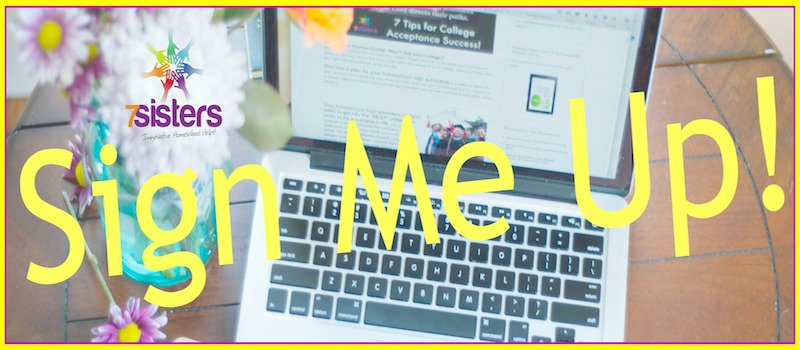 Click the image above to periodically receive real homeschool value in your inbox.
 What is the Difference Between APA and MLA Research Paper