By request: What is the Difference between Essays, Reports and Research Papers?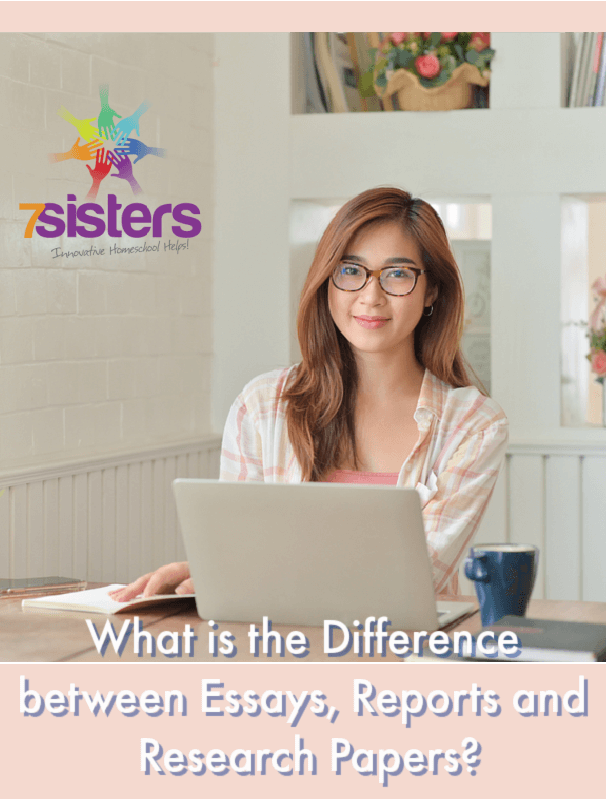 What is the Difference between Essays, Reports and Research Papers?
One of our wonderful 7th Sisters brought up an interesting question in our 7SistersHomeschool Facebook group. What is the difference between essays, reports and research papers?
That is a marvelous question because lots of parents who are new to homeschooling high school ask the same thing. High school writing can be confusing when you are trying to figure out all the categories and what fits in each one! So let me start with this:
You CAN do this!
And not only that, once you get used to it, homeschooling high school years are the best years yet!
So let's start with a basic overview of the writing that we have found is best to be covered in ELA (English/Language Arts) credits. We say this gently because there are many different views on what should be covered in writing. These are the things that we have found give our teens good life and college prep. So for each ELA credit our teens cover:
Essays
Research papers
Short stories
Poetry
The main question our 7th Sister had was about the difference between essays, short papers/reports and research papers. Let's dive into it. First, remember: there's not ONE right way to homeschool high school, so adapt our guidelines to fit your family's needs!
What are essays?
The current American version of essays is based on the 5-paragraph essay.
At high school level, the 5-paragraph essay is a standard format but is often longer as the student gains writing skills. Beginners often start with
Persuasive essays
Compare/contrast essays
Literature analysis
Editorials
SAT essays
Intermediate writers build on their introductory skills by working on:
Persuasive essays
Compare/contrast essays
Literary analysis
Editorial/letter to the editor
Essay Tests
Advanced writers can further add to their skills by working on:
Persuasive Essay
The Compare/Contrast Essay
Fiction Literary Analysis
Non-Fiction Literary Analysis
Writing An Editorial/Letter to the Editor
The SAT/ACT Essay
As you can see, many of the topics are the same, but the homeschool high schoolers develop deeper critical thinking and expressive skills with each year they work on essay.
BTW- All 7Sisters essay writing guides include writing prompts, but here are some more prompts that might be relevant to your teens.
High school essays are usually one to two pages but can be longer.
Essay questions
You will notice that in the intermediate level (at least in our 7SistersHomeschool Essay curriculum), one of the topics covered is essay tests. The questions on essay tests are generally long-answers to in-depth kind of questions. In high school, students usually a write paragraph or two. There are some tricks of the trade to writing essay question answers. That is why we included these in the Intermediate Guide to Essay Writing.
Another place homeschool high schoolers will see essay questions is in many of our literature study guides. These essay questions help teens to develop those inferential skills that aid them in getting the most insight from their readings. Our 7th Sister had asked the excellent question: If my teen writes four separate paragraphs on A Scarlet Letter, would you count that as one essay?
What a great question! Here is what I suggested to her:
If it fits your goals for your teen's writing goals for this year, combine the essay questions in the literature study guide into an essay. (You might want to help her with transition sentences for that.) You are homeschooling and you get to decide what's best for your teen. That's why we homeschool, we know what our teens need to learn, where they struggle, what their goals are. Give yourself freedom to make writing work for her. 
One of the joys of homeschooling is doing what is best for our teens. Unless you have a supervising organization or umbrella school that tells you otherwise, you get to decide what to do with your teen's assignments!
One more side note about essays
In the old days, before someone invented the 5-paragraph format, essays were different. Even currently in England, as our friend, Kat Patrick from Dreaming Spires Home Education, says that they do not use that format at all. For them, essays are more traditional working out of one's thoughts (essay being from the French word, "to try") so more what we might call a reflection paper.
What are reports?
You probably remember writing reports when you were in school. Reports are usually introductory experiences in finding information and presenting it. They are simple. Many middle schoolers will write reports to get used to the research and writing processes. However, inexperienced or reluctant high school writers can get the basics down by starting out with a report. We have a freebie to take you step by step through that process.
After a report, teens are often able to move into writing a research paper but if they need more help, work with our Research Paper Readiness Guide.
What are research papers?
Research papers help teens develop their skills in researching, digesting and presenting information. There are a number of different research paper formats. It is good to learn several of them (especially for college-bound teens).
Many teens find it is easiest to start with an APA research paper. It is like an extension of the basic report. However, if teens enjoy writing their 5-paragraph essays, they might enjoy starting their research paper experience with writing an MLA paper. (Our homeschool grads who recently finished college, told us that the Chicago-style papers were important for some of their classes.)
What are short papers, then?
Are you confused yet? It's okay. Let's review the four basic kinds of yearly writing projects that we suggest for homeschool high schoolers:
Homeschool high schoolers need to have experiences with long papers (research papers) and short papers (essays, short stories, poetry). However, short papers do not need to be limited to essays, short stories and poetry. Short papers can also include professional writing, creative chronicling, college essay writing, resume writing, mission statements, reflection papers or anything else that interests your teens.
The length of the short papers will be determined by the type of paper, your teens' age, abilities, interests and goals. Here's a guide.
Check out this marvelous interview with Janet and Geoff Benge about non-fiction writing.
Remember YOU know what's best for your teens. There's not ONE right way to homeschool high school and you CAN do it! Adjust any plan to fit your teens' needs. We are so thankful for all our 7th Sisters and for your excellent questions and ideas.
7Sisters email subscribers receive periodic practical encouragement, special offers and NO SPAM EVER.

Click the image above to periodically receive real homeschool value in your inbox.
What is the Difference between Essays, Reports and Research Papers?