,What Kinds of Writing Should College-Bound Teens Do? Prepare teens for college writing and learning through variety and depth in high school.
What Kinds of Writing Should College-Bound Teens Do?
In our local homeschool umbrella school, we suggest that college-bound high schoolers do a LOT of writing! Sometimes they complain about it…that is, UNTIL they get to college. Then, they often have come back to us and thank us for the skills that they had. Often, in their college classes, they were the best prepared for freshman and sophomore level writing in their Literature, Composition, History, Humanities and even Science classes.
The important thing in high school (the thing that I think really helped the writing skills stick), is we taught the teens in a no-busywork, step-by-step way. With that in mind, we always felt that if the work was meaningful and/or fun that the skills they were learning would be more understandable and sustainable. In other words, there should be some enjoyableness of the writing assignments.
We also found that if an assignment is relevant to the high schooler and they have some choice of topics, they enjoy the writing more. Thus, if they enjoy it more, the learning lasts so they walk into college classes better prepared for success. Interestingly, a Pew Research study bears this out.
Now we know that writing assignments should be enjoyable, relevant and have some choice. Next we need to remember that it helps if the assignments are easily followed with no-busywork and step-by-step, daily instructions. Now:
There are four basic kinds of writing that will help teens develop the skills they need for college:
Expository writing
When teens are writing descriptively, they are explaining or describing something so that the reader and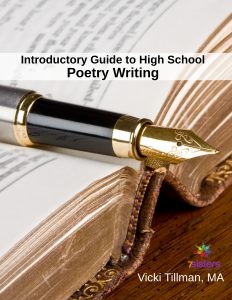 understand and visualize. Homeschool graduates will need to be able to accurately and interestingly describe events, processes, ideas, people and things in their college-writing assignments.
Descriptive writing skills can be developed through:
When teens are writing expository assignments, they are defining something, giving directions or instructions, explaining cause and effect or making comparisons.
Expository writing skills can be developed through:
Essay writing. Essays are most commonly though of as short-form expository writing.

Click here for an excerpt to 7Sisters Introductory Essay Writing Guide.

Research paper writing. Research papers go in-depth with expository information.
Here's a post on the difference between essays, reports, and research papers.
Persuasive writing
When teens are writing persuasive assignments, they are writing to convince someone to change their minds, come to agree with them, buy into a marketing or business plan, favorably answer a complaint, or agree with a letter to an editor of a newspaper.
Format writing
When teens are writing to a format, they are writing to convey information within the constraints of a specified style of paper. The most common formatted papers in high school include: https://www.7sistershomeschool.com/product/apa-style-research-paper-a-introductory-writing-guide/
APA Research Paper. This style of research paper is popular for science, social science and business topics.
MLA Research Paper. This style of research paper is popular for English/Language Arts and world language topics.
Chicago-Style Research Paper. This style of research paper is popular for humanities, science and social science topics.
(For a discussion of which order is best for teaching the various research papers, check this post.)
Practical writing
When teens are writing a practical assignment, they might be working on an experiential resume, their bio, or a review. These are all part of life (that they will use in their adulthood or as part of a class).
These are all good writing disciplines for homeschool high schoolers who are planning for college. They will writing many papers in their college classes, so any preparation you can give them will be a good leg up on their success!
7Sisters writing guides are no-busywork, level-able to different needs and goals of your teens, affordable, and most importantly help teens learn to like writing and believe in their ability to communicate information and ideas.
For a in-depth discussion on goals and grading writing assignments for homeschool high school, check out this post. For more college-prep study skills, check out this post. Also, check out this Homeschool Highschool Podcast episode on what colleges are looking for in homeschoolers.
Cheryl Carter gives 5 Reasons for Why Writing Matters for College Bound Students.
Our friend, Betsy, shares how she prepared her teen for college through writing projects of all kinds in this post. For more tips on being ready for college, check out this interview with college professor, Dr. Rachel van der Merwe.
Here's a timeline of important things to cover each year in high school to get ready for college and tips for finding scholarships.
Download some writing guides for your homeschool high schoolers and help them get a good start in their homeschool high school years!
7Sisters email subscribers receive periodic practical encouragement, special offers and NO SPAM EVER.

Click the image above to periodically receive real homeschool value in your inbox.
What Kinds of Writing Should College-Bound Teens Do?