Sabrina shares: What Makes a Drama Camp Amazing?
For the last 12 years, I have offered a Drama Camp for homeschoolers every summer.
A Drama Camp is a theater intensive.  That means it's a chance to put most of the rest of life on hold for a few days and focus on the production exclusively, rather than the traditional format that stretches rehearsals out over 8 – 10 weeks in chunks of a few hours at a time.
When I began offering Drama Camps to homeschooled students in 2000, I was making things up as I went along, learning as we muddled through.  Our early productions (I like to write original plays for the kids to do, but you can certainly direct a camp without also being a playwright) were put together in ONE week, not two, and produced a 45 minute show.
We grew and stretched, and eventually were working for ONE week and producing a full-length two-hour show!  That's when I realized that there was too much good stuff going on to cram it all into one week, and I expanded our format to two weeks so that the kids would have time to explore the deeper layers of acting and stage production.  I told you that to tell you this:  Drama Camps offer an arena in which students can find out just how much they are truly capable of accomplishing when they work hard and work together. 
But why the drama??  Human beings have a need for stories.  We observe our own life-story being written all around us every day.  We learn about other people as they share their stories with us.  Jesus used story-telling to communicate truth about God and life when He was ministering on the earth.  Drama production is a beautiful way to tell stories, and Drama Camps offer unique benefits to those involved in the story-telling process on stage.
What Makes a Drama Camp Amazing?
Here's why Drama Camp has been jokingly called "The Weeks When Life Has Meaning" :
We anticipate.  Students who have been involved in the past begin looking forward to Camp months in advance, and talk to the newbies they know who are thinking about giving it a try.  They set the bar high long before I have even finished my own plans for Camp!  They anticipate a week of personal growth, hard work, and tremendous accomplishment.
We pray.  We pray together before every day of camp, and we spend significant chunks of time praying for and with one another as we draw close to performance, but the prayer begins long before the sign-up sheet is full of names.  I pray for God to bring the right group of kids together for the plan He has for our Camp.  He knows what we all need better than we do!  I pray over the script-writing and editing process, asking God to tell the stories that will change our lives according to His plan.  Prayer is da bomb!
We focus.  When students sign up for Camp, I warn them that the rest of life needs to be pretty much set aside for the two weeks of Drama Camp.  They will be at the theater Monday through Friday from 9:00 – 3:00, but at night they will be learning lines, researching for the production, pulling together props and costumes, working with their fellow cast members, etc.  Laying aside other things that we typically enjoy for the sake of a special endeavor is a great way to get your mind and heart open to hear from the Lord.  Similar to the experience of going away on retreat, that change in life-pattern opens us up spiritually.
We are unified.  The students are constantly challenged and reminded that they must be operating in unity for Camp to be a success.  They pray for one another.  They work alongside kids they may not like very much, and they learn to love them whether they like them or not.  They pick up the slack for each other when one is tired, or struggling, or frustrated.  Each Camper is vitally important to the production, and we teach that through words and example.  Everyone completes the camp knowing on a deeper level that God made them unique and wonderful, and He has a place for them in the body of Christ that no one else can occupy.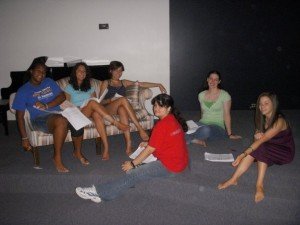 Click here to download "Why Drama is Important in Your Homeschool,"  and check back soon to take advantage of even more freebies.
If the idea of directing an intensive two-week Drama Camp intrigues you, a manual and instructional video can be purchased in our store. 
Drama has proven to be such a good vehicle for social and spiritual development in the students I've directed in Drama Camps!
===============================================
Have you ever downloaded from our EBookstore before?  It's so easy!!
Give it a try by taking advantage of the FREE downloads available, and find out how convenient the .pdf format and instant delivery are.  Click here to conquer your fears of technology, and download an epublication from 7Sisters today!
The new white paper "Why Drama Is Important in Your Homeschool" is a FREE download.  Click here to check it out!
7Sisters email subscribers receive periodic practical encouragement, special offers and NO SPAM EVER.
Click the image above to periodically receive real homeschool value in your inbox.
What Makes a Drama Camp Amazing?