What's a good high school Literature course of study?
What's a Good High School Literature Course of Study?
In my years of advising homeschool high school families, I have often been asked: What's a good high school literature course of study?
My answer, of course, is "There's not ONE right way to homeschool!"
Before we start, let's review what is included in a high school English/Language Arts credit.
Each year's ELA is a huge credit. Each ELA credit includes:
As you can see, Literature is only one component of the English/Language Arts credit. However, we often base each year's writing, vocabulary and grammar on the Literature being studied that year.
Literature topics can cover any area of interest such as: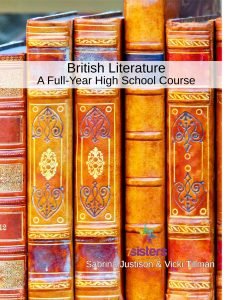 With that in mind what is the best course of study for Literature topics?
As you know, the best choices for Literature course of study depends on the teen. Thus, to choose the course of study, we define 3 things:
The specific teen's interests
That teen's goals (college bound? science major? English? theology?)
The teen's abilities
How many teens in your family will be studying together?
Then, you plan Literature topics with those things in mind.
Here are some good courses of study that our 7Sisters and local homeschool group classes have followed.
Note that our teens and homeschoolers in local group classes have used 7Sisters' Literature Study Guides because:
The guides are always NO busy-work
They are based on real books, not excerpts
Guides are adaptable to different academic abilities from average to honors
They have a don't-kill-the-book attitude
Also, they concentrate on one or two themes rather than overwhelm the student with too much material
They include background information, vocabulary from the book, comprehension and inferential question and answer key
For teens who need to start with a little adventure and inspiration, then grow into more challenging topics:
For teens who want a full year of C.S. Lewis' work:
They will often swap out eleventh grade or twelfth grade Literature topics for an in-depth year on this important author, including these books (all my kids loved their Lewis year):
For teens who are great readers, many start in 8th grade:
9th grade: American Literature
10th grade: British Literature
11th grade: World Literature
12th grade: C.S. Lewis Literature
Some teens cannot stand the idea of being pinned down to ONE topic.
These teens do better with a mixed-subject bundle of literature (and writing). Therefore, if you are looking for a boxed ready to go for each grade level for English/Language Arts we got you covered.
We have full ELA courses ready for download!
For some teens, a good course of study is simply allowing them to mix and match on their own.
If that keeps them inspired and engaged, go with it. Add some free reading and at least one study guide per month for academic-skill growth. (You can see 7Sisters' Complete List of Literature Study Guides in this post.)
For even more thoughts on Literature choices for your homeschool high schoolers, check out this post on Literature for Homeschool High School in our Authoritative Guide series.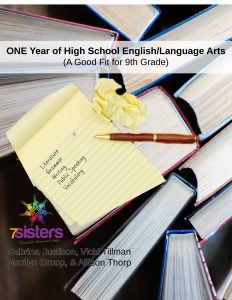 There's not ONE right high school Literature course of study. Give yourself the freedom to experiment! Download your Literature Study Guides and you'll be ready for next year!
7Sisters email subscribers receive periodic practical encouragement, special offers and NO SPAM EVER.


Click the image above to periodically receive real homeschool value in your inbox.
What's a Good High School Literature Course of Study?