Not everyone is familiar with this series, so WHO should read the Space Trilogy by C.S. Lewis?
Who should read the Space Trilogy by C.S. Lewis?
Most homeschooling families are familiar with The Chronicles of Narnia and many homeschool high schoolers have visited Narnia again but at a more mature level, using 7Sisters Literature Study Guides for the Chronicles of Narnia.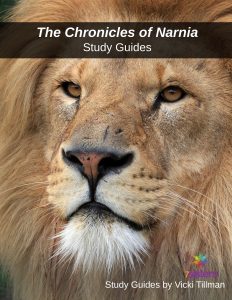 However, there are lots of homeschool high schoolers who have never heard of the Space Trilogy. This is Lewis' Science-Fiction series, that really isn't about Science-Fiction, but rather it is about deep ideas like the condition of man, theology and philosophy. (Just like the Chronicles of Narnia, the ideas are symbolized in the stories so you must look for them. Lewis is never preachy!)
So who should read the Space Trilogy by C.S. Lewis?
Homeschool high school students who are learning to be thinkers, creators and do-ers.

Teens who are not afraid of big ideas and deep thinking.

Young people who want to learn to be more imaginative and creative.

AND anyone who enjoys the writings of C. S. Lewis!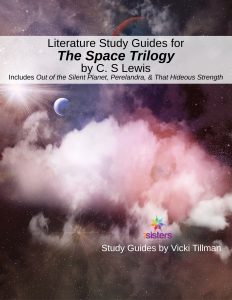 These truly are must-read books for people who want to wrestle with ideas or become culture-changers.
These challenging, delightful, and sometimes terrifying stories wrestle with big theological concepts such as trusting God, challenging evil, and standing up for what is right. Teens will observe the negative effects of some modernisitic philosophies and the positive effects of good philosophic thinking. Deep thoughts set in wonderfully imaginative settings and marvelously unique stories abound!
The literature study guide collection for high school students to use with C. S. Lewis' Space Trilogy is 81 pages (divided into 3 guides) of learning that contains NO busywork – like all of our guides it offers important take-aways from each book.
When they use The C. S. Lewis Space Trilogy Literature Study Guides, homeschooling teens will gain experience in:
inferential skills 

critical thinking

exploring deep theological concepts

confronting philosophies that Lewis believed are destructive

AND discovering C.S. Lewis as a character in the books!
The C. S. Lewis Space Trilogy literature study guides for high school are adaptable with suggested activities for various high school levels (average high school, college prep, advanced, honors).
The books of the Space Trilogy should be read in order (these must be purchased separately — CLICK OUR AMAZON AFFILIATE LINK here to purchase online — and audio recordings of the books are enjoyable as read-alongs):
The C. S. Lewis Space Trilogy collection of study guides for high school for high school comes complete with:
explanations of the theological and philosophical concepts in the book

a guide to Lewis' fantasy-writing format

vocabulary

comprehension and inferential questions

answer key
The Space Trilogy is a good high school choice as a stand-alone literature series. For students who are studying History and Philosophy of the Western World, this series is an excellent complementary choice because it will illustrate some of the concepts learned in the course. (We recommend it for the 4th quarter of the school year for History and Philosophy of the Western World students.)
Study guides to accompany each of the 3 books in the Space Trilogy may also be purchased individually.
Help your teens grow into the thinking, culture-changing leaders of tomorrow with the Space Trilogy, click here for the product description for Out of the Silent Planet study guide. In fact, many teens will benefit from studying many of the works of C.S. Lewis. Check them out!
7Sisters email subscribers receive periodic practical encouragement, special offers and NO SPAM EVER.

Click the image above to periodically receive real homeschool value in your inbox.
Space Trilogy by C. S. Lewis