Here's why the CS Lewis Space Trilogy is an important choice for homeschool high schoolers.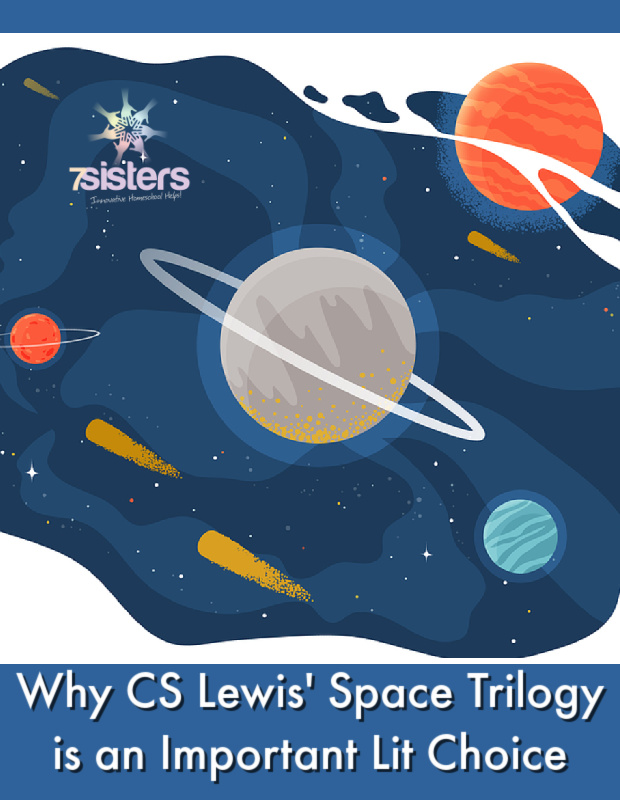 Why the CS Lewis Space Trilogy is an Important Lit Choice
When my teens reached their high school years, I got serious about exposing them to the writings of CS Lewis. In my opinion, Lewis is one of the greatest Christian thinkers and philosophers of the twentieth century. While that was decades ago, his writings can still be influential in shaping thinking and character in our lives as well as our teens' lives.
In CS Lewis' mind people (including teens) need to learn to:
recognize God's leading and bravely follow
realize and stand up to modernistic philosophies that are destructive
stand up to people who are destructive
With Lewis' goals in mind, I set out to teach his novels to my teens, as well as the high schoolers at our local umbrella school. We started with:
While C. S. Lewis did not write the Space Trilogy specifically for teens, he did cover all these bases.
The Space Trilogy tells the story of Elwin Ransom, a respected Cambridge University professor of philology (the study of languages), who goes for a walk one day and ends up on Mars. He is on Mars not by his own will but because he was kidnapped and smuggled there!
Ransom's adventures on Mars are the topic of the first book of the Space Trilogy, titled Out of the Silent Planet. Written in 1937, long before Hubble telescopes or space travel, C.S. Lewis was free to create a fantasy world on Mars. It was full of different kinds of "peoples" (certainly not what humans on Earth would call "people"): hrossa, seroni, and eldila.
While there, Ransom learns to accept and love the "people" of Malacandra (their name for Mars). He also must defend the Malacandrians from the evil-doers who kidnapped him.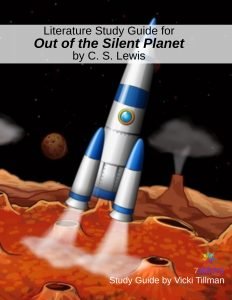 These men exemplified the modernistic philosophies that C.S. Lewis believed were destructive (materialism- the love of "stuff", humanism- the adulation of mankind and scientism- the worship of science). Not only that, they were just plain bad guys who did bad things.
Ransom comes to know the angels (eldila) appointed by God to help in that world and through that connection he begins to understand the reality of the spirit realm.
C. S. Lewis had four goals for Out of the Silent Planet:
Lewis wrote Out of the Silent planet with some specific tasks to accomplish. He wanted to:
smuggle Christian theology into a good story
"baptize his readers' imagination". In other words, he wanted to write such an out-of-the-box story that it helped the reader's imagination to grow.
fight modernistic philosophies and worldviews.
show that God's angelic realm is "more real" than our tangible world.
In the following beautifully written books of the Space Trilogy, Perelandra and That Hideous Strength, Lewis continues to chronicle Ransom's God-ordained missions.
As they read about Ransom's missions, homeschool high schoolers will learn to recognize "this is God's leading," "this is the trick of the evil one," "this is philosophically dangerous," or "this action will line up with my philosophy."
To help our homeschool high schoolers, we created detailed but no-busywork study guides
The 7Sisters Study Guides for Out of the Silent Planet, Perelandra, and That Hideous Strength contain no wasted time; instead they give simple information on the theological and philosophical concepts CS Lewis has embedded in the stories. The guides coach high schoolers through the concepts with comprehension and inferential questions in a way that makes challenging concepts understandable.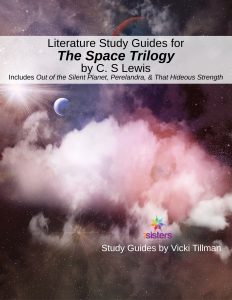 Note: The Space Trilogy  is most appropriate for teens who are at the "Deep Thinking Stage of Life". Some teens will only need to study Out of the Silent Planet, while others will love all three novels in the trilogy. That is why we offer them separately or bundled with all three books.
It is also a useful Literature choice to add richness to History and Philosophy of the Western World. For an in-depth look at handling literature for homeschool high school, check out our Authoritative Guide to Homeschool High School Literature.
Don't let high school go by without bringing the CS Lewis Space Trilogy to your homeschoolers!
7Sisters email subscribers receive periodic practical encouragement, special offers and NO SPAM EVER.


Click the image above to periodically receive real homeschool value in your inbox.
Why the CS Lewis Space Trilogy is an important lit choice.