Here are our thoughts on why History is boring and how to make it better.
Why History is Boring and How to Make it Better
One of the complaints that homeschooling high schoolers shared with me in my years as their academic advisor what that History is boring. I always thought that it was a shame that so many teens found history boring. It does not have to be!
Would your homeschool high schoolers like to enjoy History? They can find it interesting and meaningful. So let's talk about why History is boring and how to make it better.
Why is history boring?
One reason that teens get turned off from History is the focus of their curriculum is on:
Learning about "dead men" that feel irrelevant to them
Memorizing dates and places
Reading a dry text and regurgitating facts from the lessons
Unfortunately, in many cases History texts do feel that way. And unfortunately, using textbooks are useful in helping homeschooling parents feel their teens are covering everything they should. However, many textbooks are so dry that teens retain little of what their texts cover.
How to make it better
Let's address each of the above complaints about History:
Learning about "dead men" that feel irrelevant to them
Explaining the relevance of History is a valuable discussion to have with your teens. It might help to give them some quotes from famous people about the relevance of studying History. Here are a few quotes:
If you want to understand today, you have to search yesterday. -Pearl S. Buck, Author of The Good Earth

Those who do not remember the past are condemned to repeat it. -George Santayana, Philosopher

If you don't know history, it's as if you were born yesterday. If you were born yesterday, any leader can tell you anything. -Howard Zinn, American historian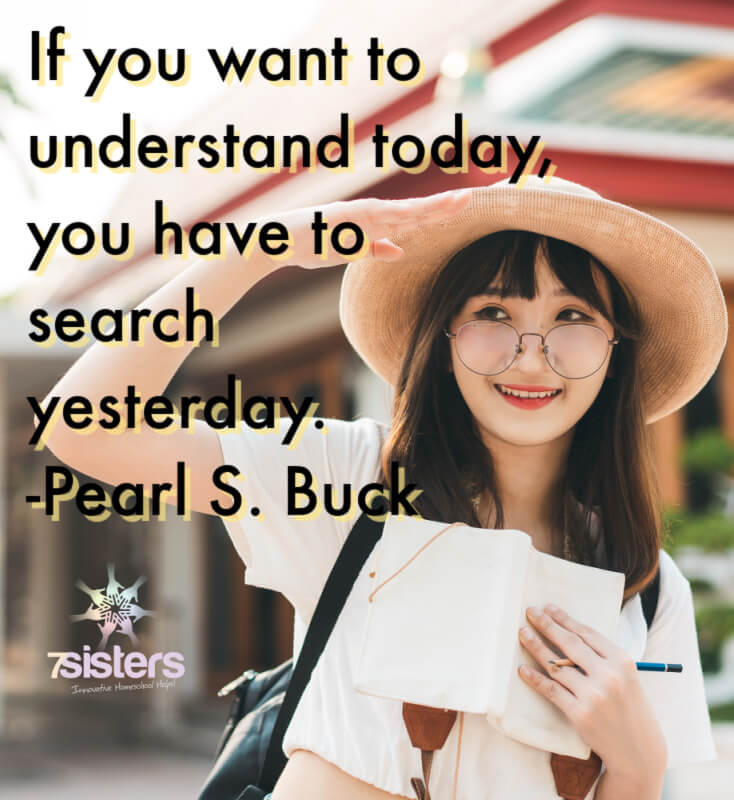 High schoolers can see from these quotes, that it is important to understand History because it helps us understand the context of the present. Not only that, but studying History helps protect us from falling into the clutches of leaders who have bad intent or repeating the mistakes of the past.
Also, yes, there are a lot of "dead men" in the study of History. However, History is full of women, too, and even children. So, studying History helps us understand the wider cultures, politics and ideas of all kinds of people.
Memorizing dates and places
For many years, studying History did involved lots and lots of memorization of dates and places. However, there's not ONE right way to learn History. As a homeschooling parent, you are able to choose the focus and priorities of your teens' curriculum.
Thus, you can help your homeschooling high schoolers focus on the people and ideas that shaped the past. Interestingly, when teens focus on people and ideas, they tend to remember more of what they learn. Not only that, but they may find that their own ideas, goals and choices may mature as they learn and think about what they learn.
Reading a dry text and regurgitating facts from the lessons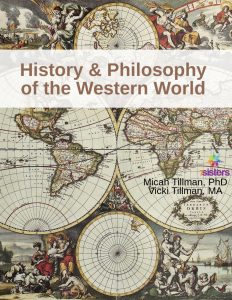 Let's just start with this: History textbooks do not need to be dry. They can be engaging and inspiring!
Take for instance: 7Sisters' History and Philosophy of the Western World curriculum.
This text covers high schoolers' World History credit for their transcript. In doing this, the text teaches teens about the great philosophers through time, their ideas and the ways their ideas shaped their lives and culture.
That may sound heavy, but it is not. History and Philosophy of the Western World is written in a light-hearted manner. You might be surprised at the humor integrated through the text.
Also, the text does not depend on questions and tests the are mostly regurgitating dates and places. Instead, the curriculum helps teens process the philosophies of an era and the ways those philosophies shaped cultures and governments.
More on how to make History credits better
Remember: There's not ONE right way to earn History credits. You can add sparkle to History credits (and also level up to Honors while you are at it)! Here are a few ideas that have worked for us:
Be sure to log hours for Carnegie unit credits and leveling up!
You can do this! History can be fun and meaningful!
PLEASE SUBSCRIBE TO HSHSP VIA COMPUTER
Follow this 

link to our Apple Podcasts page

.
OR take this IMPORTANT STEP: Under our Homeschool Highschool Podcast logo, click on View in "…your favorite podcast source"

This will take you to Apple Podcasts or your favorite podcast source and our own podcast page.

Click SUBSCRIBE.
Click RATINGS AND REVIEW. (Please take a minute and do this. It helps others find us. Thanks!)

Thanks!
PLEASE SUBSCRIBE VIA iPHONE
Tap the purple Podcast icon on your phone

Tap the search icon on the bottom-right of your screen

In the search bar type: Homeschool Highschool Podcast

Tap the Homeschool Highschool Podcast icon

Tap *Subscribe*

Please tap *Ratings and Review