Sara, the author of 7Sisters' Financial Literacy course shares: Yes to the Dress, Why Should Homeschoolers Study Financial Literacy?
Yes to the Dress, Why Should Homeschoolers Study Financial Literacy?
Have you ever watched "Say 'Yes' to the Dress"?  In this  'reality' television show,  brides visit Manhattan's famous Kleinfeld Bridal boutique to find their perfect wedding dress.  Frequently, a bride's dream dress is priced sky-high above her budget, and she will choose to blow her budget completely rather than settle for something less than that one dress that has captured her heart.  Sadly, this lack of firm resolve and long-term financial planning doesn't bode well for the days ahead.
As much as we'd all like our every dream to come true, real life tells us we simply cannot always afford the top-of-the-line, newest, latest electronics/cars/fashions.  In fact, the opposite may be true; at times we may have only enough money to supply our basic needs – forget the 'wants' entirely!
Yes to the Dress, Why Should Homeschoolers Study Financial Literacy?
As your children graduate high school and move on to college and 'real life', you (and they) will be thankful if they have learned the difference between needs and wants, and how to master their money, rather than being mastered by it.
This is the purpose of a financial literacy course.  Our homeschool group classes provide such a course to our high school juniors and seniors, those whose college/ employment years lie just around the corner.  These students are introduced to the basic concepts of budgeting and are taught to carefully plan the use of their money based on their values and long-range plans.  The normal day-to-day financial realities they'll be faced with as adults are presented (insurance, taxes, saving and investing options), with special emphasis on the wise use of credit opportunities (credit cards, loans, mortgages) while avoiding credit pitfalls (overspending, burdensome debt).
7Sisters Financial Literacy course begins with searching out God's standard regarding our attitudes toward money, and we apply Biblical principles throughout each unit.  For example, what is our responsibility to God as stewards of His money? What does the Bible teach in the areas of tithing and giving to the poor?  What spiritual pitfalls should we carefully avoid as we seek to wisely invest our money?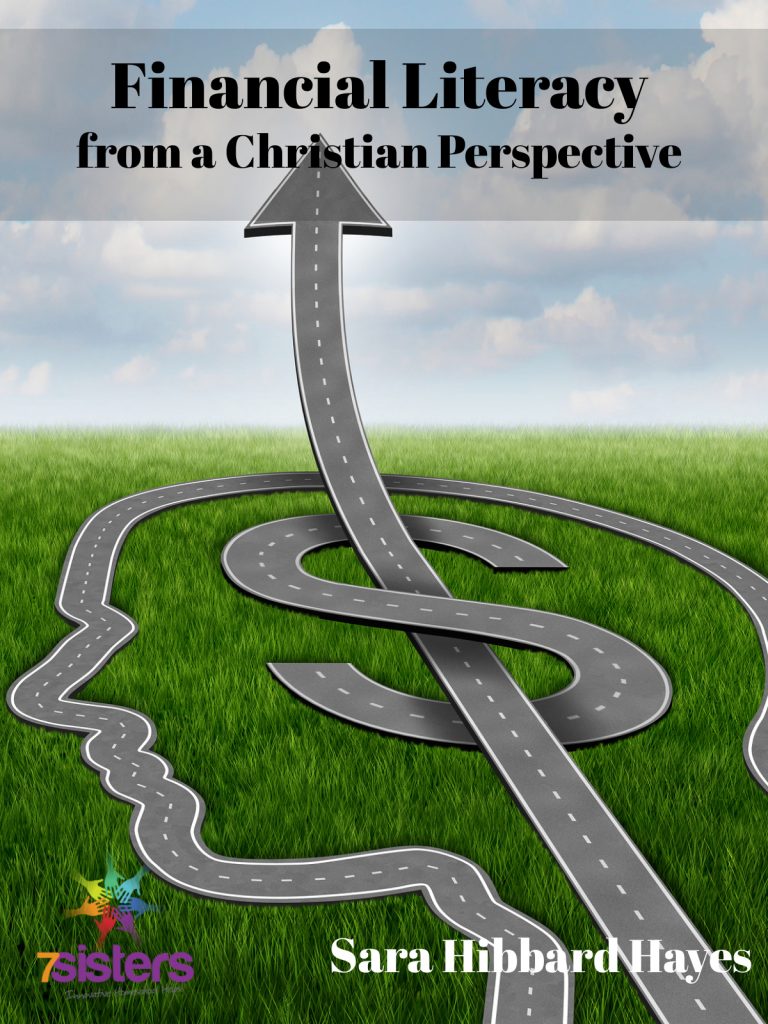 Parents play an important role in our Financial Literacy course as they discuss numerous financial topics with their students in homework assignments throughout the school year: their convictions on tithing, their choice of financial institutions and insurance companies, their budgeting tips, the employee benefits they receive, and many other topics related to financial decisions and situations their children will eventually face.  These topics may not come up in normal conversation at home, yet parents who have years of experience handling financial responsibilities can give wise guidance to their children.
Watching a young bride on television grossly overspend on her wedding dress is bad enough; how much greater our dismay would be to watch our own children handle money without wisdom and self-discipline.  As parents, we can model responsibility and discipline in our own financial decisions, talk with our children about money matters as they come up in daily life, and provide a financial literacy course to equip our children to be responsible adults who manage their money wisely.
Download Financial Literacy from a Christian Perspective for your homeschool high schoolers and help them be well prepared for future weddings (and all those other financial needs).
7Sisters email subscribers receive periodic practical encouragement, special offers and NO SPAM EVER.
Click the image above to periodically receive real homeschool value in your inbox.
Yes to the Dress? Why Should Homeschoolers Study Financial Literacy?