Review of God's Smuggler from a teenager.
We've been discussing passing on our values to our kids through their homeschool literature courses. One value that we've emphasized is faith. My youngest son wrote about his favorite book about a hero of the faith: Brother Andrew, God's Smuggler.
Here is the classic post:
A Review of God's Smuggler
Ever have one of those homeschool moments when you found out you were doing something right?
I asked one of my sons, "What is your favorite book so far this year?"
He answered, "That's easy: God's Smuggler!"
SO, I asked Sabrina to publish the study guide she wrote for his co-op class to use, and I asked my youngest, Seth, then a 15 year old high school student, to share a short review of God's Smuggler by Brother Andrew.
Seth's review:
—————————————-
God's Smuggler by Brother Andrew
God's Smuggler is an inspiring true story filled with adventure, suspense and faith. It is the autobiography of Brother Andrew. During the Cold War, Brother Andrew smuggled Bibles into countries behind the Iron Curtain.
The book is also the story of his conversion to Christianity. Brother Andrew went from rebellious boy, to reckless young man, to great man of God.
God's Smuggler really showed me how much God cares for His children. He kept Andrew safe through many dangers. Every time he  passed through a border he would pray what he called "the Prayer of God's Smuggler":
"Lord, in my luggage I have Scripture that I want to take to Your children across the border. When You were on earth, You made blind eyes see. Now, I pray, make seeing eyes blind. Do not let the guards see those things You do not want them to see."
Because of Brother Andrew, many people behind the Iron Curtain received Bibles and were shown that God cared about them. You will not want to put God's Smuggler down.
——————————————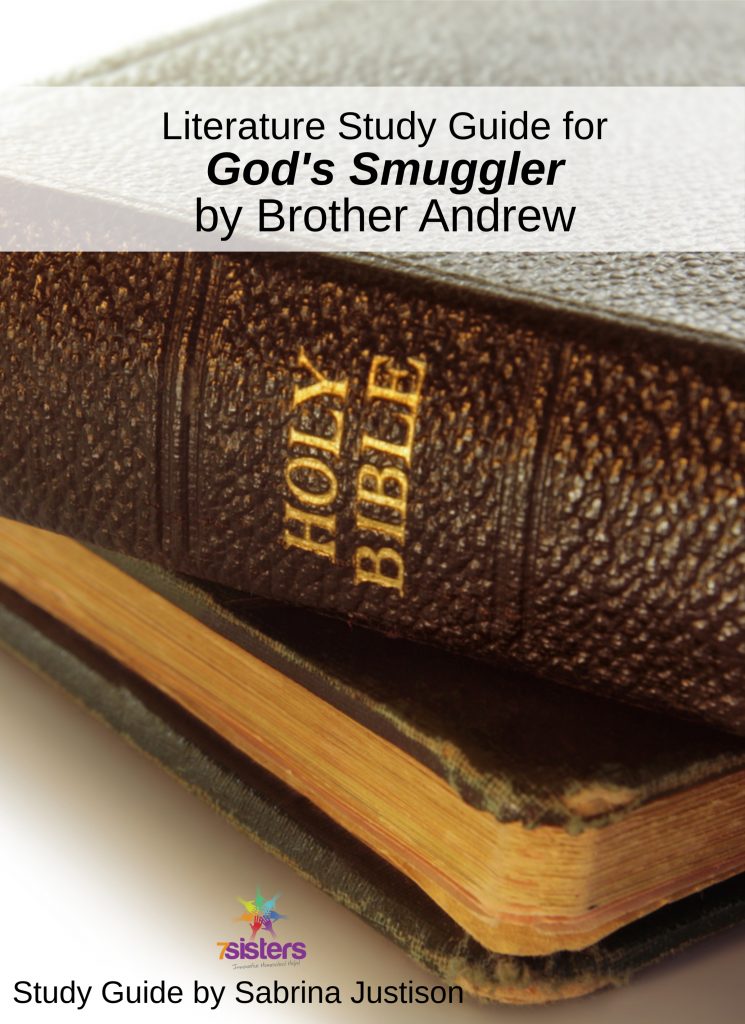 Sabrina's 16-page Study Guide for God's Smuggler helps inspire your homeschooler as well as helps him understand the culture and context of the Cold War. The study guide includes vocabulary and terms to know. While it helps solidify student comprehension, it does not deflate his enjoyment of this powerful book.
Give your teen a chance to study Seth's favorite book of the year.  Download God's Smuggler Study Guide
Open Doors
Brother Andrew founded Open Doors in 1955 by smuggling his first group of Bibles behind the Iron Curtain. It has been a powerful and effective ministry since that early trip.
Mission Statement of Open Doors
Serving Persecuted Christians Worldwide; We are an organization aimed at strengthening persecuted believers worldwide through community development, Bible & literature distribution, leadership training & education and ministries of prayer and advocacy.
You can download the story of Brother Andrew's conversion from the book God's Smuggler at the Open Doors website.
Here are  Sabrina's thoughts on character building curriculum options:
7Sisters email subscribers receive periodic practical encouragement, special offers and NO SPAM EVER.

Click the image above to periodically receive real homeschool value in your inbox.
A Review of God's Smuggler