Holiday financial literacy can include  a family who celebrates Christmas with (among other things) an exchange of gifts, how can you teach wisdom and financial literacy to your children in the process?
Holiday Financial Literacy
1.  Practice wise decision-making.
Actions speak louder than words; if your children see you shrug and overspend, or agonize when credit card bills come in after Christmas is over, they will not learn the lessons you hope to teach them.  They will be likely to follow your poor example when they are adults.  Take the time to make a comprehensive Christmas gift list for all the people you plan to bless.  Set a budget.  Divide the available money up wisely among the folks on your list.  Spend what you have, not what you wish you had. (BTW- for a complete overview on Financial Literacy, check our Authoritative Guide to Financial Literacy.)
2.  Give joyfully and fearlessly.
Once you are operating on a wise budget, don't moan and groan about the cost of gifts.  If you have planned wisely, then give cheerfully.  It's fun to give gifts!
3.  Equip your kids to do the same.
If there are people to whom they will give gifts, discuss their options for paying for these gifts (must they save their allowance?  complete extra chores to earn money?  stay within the amount you give them?).  Help them to set up a budget on paper.  Then gently encourage them to hold themselves accountable to that budget.
4.  Receive joyfully.
Don't allow yourself to feel guilty for receiving gifts; they were given to you because someone WANTED to bless you with a present.  Make a fuss — the good kind that says, "Oh, I love it!  It's such a beautiful color!"  Don't do the whole, "Oh, you shouldn't have gotten me anything.  It's too expensive!" thing.  Your kids should see that people really like the things they receive, even if those things did not come with an outrageous price tag.  If you are genuinely excited about what they gave you, they will learn to shop wisely in the future.
5.  Talk to your kids openly about the dangers of buying on credit, even if you have to sheepishly admit to debt in your own family.
With older kids in particular (high school, for sure), you are teaching them something extremely important when you share with them your own struggles to keep a wise budget.  Show them how many credit card applications arrive unsolicited in your mailbox in the season for Christmas shopping.  Draw their attention to the fact that every cashier offers you an extra discount if you open an account right there and charge your purchases.  Before they are 18 and begin receiving those applications in the mail with their own names on the envelope, let them know what a deadly trap debt becomes.
Ebenezer Scrooge is NOT the man to be at Christmas time, but his story is a GREAT one to read!
Download 7 Sisters' Literature Study Guide for this classic by Charles Dickens here.
A Christmas Carol study guide is a  resource that enhances the learning without killing the enjoyment of the story!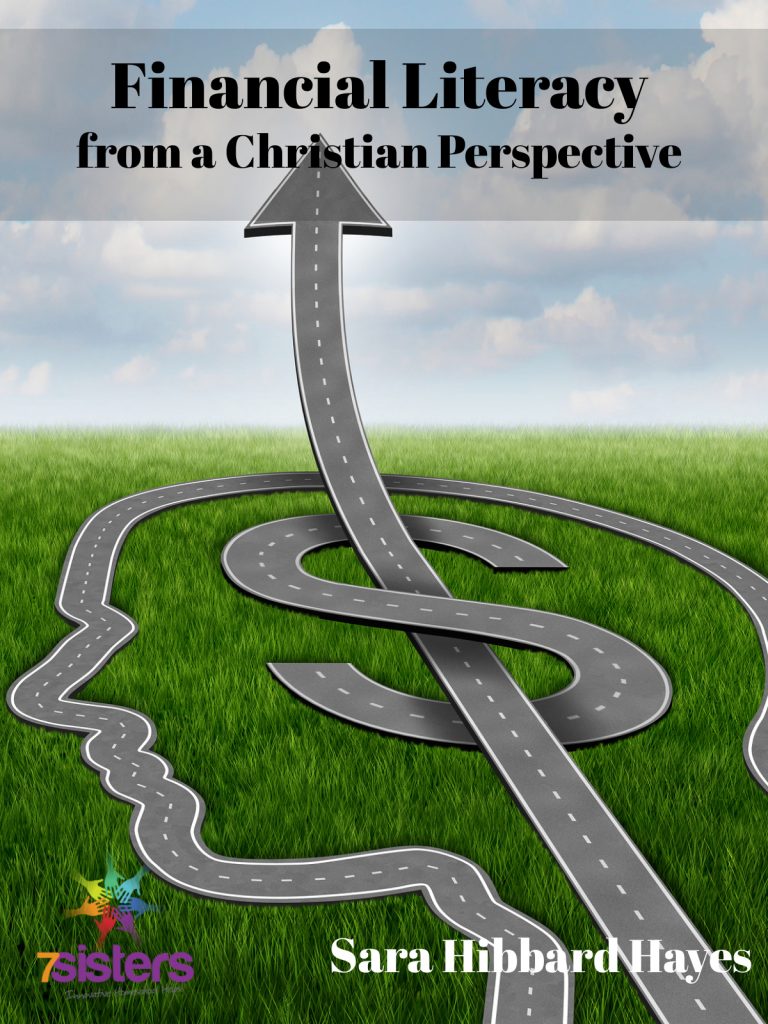 Don't forget: 7Sisters has a unique, interactive high school etext
Financial Literacy from a Christian Perspective by Sara Hibbard Hayes
7Sisters email subscribers receive periodic practical encouragement, special offers and NO SPAM EVER.

Click the image above to periodically receive real homeschool value in your inbox.
Holiday Financial Literacy