C.S. Lewis gives homeschool high schoolers character development, critical thinking and Screwtape Letters.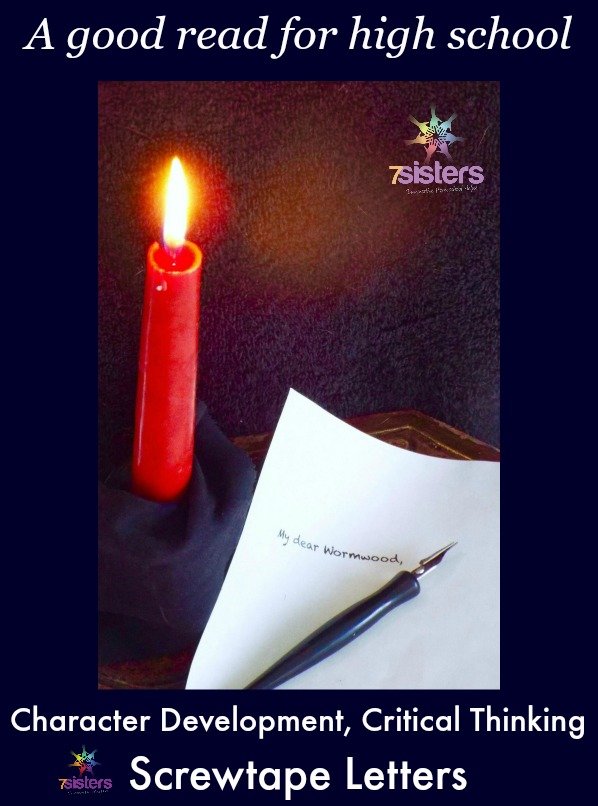 Character Development, Critical Thinking and Screwtape Letters
C.S. Lewis' Screwtape Letters is one of my all-time favorite books!
It is a terrific choice for homeschool high schoolers because it helps teens in character development and critical-thinking development. If you are not familiar with the book, Screwtape Letters is a *collection of letters* written by an older demon to his younger demon protege. The mentor demon is trying to educate his mentee on ways to confuse his *subject* (a young Christian) and hopefully make him fall.
That could sound like a horror story but it is written in Lewis' excellent tongue-in-cheek manner. That sounds scary and in some ways it is, but there is so much of Lewis' ironic humor throughout the book that we end up laughing at the demons. Instead of being inspired to fall, the reader is inspired to grow closer to God and stronger in good character!
Besides that, the book is perfectly delightful to read! In this "reversal of perspective" viewpoint (as 7Sister's insightful Screwtape Letters Literature Study Guide explains), Screwtape Letters exposes the methods and reasons for temptation from the demonic viewpoint.
Screwtape Letters is an important read for teens because:
Character development in homeschool high schoolers is enhanced as they learn the strategies employed by a novice devil to hinder or discourage a young Christian.
The novice devil is being instructed by his Uncle Screwtape, who has lots of human-destructive advice. Teens learn to beware of these tricks and maintain attachment to their Lord Jesus.
Homeschool high schoolers learn critical thinking skills as they wrestle with the concepts of irony and reversal of viewpoint.

They gain skills in questioning to discern what is good, pure, and godly.
It helps to have a gentle, no-busywork literature study guide to help your homeschool high schoolers learn philosophically and grow personally as they read Screwtape Letters. 7Sisters' Screwtape Letters Literature Study Guide is unique in that it sculpts:
Character development and critical thinking skills through concrete guided questions in the first half of the book
Thought-provoking application essay questions through the second half of the book
True personal change through a powerful reflection-paper assignment at the end of the book
7Sisters Screwtape Letters Literature Study Guide includes:
Vocabulary
Background information necessary to understanding the story
A couple of literary concepts (We don't kill the book with trying to teach them every literary device. That would ruin the book!)
Comprehension questions
Inferential questions
Activities to level up for honors credit
Answer key
Also, if you want a real treat, get the audio of John Cleese reading The Screwtape Letters. It is marvelous. (This is not a sponsored post- just my opinion.)
Download 7Sisters' Literature Study Guide for The Screwtape Letters.You will love the character development and critical thinking skills gained by your homeschool high schoolers.
7Sisters email subscribers receive periodic practical encouragement, special offers and NO SPAM EVER.

Click the image above to periodically receive real homeschool value in your inbox.
Character Development, Critical Thinking and Screwtape Letters