Here are 3 ways to develop financial skills for homeschool high schoolers.
Financial Skills for Homeschool High Schoolers
Just like anybody, your homeschool high schoolers need to be skilled in financial literacy. If they are well prepared to handle money and financial responsibilities, they won't be as prone to falling into the errors of the past generations.
Here are 3 ways to develop those necessary financial skills for your homeschool high schoolers:
Talk about money with your teens. Make financial discussions as great a priority as the discussions you've had with them about safe driving and healthy relationships.
Model healthy financial management. Include them on family budget discussions, shopping, and financial goal setting.
Provide homeschool high schoolers with an engaging, interactive, Biblical-perspective Financial Literacy curriculum for their high school transcript Consumer Math credit.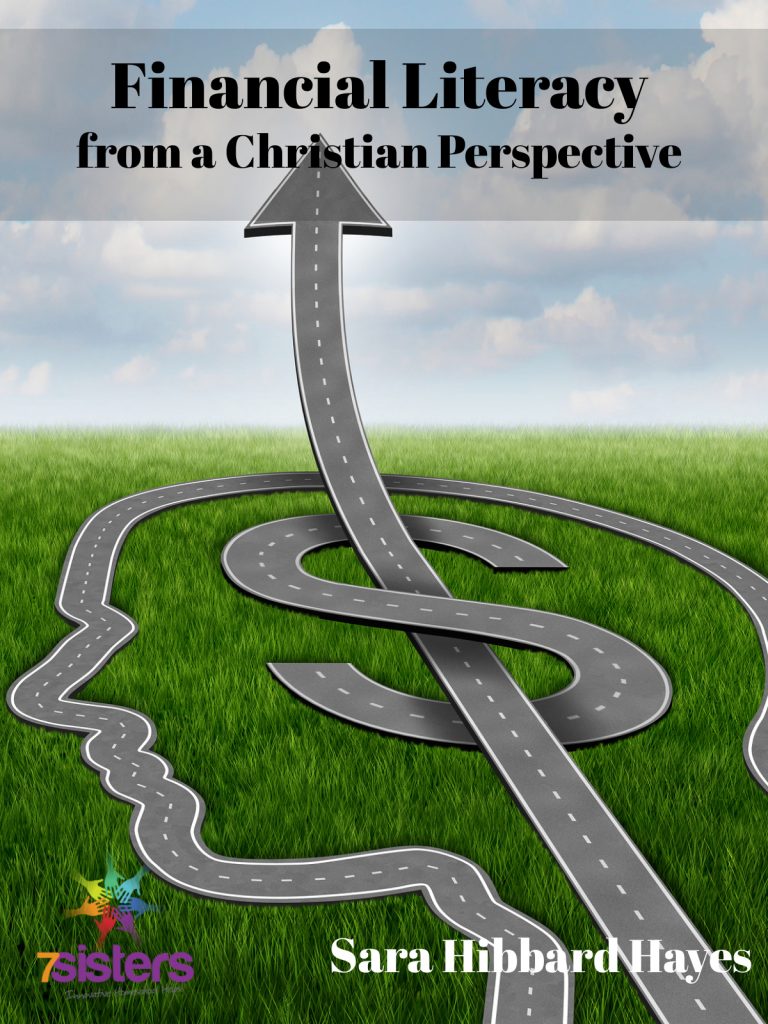 7Sisters' Financial Literacy from a Christian Perspective helps you and your homeschooler hit each of those goals.
Designed to be truly interactive, this curriculum includes online assignments and family discussions as well as solid life-preparation skills. (My son found it to be one of his most useful high school courses.)
Here are the topics covered in our Financial Literacy course:
Money – The Basics

Setting Financial Goals

How Values Affect Goals

S.M.A.R.T Goals

Financial Strategy for Achieving Goals

Budgeting

Limited Resources

The Budget – Freedom within Safe Bounds
Income and Expenses
Keeping Your Spending on Track with Your Budget

Saving and Investing

The Time Value of Money

Simple and Compound Interest
Investments: Risks and Rewards

Credit

Revolving and Installment Loans

Benefits and Risks of Credit
Amortizing Loans
Your Credit Report and Credit Score
Debt

Financial Institutions and the Services They Provide

Banks and Credit Unions
Checks
Debit Cards
Bank Statements & Balancing Your Checkbook
Identity Theft

Insurance

Automobile Insurance
Health Insurance
Life Insurance
Disability Insurance
Renter's/Homeowner's Insurance

Your Career

Help for Choosing Your Career
Education and Career Opportunities
Payroll Deductions and Employee Benefits

Taxes

Record Keeping
Three Federal Income Tax Forms
Tax Returns: Experience with Each Form
Here are links to some FREEBIES to give you a taste of the useful activities in 7Sisters Financial Literacy from a Christian Perspective.
Download the FREEBIES and Financial Literacy from a Christian Perspective and give your teen a great financial start!
AND listen in on this episode of Homeschool Highschool Podcast where we discuss several ways to approach Financial Literacy with teens. Also, find tips in a post Vicki contributed to Ultimate Homeschool Podcast Network about planning for success with your homeschool high schooler.
Financial Skills for Homeschool High Schoolers