For your homeschool high schoolers' character development: importance of studying hymns and creeds.
Character Development: Importance of Studying Hymns and Creeds
In my many years of homeschooling high schoolers in group classes and co-op, I've noticed that more and more of them have never heard a hymn and are totally unfamiliar with the ancient Christian creeds. That's not a statement of criticism, but it is a concern. As our teens develop their identities and characters, it is important that they know their faith roots.
But how do you do give a non-denom teen roots without boring them to tears with intense theology and tons of memorization? How about a friendly, no-busywork 11-page guide? That would do it.
So 7Sisters brings you Hymns and Creeds Study Guide.
Hymns have provided powerful poetry for Christians over the centuries.
Creeds (statements of belief) have attempted to build the knowledge and unity of the church the world over.
This 11-page study guide by Sabrina Justison helps you get the most out of a study of great hymns of the Christian church and creeds believers have esteemed for hundreds and hundreds of years.
Taking a literature approach to Hymns and Creeds allows homeschool high schoolers to grow in character development and at the same time, count their work as a book for their required book list (many homeschool oversight organizations will allow a compilation of hymns and creeds WITH a study guide to count as a book).
Literature study guides from 7Sisters Homeschool inspire students rather than tire them with busywork. Instead of attempting to examine every element of a literary work on the first reading, Hymns and Creeds, like all our study guides choose two or three respected literary devices and use them as a focal point.
Hymns and Creeds Study Guide focuses on the following literary devices:
The suggested writing assignments
compare and contrast
explore poetic expression
encourage personal application and response
This study guide contains a chronological list of beloved hymns, and students are helped to examine the lyrics of these hymns as poetry, to analyze 5 titles in depth, and to respond personally to the hymns they have chosen. A study of The Apostles' Creed and The Nicene Creed help students understand the purpose of capturing in words the fundamental truths of faith in Christ and the potential for the cultivation of unity among believers found in the memorization and recitation of these creeds.
What great things for Christian teens (and adults) to dig into!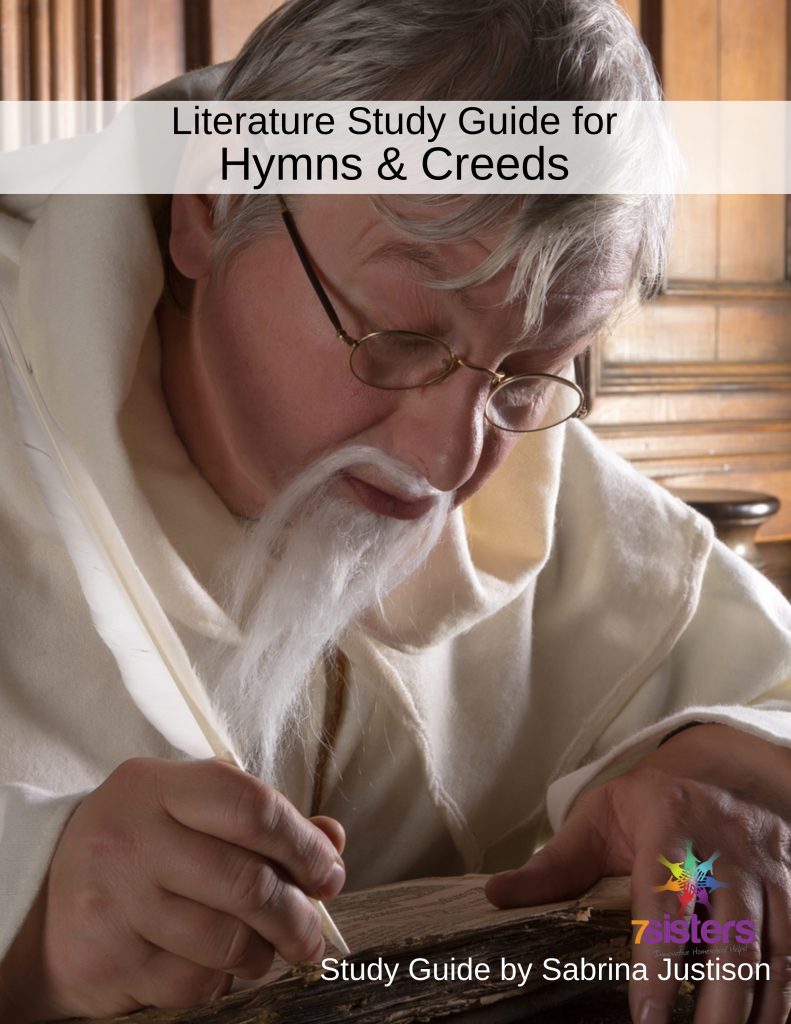 Hymns and Creeds Study Guide is EBook curriculum complete with
background information,
chronological list of famous hymns from several periods of history,
discussion questions by section,
suggested writing assignments, and
answer key.
No additional book is needed to complete this study guide; all reading material is included or may be accessed via recommended internet sites.
Click here to view an excerpt. Then download it today for character development and good education for your homeschool high schoolers.
7Sisters email subscribers receive periodic practical encouragement, special offers and NO SPAM EVER.

Click the image above to periodically receive real homeschool value in your inbox.
Character Development: Importance of Studying Hymns and Creeds