Homeschooling means laying a sound foundation of academics for our children, encouraging well-rounded development in athletics, the arts, and service, and all that other stuff that traditional school administrators put into their mission statements.
Homeschooling for Christian parents also means exposing our children to the kind of information, people and experiences that will equip them to become fully-devoted followers of Jesus Christ.  Character studies are a great tool for bringing many of these goals together in our homeschools.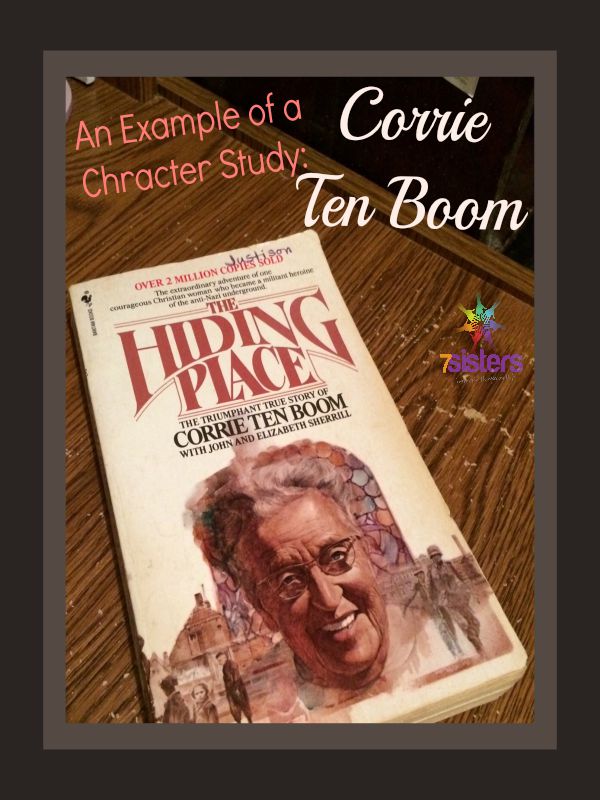 Character Study: Corrie Ten Boom
A character study begins with a name. I (Sabrina) learn of someone with an extraordinary story to tell of a life lived for God.  I begin gathering resources and I share this person's story with my child.  We read about him or her.  We write in response to what we have read.  My kids and I find media to supplement our learning – video (both documentary and dramatization) certainly.  We love to include audio recordings that allow us to hear the person's own voice are surprisingly powerful, too.  Together we go on field trips that give us a taste of what comprised this person's life.  We create art, or music, or drama in response to what we are learning.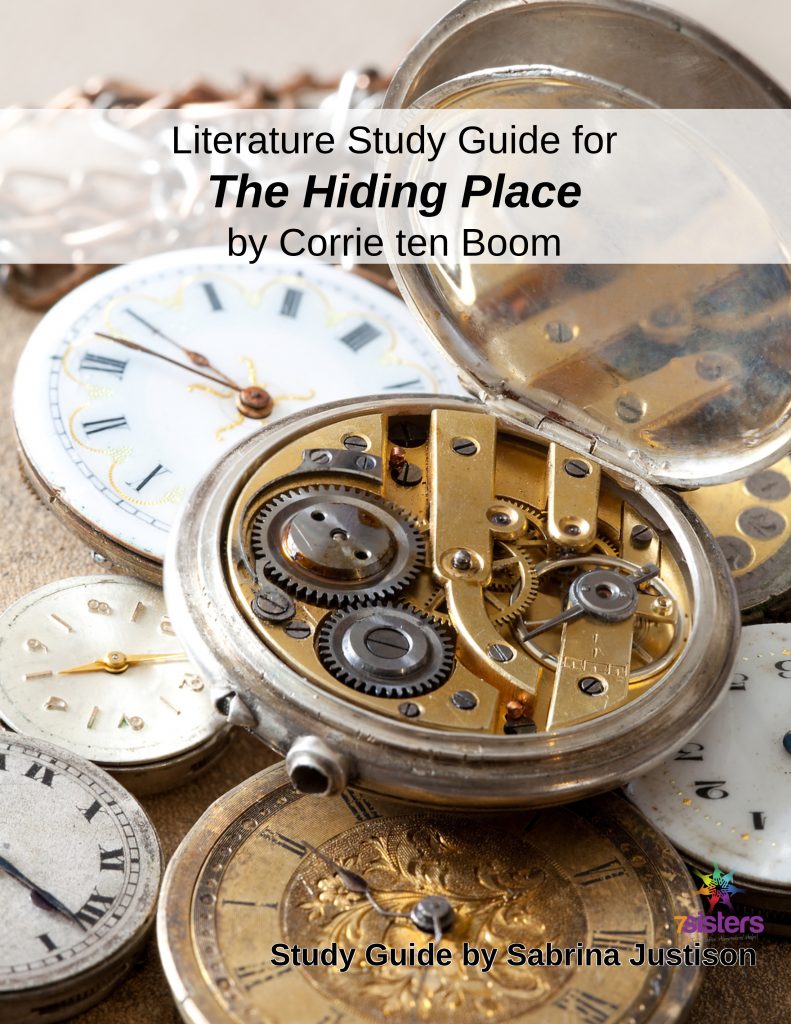 And we talk….yes, TALK!  My favorite part of homeschooling is almost certainly the conversation!
Corrie ten Boom became a character study in our homeschool last year when my son was in 8th grade.
Personal rabbit trail:  I struggle emotionally every time I must teach about the horrors of the Holocaust.  I remember the sensitive heart I had when I was in high school, and I still feel my stomach knot up when I remember the rough-and-tough football coach who taught my 20th century history class who seemed to almost take pleasure in horrifying us with grisly, detailed accounts of life and death in the concentration camps.
Looking back, I understand that he had many of his players in his class, and he wanted to break through their rough-and-tough facade so that they would mourn the atrocity of the Holocaust and care enough that it might never happen again.
But understanding that now doesn't change the knot in my stomach; I watched more footage than I was personally equipped to handle when I was 14, and I dread teaching about it even though I know my children must understand this dark time in human history.
With my older children, we read Anne Frank's The Diary of a Young Girl and Elie Wiesel's Night as we learned about the Holocaust.  I was okay with Anne Frank, but Elie's account – while it really blessed one of my sons tremendously – put my stomach back in that familiar knot, and put me on emotional overload.
Last year, I re-discovered The Hiding Place by Corrie ten Boom (with John and Elizabeth Sherrill), and I cannot recommend it highly enough to other homeschoolers, especially those who struggle as I do to find a way to communicate the atrocity without wallowing in it to the point of overload.
Corrie's story is unique in that it is NOT about World War II, the Nazi occupation of Holland, or the concentration camps.
Instead, it is about a woman who grew up in a family of genuinely devoted followers of Christ, a woman who led the quiet life of a spinster watch-maker into her 50's, and a woman who sought to love God and love people as she led church services for mentally disabled people in her community.
The Nazi invasion of Holland was simply a catalyst moving Corrie forward in the ministry she was ALREADY practicing.
The love she had practiced for the mentally disabled was expanded to encompass the persecuted Dutch Jews.
The leadership she had already practiced for years became a blessing to the underground.
The forgiveness she had painfully learned to extend when she was jilted by the man she hoped to marry laid the groundwork for her to forgive the Nazi guards who tried to destroy her.
And eventually her giftedness in teaching the word of God became a vehicle for the eternal salvation of women in the barracks at Ravensbruck….and of men and women all over the world after the war was over and Corrie began to minister to millions as she traveled the world telling her story.
Character Study: Corrie Ten Boom
I wrote a literature study guide to accompany Corrie's inspiring, moving, and God-centered book, (and included it in our Great Christian Writers full-year literature curriculum) when our homeschool day-school literature class read the book together last fall with the study guide, we found the conversation about Corrie's story to be rich and rewarding.  In the play I wrote it incorporated her example and drew lessons from it.
I wrote a song of worship that I sing in my own quiet time and that I taught to students who were interested in digging deeper into the richness of The Hiding Place.  I couldn't seem to help myself….getting so much out of this character study and finding it spilling out of me in response!
Oh, wait!  It's supposed to be our CHILDREN who get filled up by character studies in our homeschools, right?
Study someone who inspires YOU, homeschool parent, have conversations with your child, and be amazed at how contagious that kind of character study can be!
Love reading about Corrie ten Boom? Consider Great Christian Writers as a literature option for high school.
7Sisters email subscribers receive periodic practical encouragement, special offers and NO SPAM EVER.

Click the image above to periodically receive real homeschool value in your inbox.
Character Study: Corrie Ten Boom