Here's how to teach high school Literature and KNOW you are doing it right.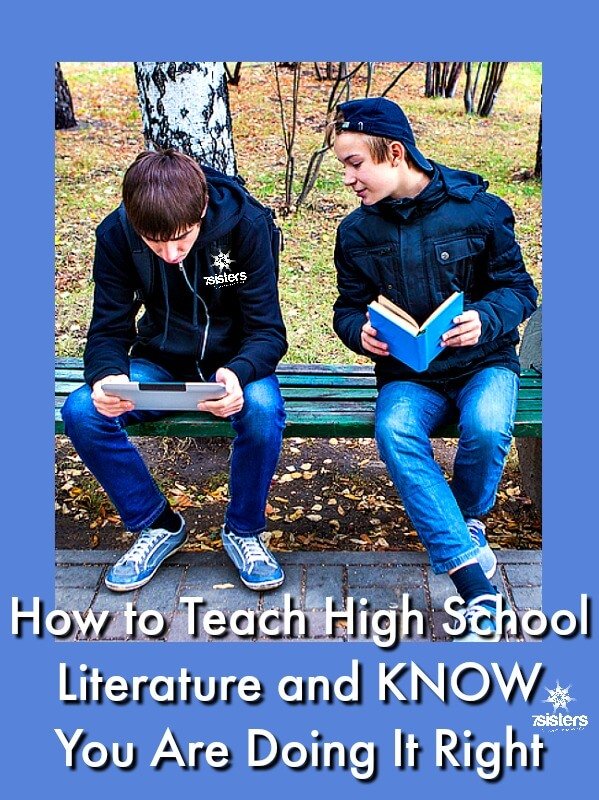 How to Teach High School Literature and KNOW You Are Doing It Right
I'm going out on a limb here.  I'm making a bold statement.  Are you ready?
There is only ONE RIGHT WAY to teach Literature.
I know this is the ONE RIGHT WAY because I can fast-forward the scene and enjoy where it takes me. Let me explain:
Think of a person's life story burned onto a DVD, and hit the fast-forward button….what will be the result of this choice? Are you satisfied with the outcome you can foresee? 
Let's fast-forward the traditional approach to teaching high school literature.
For my child's high school, I chose books that were recommended reading, and I chose them whether I actually understood the value of those books myself or not. So in reality, someone else chose my child's book list; I don't know who this person is, but he or she established the curriculum I bought or created a list of books that appeared on the internet and sounded authoritative.
When my student read those books, we looked for the commonly respected themes in the story, we memorized the pivotal moments in the plot, we recognized the universally accepted symbolism in the story, and finally, we produced a piece of writing based on a prompt someone put forth as a "good topic" for writing about this book.
When we are all done and I play the scene forward in my mind, I see:
my grown child at a dinner party with colleagues someday where someone mentions the book title.
"Ah yes! I read that book in high school, too."
The discussion that continues will find everyone sharing very similar experiences they had with the book, the primary focus for actual conversation being who liked the book and who didn't. All I taught my child with this traditional method is to memorize what others have decided is valuable about a piece of writing, to articulate someone else's observations about it, and to decide whether or not it was fun to do those things.
I am not satisfied with that outcome for my child!
Here's how to teach high school Literature and KNOW you are doing it right:
* Choose wisely. Whether you create your child's book list or you and your child collaborate on the task, choose books that you want to read. What do you want to spend time talking about in the car? What topics will interest you around the dinner table? Choose books that will feed into that conversation. Recommended reading lists are a great place to get IDEAS for books to read, but they are not definitive. There is no book that MUST be read for a child to graduate from high school.
* Read with your brain turned on. Pay attention to the story, the characters and the themes as you read, and use a literature study guide if you or your student struggles to stay focused while reading. (Check out 7 Sisters' ever-growing collection study guides for many classic works of literature, including the popular Great Christian Writers study guides.)
* Read with your SPIRIT turned on. Knowing what the author put into the book is not enough. It's so exciting to uncover what GOD put into the book, and reading with an attitude of openness to His agenda for us reveals those things. Ask God to show Himself in what you are reading. Even books by godless authors frequently contain illustrations of spiritual truth; God uses the most unlikely vessels.
* Talk about what you've read. Have meaningful conversations about books instead of oral review sessions. Don't quiz your child to see if he completed the assigned chapters; TALK TO HIM about what is grabbing him in the reading. Encourage him to articulate WHY it's grabbing him. There are no wrong answers when you are discussing a piece of literature.
One of the best book series for rich discussion is CS Lewis' Chronicles of Narnia. Our Literature Study Guides make these children's books great high school material.
* Allow writing assignments to grow out of these conversations. Use a writing prompt from someone else to get you started if you like, but only if the prompt is a good fit for the conversation you've already been having. If your child saw something really out-of-the-norm when she read the book, and she can articulate it and support her observations with examples from the book, GOOD FOR HER! You don't even have to see it yourself; if she can write about it intelligently, she might be able to convince you that you simply missed those things when you were reading the same book!
When I fast-forward this scene in my mind, I see:
ten years down the road my grown child is at a dinner party with colleagues where someone mentions a book title.
"Ah yes! I read that book in high school, too."
Now imagine how rich the ensuing conversation will be.
While many others in the circle "learned" the same things from that book,
my child will be able to share from his personal encounter with the book.
He can INTRODUCE IDEAS that were stirred in him.
He can SHARE STORIES of how he was changed by that reading experience.
And he can EXTEND A CHALLENGE to the people around him to turn on
their brains and their spirits in a deeper way the next time they pick up a book.
How to Teach High School Literature and KNOW You Are Doing It Right
7Sisters email subscribers receive periodic practical encouragement, special offers and NO SPAM EVER.


Click the image above to periodically receive real homeschool value in your inbox.