By request: Should My Homeschooler Take CLEP Tests?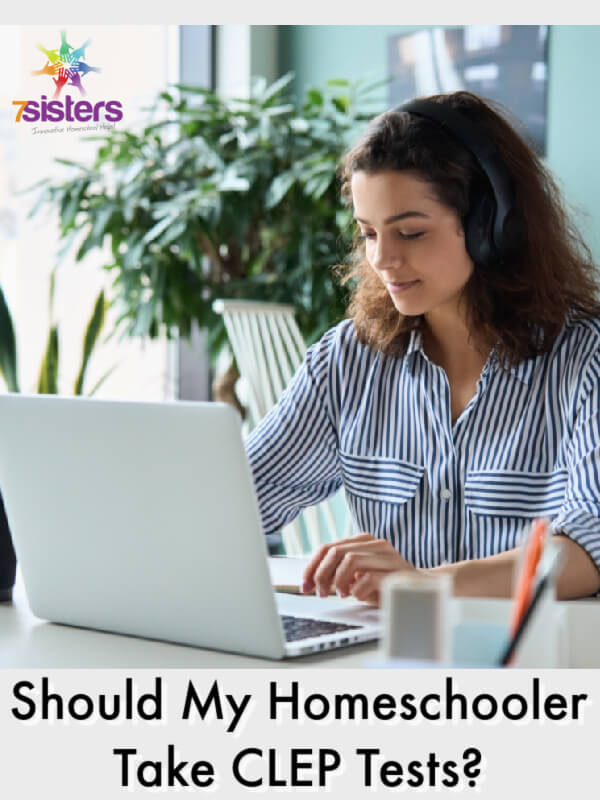 Should My Homeschooler Take CLEP Tests?
We have received some requests for information about CLEP tests and whether or not homeschool high schoolers should invest in these exams. So let's talk about it!
What is CLEP?
CLEP stands for College-Level Examination Program. It is a group of tests offered by the College Board. The purpose of the exams is to help people earn college credit for topics that they already know. Therefore, students can earn college credit by passing a CLEP test.
What is the difference between CLEP and AP exams?
The main difference between CLEP and AP is the preparation. AP exams are given after a student completes an approved AP course. However, CLEP exams do not require an official preparatory course. Rather, students learn the material covered in the exam on their own.
What is the format for CLEP?
Most CLEP tests are multiple-choice questions given online at one of 2000 testing centers. Also, students who are aged 13 or over and live in the US can take CLEP at home with digital proctoring. The tests take 90-120 minutes to complete and scores are given immediately for most exams.
What subjects do CLEP exams cover?
There are thirty-three different CLEP exams in four topic areas:
History and Social Sciences
History:
American Government
History of the US 1 and 2
Macroeconomics
Microeconomics
Western Civilization 1 and 2
Social Sciences:
Social Sciences and History
Human Growth and Development
Introduction to Educational Psychology
Introductory Psychology

(Note: 7Sisters Introduction to Psychology course is not meant to be a CLEP prep/college-level course. It is a high school course that introduces Psychology to teens. The goal for our text is to help teens like Psychology and actually learn material that is useful in life. )

Sociology- Introductory
Composition and Literature
American Literature
Analyzing and Interpreting Literature
College Composition (includes a writing section)

(and a College Composition Modular)

English Literature
Humanities
Science and Mathematics
Science
Biology
Chemistry
Natural Sciences
Math
Calculus
College Algebra
College Mathematics
Precalculus
Business
Financial Accounting
Information Systems
Introductory Business Law
Management
Marketing
World Languages
French Language 1 and 2
German Language 1 and 2
Spanish Language 1 and 2
Spanish with Writing (includes a writing section)
How much college credit do the CLEP exams earn?
Most exams earn three college credits per exam. However, it is up to the individual college to assign the credits and the title of the credits on the transcript.
Do all colleges accept CLEP?
No, not all colleges accept CLEP for credit. However, currently 2900 colleges accept CLEP credit, including many community colleges. It is wise to check any colleges of interest to see if they accept CLEP credits.
How much do CLEP exams cost?
Currently, CLEP exams are $89 each. Also on the CLEP website on each test's page are some free practice questions. Not only that but you may purchase a study guide for each test.
Should my homeschooler take CLEP tests?
First off, remember your homeschool high schoolers' goals and gifts. Do they want to push through as much college as they can while in high school? Do they enjoy test-taking or do they have test anxiety? Make a choice about CLEP based on goals and gifts PLUS take a look at the pros and cons.
There are a number of pros and cons of taking CLEP tests. Let's take a look:
Pros of your homeschooler taking CLEP tests
Earn college credit for $89 per test rather than college classes which can cost hundreds or thousands of dollars (according to the school and the location of that school).
Get college credit for stuff your homeschool high schoolers already know.
Your teens can graduate from college earlier because they have accumulated credits during high school.
CLEP students tend to have higher GPAs and have a higher rate of completing a two-year degree then transferring to a four-year degree program.
Cons of your homeschooler taking CLEP tests
You need to use a study guide.

On each of CLEP's test pages, there are free study questions plus a $24 dollar study guide. These are important because students prepare for the specific kinds of questions they will find on the test. Not only that, but the guides teach students the vocabulary and focuses of the test, since these can differ in various high school curriculum.

Not all colleges accept CLEP

Check any colleges your homeschool high schoolers are interested in attending. Find out if they accept CLEP scores or if they accept the scores for each specific test your teens took.

If you fail CLEP, you have to wait three months to re-take it.
If your teen earns TOO MANY CLEP credits before entering college, they might find they become ineligible for scholarships.
How to help your homeschoolers prepare for CLEP tests
Get the practice questions and study guides from College Board (listed on each test's page). Then follow these suggestions from CLEP's page.
Review the exam description
Have your teens work through the study guide as they study their own curriculum on the topic
Know how to take a CLEP test:

Read the entire question and answers before selecting an answer
Pace yourself- a little more than one question per minute.
If you do not know the answer, mark that question (using the "mark-it" tool at the bottom of the screen), then move on to the next question.
Make educated guesses (students are not penalized for wrong answers)
On essay questions (for the two tests that have written responses)

Do not spend too much time on one question
Read and follow the instructions carefully
As you know, there's not ONE right way to homeschool high school. Some teens will be excited about CLEP-ing out of some courses. Other teens do not want any additional curses. Make decisions based on your homeschool high schoolers' opinions and thoughts on the matter.
7Sisters email subscribers receive periodic practical encouragement, special offers and NO SPAM EVER.

Click the image above to periodically receive real homeschool value in your inbox.