In addition to the traditional History credits we plan for our students, it can be so much fun to create homeschool high school social studies electives that are tailored to a particular child's interests. Here are some things to consider as you create a transcript entry for your highschooler.
Homeschool High School Social Studies Electives
When creating homeschool high school social studies electives, think about these considerations:
1. Social Studies includes a wide range of topics.
Colleges and traditional high schools typically include the following:
Anthropology
Comparative Religions
Economics (both macro and micro)
Civics (both American and World Governments)
Geography (so many ways to approach this one!)
Law
Sociology
Archaeology
Women Studies
African American Studies
Community Leadership
Era Studies (for example: Holocaust, Vietnam War, Current Global Dilemmas)
Historical Research
Native American Studies
2. Homeschool High School Social Studies Electives credits can be earned a couple of ways.
– Find a text you like at a high school or higher level and complete it.
If the text says it provides one semester of learning, that's likely a 1/2 credit course. If it offers a full year, that's likely a 1 credit course.
– Use a variety of books.
Find scholarly books on the subject you've chosen and read them, writing a well-planned, well-edited paper in response to each (use a variety of research paper, personal reaction, creative writing inspired by the material, etc.) or create a project in response to each book. General rule of thumb is that 8 books = 1/2 credit. 16 books = 1 credit.
– Log hours to earn a credit using Carnegie Units.
Watch documentaries and well-researched movies on the subject. Go on field trips. Interview professionals in the field. Get creative with research projects of your own. When all is said and done and recorded, you have earned a strong transcript credit if you can show 135 hours. (67.5 hours earns 1/2 credit.) (Click here for a detailed, if somewhat overwhelming, treatment of Carnegie Units from Homeschool Legal Defense Association.)
– Combine the above approaches in any way you like!
Perhaps you will use just a few chapters from a text because you like part of the book but not all, and count that as 1/4 of your credit.
To that you add the reading (use of audio books is fine, too) of 4 scholarly works on the subject, adding another 1/4 credit as you produce a paper or project from each book you've chosen.
You find that PBS did a whole series of documentaries on your subject back in 1992, and you can watch them online. When you total up those video hours, you have 20 to record on your log sheet. That's 1/2 credit of bookwork, plus 20 hours of video.
All that's left to log now is 42.5 hours of field trips, projects, activities, independent research projects, interviews, or discussion groups.
My youngest son and I used the combo approach to create a 1/2 credit U.S. Courts Elective at the end of last year. We used an audio series of lectures as our primary guide – The Modern Scholar: Fundamental Cases: The Twentieth-Century Courtroom Battles That Changed Our Nation by Alan M. Dershowitz. (Liberal spin? You bet! But it made for incredible conversation and critical thinking practice!) To that we added some lectures on and readings of original documents (Common Sense, The Declaration of Independence, The U.S. Constitution) and some other informative (but short) books and articles like Frederic Bastiat's The Law.
To these texts we added a mother-son road trip to Boston and Salem, MA. We stopped at Plymouth along the way to see Plymouth Rock, tour the Mayflower Replica, and visit two of the oldest courthouses in the United States. In Salem (weird town!) we toured the Witch Trials memorial, museum, and the U.S. Maritime Monument at the Customs House (the one about which Nathaniel Hawthorne wrote in the introduction to The Scarlet Letter). Before each stop on our journey I had Jonah do some online research to learn about the events in U.S. history that happened there to help form the court system we have today.
Finally, we watched a few movies I'd chosen that drew attention to the incredible complexities of courtroom decisions in our country today, and he also watched several documentaries and video lectures. I created a YouTube playlist with some of those here.
It's not so overwhelming to create homeschool high school social studies electives when you think of breaking it into chunks like we did.
If you prefer to use a text that's been designed for you, take a look at our own Introduction to Psychology from a Christian Perpsective, or History and Philosophy of the Western World.
And here's Vicki's fun, fabulous chat about Psychology, why colleges are asking for it on high school transcripts, and how it can add great learning and enjoyment to your homeschool.
What resources have you found helpful for creating homeschool high school social studies electives?
7Sisters email subscribers receive periodic practical encouragement, special offers and NO SPAM EVER.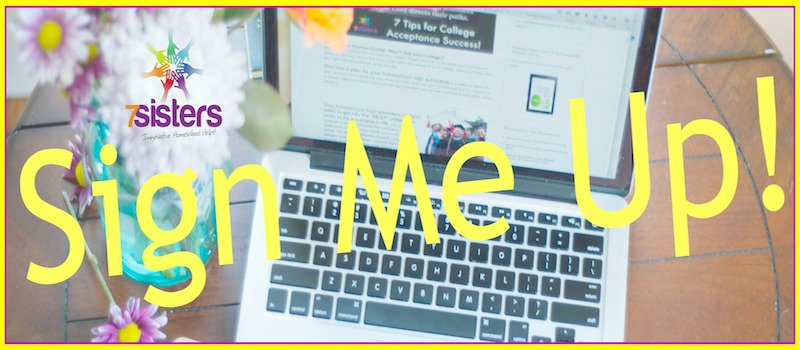 Click the image above to periodically receive real homeschool value in your inbox.
How to Create Homeschool High School Social Studies Electives