Here are some real-life examples. Homeschool case study: High schooler hates reading.
Homeschool Case Study: High Schooler Hates Reading
I have served my homeschool community as an academic advisor. This is a case study (with identifying name and information changed).
When Mrs. Smith and George dropped by to discuss the upcoming 9th grade school year, we began as usual to identify George's strengths, interests, and weaknesses.
Above all, we wanted to tailor the curriculum choices to:
enhance strengths
invest in interests
compensate for the weaknesses
Therefore, Mrs. Smith and George explained:
George's academic strengths were related to history. He particularly loved to study the World Wars.
His interests were in hands-on learning: he loved living history events, loved physical activity, loved making things with his hands.
Also his weakness was reading: he hated to read. Achievement test scores from last year suggested that he might struggle with the inferential and basic comprehension skills that would make reading rewarding.
History curriculum choice was easy. Since George had already had very rich middle school experiences in US and World History, we chose a year of World War studies. He would earn a Carnegie credit (average high school level) with log 135 hours of hands-on instruction (our umbrella school's Carnegie unit requirement).
George would attend re-enactments, go to museums, watch History channel and PBS specials on the Wars. Research papers for Language Arts would cover World War topics and incorporating map-making and drawing into his lessons would help make the course interesting.
For his Language Arts program our umbrella school requires that average high school 9th graders read 17 books.
How could we tailor a book program that would help him compensate for his weakness in reading and maybe find something he enjoys?
As a result of our talking we came up with this reading plan:
Five books of the Bible (allowable by our umbrella school and good for a teen's soul)
Five Edcon Bring the Classics to Life workbooks. These outstanding workbooks for remedial readers take classic novels and put them in user-friendly format. Each chapter is reworded to fit on one page, preceded by an illustration and question that aids learning reading for meaning, then followed by questions that gradually build in comprehension and inferential skills. We started George out with level 1 because of his struggles. (Sometimes catalogues call this Grade 1 but that is not at all accurate.) BTW- this is not a sponsored post, I just like the workbooks.
Four audio books (1 each quarter, good for developing listening comprehension- higher levels than he could read on his own). The Hiding Place with the 7Sisters Study Guide would help him stay on task and build his skills in a no-busywork, don't-kill-the-book fashion.
To balance out the list we included: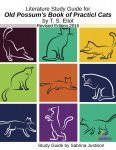 How did the story end? By the end of the year:
-George had earned a delightful history credit using his strengths and interests.
-Developed more solid reading and listening skills.
-He had more confidence in himself.
-He had some good character development through the books he experienced.
-Found that he could LOVE to read some things, especially the silly poetry of Practical Cats.
Read more about resources for reluctant readers.
7Sisters email subscribers receive periodic practical encouragement, special offers and NO SPAM EVER.
Click the image above to periodically receive real homeschool value in your inbox.
Homeschool Case Study: High Schooler Hates Reading