This week on HSHSP Ep 93: How to Start a Homeschool Organization, Interview with Carol Topp CPA. This post is running concurrently on Ultimate Homeschool Radio Network.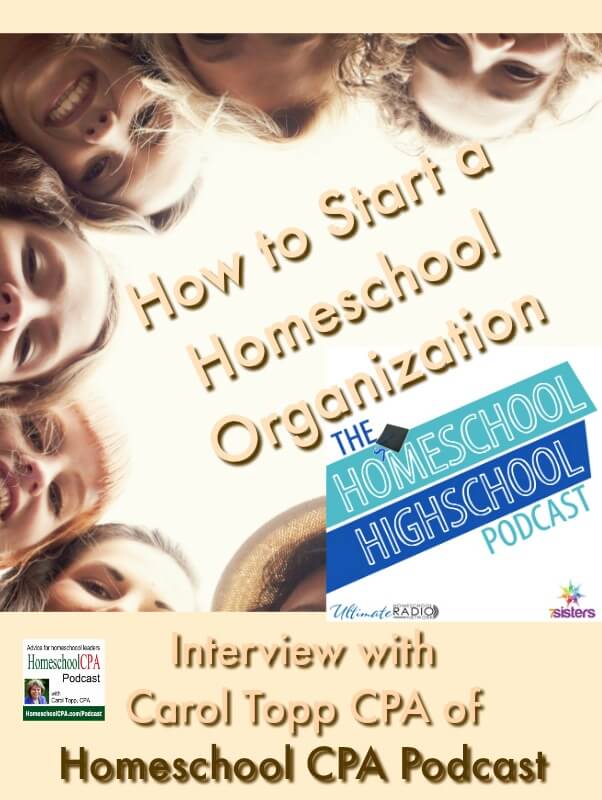 Homeschool parents are movers and shakers! If they need something, or their kids need something, and it is not available, they make it happen! Homeschoolers often start organizations: co-ops, support groups and more.
BUT here's her rub: When we take money for services, we've started a business, whether we like it or not.
How do we know when we have a business or a non-profit? We go to the experts! Our favorite expert is Carol Topp, the Homeschool CPA.
Carol joins Vicki for tips about starting organizations in a wise and responsible manner. She helps us understand important concepts such as:
What is an organization
Understanding its operation
Creating non-profit status, if you need it
Creating a for-profit status, if you need it
Forming a board
Creating bylaws
Communicating with the IRS
Carol gives us her Checklist for Starting a Non-profit Homeschool Organization:
Gather a board
Appoint officers
Create a binder to keep track of records
Create bylaws
Choose a structure (unincorporated or incorporated)
Obtain your EIN from IRS
Open a checking account
Get tax exempt status from IRS
Communicate with the state
Send in annual forms to IRS
Feel intimidated? You should probably get in touch with Carol. SHE'S intimidating. (She has great resources, too!) 
In the meantime, catch her podcast here on the Ultimate Homeschool Radio Network.