Here's a refreshing Career Exploration Elective: Early Childhood Education! (And great life preparation, too!)
Career Exploration Elective: Early Childhood Education
Some states require some Career Exploration on the transcript. I think this is a great idea!
Why spend four years doing nothing but academics with your homeschool high schooler, graduate them, and send them off to college or life without any training in practical things (like how to train young children)? (BTW- Check out our Authoritative Guide on Career Exploration post that goes into detail explaining what Career Exploration can look like for homeschool high schoolers
Career Exploration is a broad subject that can cover courses that fascinate your teen and courses that don't.
It is Career Exploration, after all! Whether your teen is interested in Early Childhood Education as a career, many of them will be parents someday. Therefore why not give them a course that counts as a Career Exploration Elective AND gives them good preparation for life.
I recently interviewed one of the homeschool graduates that I advised through high school. Abby is passionate about her Early Childhood Education major at Delaware Technical Community College.
BTW- Abby chose a local community college to start her college education. After her associates degree, she transferred to a four-year college to look more into other educational opportunities.
Here's what Abby had to say about her Early Childhood Education experiences:
Abby is busy in college at the time of this writing. Read on for her interview.
Abby, do you like your college Early Childhood Education program?
Yes! So far, I love the program I'm in at Delaware Tech. My instructors are kind, helpful, and professional. They are truly educated and experienced in their field and are interested in seeing me succeed.
There is a good balance of class time and placement at childcare centers. Already, in my first semester, I have learned so much about Early Childhood. As I continue, I am only getting more excited about entering the field.
Would you share about the Early Childhood Education group class that you took during high school?
I took the Career Exploration Elective: Early Childhood Education course with Mrs. Smythe at Mount Sophia Academy (our local homeschool umbrella school). I would say that my course did inspire me to study ECE in college. Being someone who struggled for months about what to study in college, taking this class gave me a sliver of hope and encouraged me to dig deeper into the idea of investing in younger children.
I liked how personal my Early Childhood Ed class in high school was. There were only three students in the class so the atmosphere was very personal. While we were in class, Mrs. Smythe encouraged any and all questions. With that kind of atmosphere, we all worked together nicely and came to know each other well.
Your class used 7Sisters Homeschool Early Childhood Education text. Was it a good text for you?
YES! It required critical thinking to relate the questions at the end of the chapter to the reading and allowed for a further comprehension; all without pushing me further than I could handle. Also, I love having the text still available to me through a computer download to refer back to it when needed.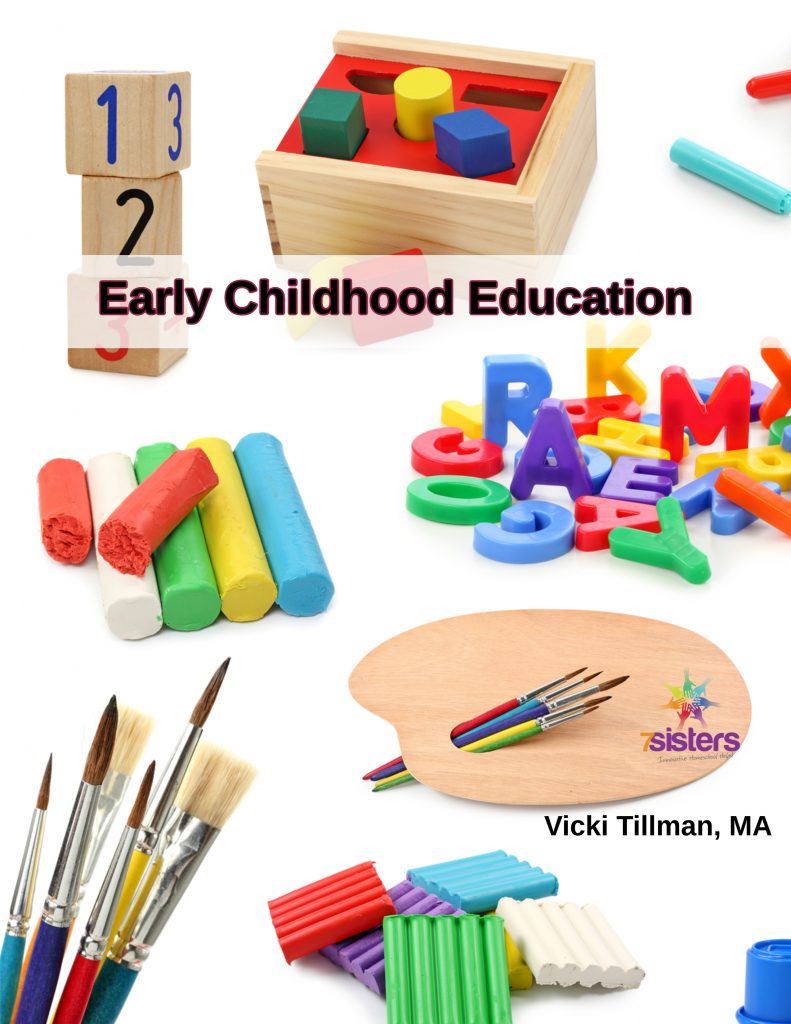 As Abby mentioned, she had wrestled about college major choices throughout her homeschool high school years. She was a diligent student but unsure about her calling. When she took the Career Education elective: Early Childhood Education, things cleared up for her. Teaching children is her love and calling!
Download a copy of Early Childhood Education for your homeschool high schooler and help them explore careers (and prepare for parenting someday, too).
Read more about Early Childhood Education as career exploration.
7Sisters email subscribers receive periodic practical encouragement, special offers and NO SPAM EVER.

Click the image above to periodically receive real homeschool value in your inbox.
Career Exploration Elective: Early Childhood Education