Critical thinking means evaluating an issue to form a judgment about it. A simple definition would be: thinking about the thinking behind something.  Critical Thinking means challenging assumptions, those of other people and those in your own mind.
Critical Thinking for Homeschoolers
It's important to equip homeschoolers with the observational and critical thinking skills that will make them great thinkers because these skills will serve them in all arenas for the rest of their lives.
Sure, some academic learning requires the memorization of facts that must simply be spit back to prove mastery of the material. But many subjects like literature, history, science, and social sciences are exciting places to instead focus on the art and skill of critical thinking.
What is critical thinking?
The definition of critical thinking is: the objective analysis and evaluation of an issue or of information in order to form a judgment.
Critical thinking skills are so very important for homeschool high schoolers! They had some good role models in the past:
Socrates
Socrates was a Greek philosopher who loved conversation with his students.  His idea of good teaching was to encourage his students to think for themselves rather than to simply repeat back what they had heard from him or any other teacher.  He would ask them questions, and more questions, and more questions, until they would come to a wise conclusion. Sounds like a good approach to me!
Benjamin Franklin
Benjamin Franklin tried to help young America to develop critical thinking skills. He famously wrote: "It is the first responsibility of every citizen to question authority."
Poor questions lead to poor critical thinking but good questions lead to good critical thinking
Counter-culture leader Timothy Leary later completely misused that idea in the late 1960's in the United States. A Harvard professor, he questioned authority all the time while encouraging his students to experiment with drugs like LSD. Made sense to him but proved to be faulty critical thinking.
However, going back to Socrates, he probably provided the richest, most intelligent application of the healthy way of questioning authority a couple thousand years ago. It was the questioning leading to wisdom that made his questioning good. Questions that lead to wisdom are good questions that develop critical thinking for homeschoolers even today.
Give your teens an introduction to critical thinking with Socrates with  7Sisters literature study guide to accompany Books I and II of Plato's Republic. Plato was a student of Socrates, and it is from his ancient writings that we have the most information about this wise and influential teacher. 
7Sisters Literature Study Guide for Plato's Republic follows our no-busywork format. Like all our user-friendly guides, instead of attempting to examine every element of a book, Plato's Republic study guide chooses a couple of respected literary devices and use them as a focal point of study (in this case:
expository writing

delves into the philosophical ideas debated

evaluates Socratic method of instruction by dialogue
These lead to critical thinking skills development.
Like all our guides, The Republic of Plato contains information that makes it easy to adapt for use for teens with varying interests, abilities and needs:
Average High School

College Prep or

Honors level
This product downloads as two separate PDF files. One file is intended for student use. This document contains fillable fields so students can type their answers directly into the guide. The other document is the answer key, intended for the parent.
Godly critical thinking for homeschoolers
I remember seeing graffiti once that said, "Question Authority." Underneath, some other person with no respect for bathroom walls had written, "What will you do if Authority answers?" As a Christian, I want my children to grow up questioning authority in an appropriate way.  Before you decide I'm a heretic who is raising a generation of heretics, allow me to explain.
God loves conversation.  He is not made uncomfortable by questions. Over and over again in the Bible we see people who were eager to follow after God who dared to ask Him questions.  Our limited human minds, muddled by sin, lack the perfect understanding to always understand God's wisdom.  God invites, even encourages us to question Him when we do not understand.  That questioning must be done in an attitude of humility, because the fear of the Lord is the beginning of wisdom, but it is not a sign of weak faith when we question Him because we TRULY DESIRE to hear His answer.
There are many earthly authorities, and none of them are right in EVERYthing they are saying.  My children are growing up with the internet.  Things that are published on the internet appear to speak with authority. They need the ability to discern truth from error regardless of the tone of authority in which something may be asserted.
By helping my students to observe and think critically about
the literature they are reading

the historical accounts they are studying

the current events they are observing

the scientific research they are examining
I can be much less afraid that their minds will be ruined by exposure to something contrary to God's word.  As students grow in wisdom and approach adulthood, I can equip them for thinking critically about the many words that will be spoken to them with authority, genuine or feigned.
And as far as the bathroom graffiti goes, doesn't it stand to reason that students who question authority in an appropriate manner will RECOGNIZE and RESPECT it when true Authority answers?  God loves to reveal truth to those who seek Him!
For a World History e-text full of encouragement for critical thinking, take a look at History and Philosophy of the Western World. This was my youngest son's favorite History course in high school. Great stuff! Follow up the next year with Philosophy in 4 Questions (the basic how-to's of philosophy for beginnings, believe it or not, this text makes it FUN).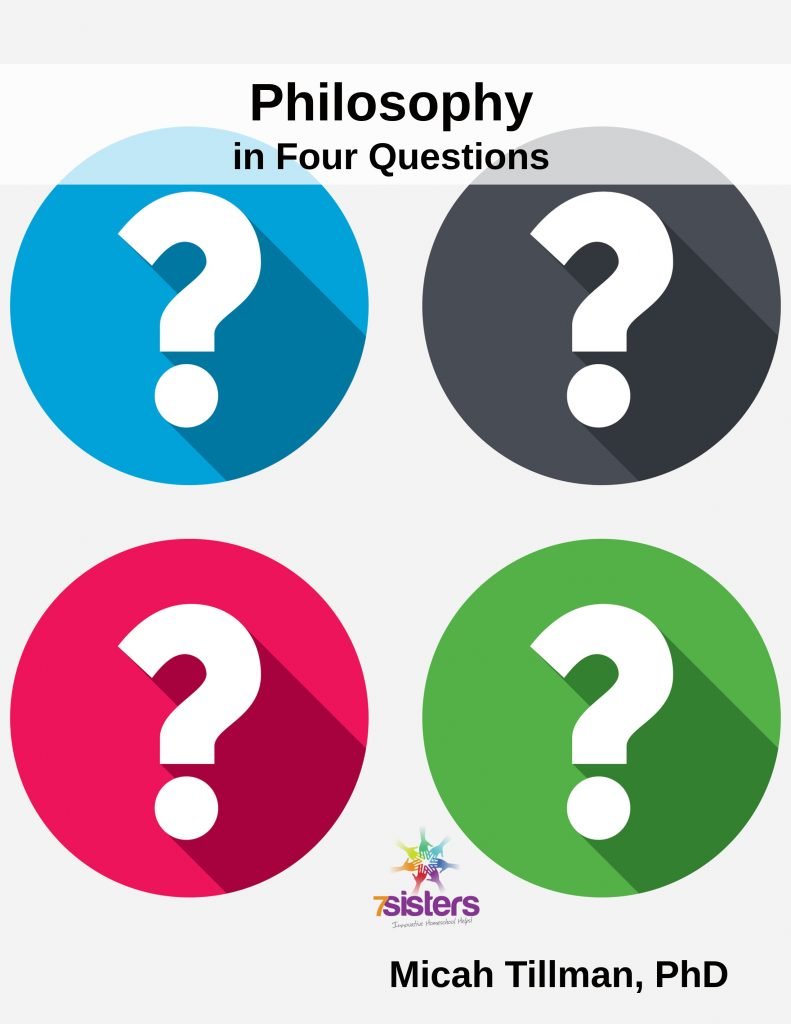 Want to get started with critical thinking for your homeschoolers? Read this fun post about textbook errors from our friend, Susan at The Sparrow's Home.
Now you can start critical thinking for your homeschoolers! They will be better prepared for life!
7Sisters email subscribers receive periodic practical encouragement, special offers and NO SPAM EVER.


Click the image above to periodically receive real homeschool value in your inbox.