We all know that we must record GPA on the homeschool transcript. Do we weight it or not?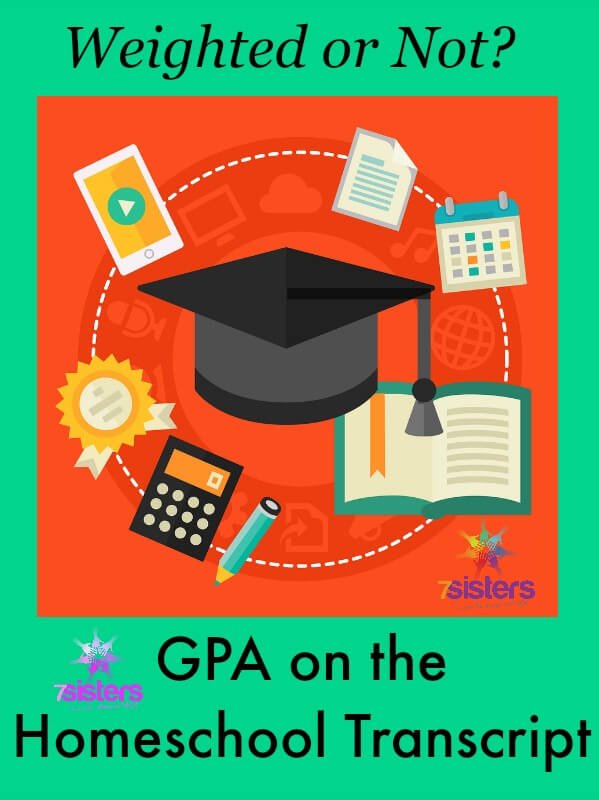 GPA on the Homeschool Transcript
Our homeschool high schoolers need a GPA on the homeschool transcript. I receive lots of questions about weighting the GPA. Do we weight? Do we not?
There is not a standard answer for this. Some public and private high schools will weight the grades. Others do not.
In my many years of helping homeschool high schoolers apply for college, I filled out hundreds of the guidance counselor forms for my advisees. Each college asked this question:
Is the GPA weighted or not? If it is weighted, explain the weighting system.
So colleges find they have to compare apples and oranges where it comes to looking at transcripts. The apples are weighted GPAs. The oranges are unweighted GPAs.
So each college finds a way to standardize the GPAs themselves. Some of them simply unweight the weighted GPAs, some have more complicated algorithms.
What we have found works best for our local homeschool high schoolers is to assign an unweighted GPA.
In other words.
A's receive a 4.0
B's receive a 3.0
C's receive a 2.0
Anything lower than a C is a serious problem, so I suggest that the course be taken again.
You can do the math and make half-points or quarter-points if you want things like A-, B+, etc but we have found that the KISS (Keep-It-Simple-Smartypants) method works best for our homeschool high schoolers.
Then you simply take the average of the core courses:
Language Arts
Math
Science
Social Studies
World Languages
NOW, the IMPORTANT THING is this (don't miss this):
Schools who weight the GPA are doing so because they want to show that students with a weighted grade has completed an academically rigorous course (as in 5.0 for a rigorous course instead of 4.0).
You can show academic rigor VERY effectively by including the *level of rigor* right beside the title of the course on the transcript. For example, if your homeschool high schooler completed an Honors Language Arts course, the transcript would say:
Language Arts Level 5 (Honors)
Our local homeschoolers use these levels:
Level 1: Remedial (not able to be used toward college applications)
Level 2: Average (an average high schooler can comfortably complete this course)
Level 3: College prep (more rigorous than average, clearly prepares a high schooler for the college classroom)
Level 4: Advanced (significantly more rigorous than college prep)
Level 5: Honors (or AP; be aware that College Board owns the term AP, so all courses that call themselves such must have their approval)
All 7Sisters Homeschool curriculum includes instruction on how to earn each of the levels from Level 2- Level 5. For instance: British Literature, American Literature, and World Literature include instructions on how to help an average enjoy the curriculum. It also gives specialized assignments that are inspiring and meaningful for each of the higher levels (Levels 3-5).
The same goes for our social science/social studies curricula: Psychology, Human Development and History and Philosophy of the Western World.
For how-to's on assigning levels, check out these two posts:
Homeschool High School Transcripts: Recording Course Levels
Homeschool High School Transcripts: Some Do's and Don't's of Recording Course Levels
7Sisters email subscribers receive periodic practical encouragement, special offers and NO SPAM EVER.


Click the image above to periodically receive real homeschool value in your inbox.
GPA on the Homeschool Transcript