Homeschool Struggles? Add Some Drama Resources!
Ever thought about drama resources? Drama resources? Why do we need them? We often give drama a bad rap.
"Save the drama for your mama!"
"Don't be such a drama queen!"
"Like I need more DRAMA in my life…"
Truth is, drama can be the solution to common homeschool struggles as long as it's the right kind of drama!
Homeschools can face many kinds of struggles. Who can't imagine seasons like these?
Lack of enthusiasm (from kids AND parents) that calls for something new (our friend, Misty, at Year Round Homeschooling has some great ideas for re-energizing a homeschool that's majorly stuck in a rut)
Inability to connect with certain subject matter
Struggles with writing that make on-paper responses to learning frustrating (more helps for struggling writers and readers are here)
Short attention spans that mean little of the learning "sticks"
Several different ages in the family, so learning together feels daunting (Kendra Fletcher has life-tested advice on that topic, too)
Real-life struggles distracting from the material in a textbook (COVID-19 pandemic, anyone?)
Kids who aren't getting along with each other, or with mom and dad
How can drama resources help your homeschool thrive in the face of challenges like these?
Because we all know the power of imagination in our little ones' development, right? Who hasn't gotten excited watching their preschooler or elementary-aged child become lost in a pretend game? We can almost HEAR their brains creating new connections as they act out the scene in their imagination!
The benefits of pretending don't actually stop when a kid hits double-digits. There's a fascinating (and a bit nerdy) article about drama's effect on brain function here if you want to dig in deeper. But in a simpler and more practical sense, let's see if we can apply the principle of drama as good for our brains to homeschoolers.
> Drama calls for creativity.
When we ask ourselves to act out something that is not actually happening right now, we force our brains to be creative. We choose words, or we choose how we will say the words that have been scripted for us. How we will move our bodies to make the situation believable is an important choice. We choose how we will interact with other characters in the scene. Creating something that was not there before; we make something new.
Creating something new automatically breathes enthusiasm into areas where we are stuck in a rut.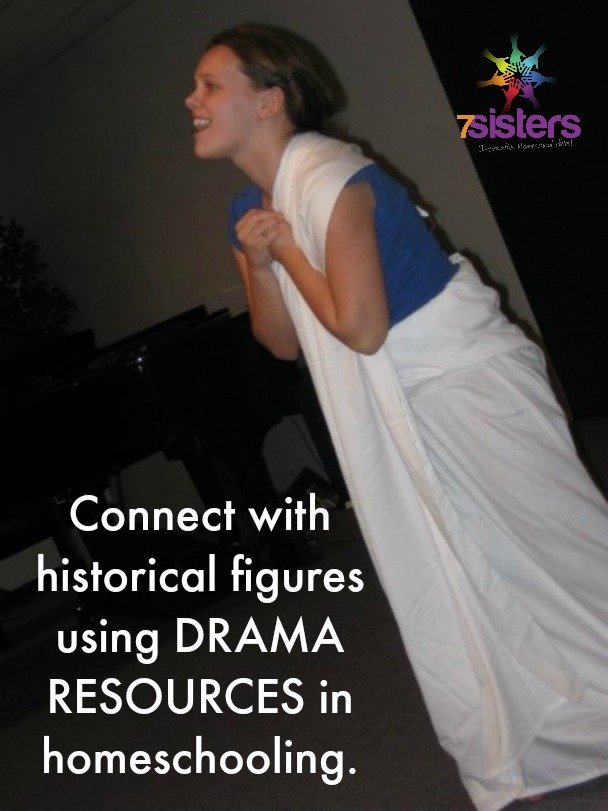 > Drama can create a point of connection with subject matter.
Perhaps your student doesn't take to military history at all. But portraying the character of a U.S. Civil War general who is trying to determine a strategy that will risk the fewest lives possible for his troops offers a new perspective on the subject. A student with little interest in chemistry may find that bringing Marie Curie to life in a scene or monologue sparks a new connection. A struggling reader who is getting lost in the vocabulary of a classic work of literature might find that the author's theme resonates deeply within her if she brings one of the characters to life in performance.
> Drama offers a fresh way to respond to material a student has learned.
We assign lots of written responses to reading, to art or music appreciation, to field trips, even to science experiments, but when a student finds writing very frustrating, offering the option to act out a response instead can be empowering. Co-op project days were some of my own kids' favorite times of sharing what they had learned, and often they chose to act out their subject matter for project day.
> Drama helps short-attention spans to grow.
When you know your line is coming up soon, you are motivated to listen to the other actors who speak before you! When you experience for yourself the need for rehearsing the same lines again and again, you become better able to wait while others do the same. And who isn't more deeply engaged from the start if he is performing rather than observing?
> Drama offers a level playing field for multiple ages.
Older children play parts with more to learn, and younger siblings can take on as much as they can comfortably manage. It's surprising to sometimes find that it's the younger kids who are MORE able to carry a part with a lot of responsibility than their older sibling! Because drama with multiple performers is a team endeavor, it is in everyone's best interest to help each other succeed. That can really help with sibling conflict; give them a common goal and they just might work together to reach it – success for all!
> Drama provides a safe space for role-play in which kids can process big emotions.
Crisis times like the COVID-19 pandemic which we are facing as I write this post are ideal opportunities for using drama resources to help our kids process the very BIG things they are feeling, which they may or may not feel able to put into words. Whether you challenge your kids to improvise a scene in which they tap into a particular emotion, or whether you offer them a written piece of theater that touches on those feelings, the dramatic production can provide an avenue for processing and healing places of fear, anger, frustration and more that impact our kids when life is thrown into crisis.
> Mom and Dad can join the cast as well.
Maybe you each play a role. Maybe you act and let one kid direct you. Drama can change the order of things for a time so that kids (teens, in particular) feel a little less like their parents are always bossing them around and making their lives miserable.
WHAT KINDS OF DRAMA RESOURCES ARE OUT THERE?
Homeschoolers can make use of all sorts of drama resources!
* Big, well-known productions
Drama clubs or drama camps may pay for permission to produce a full-length, published play or musical if the interest is there! Our local homeschooling community presented popular musicals like Joseph and the Amazing Technicolor Dreamcoat, and Annie. We tackled classic non-musical plays like Thornton Wilder's Our Town.
* Big, original productions
We produced original works with and without music, depending on the interests of the families involved in any given year. Many of these were produced in a "minimalist" setting on a local church's mostly-empty platform. Producing plays with no scenery is actually REALLY good for student actors in many ways. You can find some of my original scripts in the ebookstore with sample copies available for only $0.99.
* Formal classes
Our umbrella school offered an Acting and Directing class that was so much fun and popular with students of ALL levels of talent and experience! Using cuttings and monologues from respected playwrights, you can help students learn the fundamentals of good acting without ever using a lame "skit" script that makes young actors cringe in embarrassment. 7Sisters' one-semester or 0ne-year adaptable curriculum for your group shows you how.
* Readers Theater
Never mind about memorizing lines! You can make great use of drama in a readers theater format. Learn all about this popular dramatic approach in this post. Or listen to this episode of The Homeschool High School Podcast for the low-down on hosting a readers theater party.
* Pull from the books already on your shelves
So many classics have fantastic sections of text that make for a moving monologue or hilarious dialogue scene. More than simply reading it aloud, bring it to LIFE with a dramatic interpretation. Keep it simple, or go all-out with costumes and accents and sword fights!
* Pull from the journal entries or letters of famous historical figures
You can often find material for a monologue that will bring a real person from history to life if you just search the internet for the journals or personal correspondence of famous figures.
You don't have to have a large group to make great use of drama resources for a drama credit in your homeschool. And you just might be delighted to find how using drama resources helps you overcome homeschool struggles in a fun and unexpected way!
Homeschool Struggles? Add Some Drama Resources!
7Sisters email subscribers receive periodic practical encouragement, special offers and NO SPAM EVER.


Click the image above to periodically receive real homeschool value in your inbox.