By request: Suggested Syllabus for One Year English/Language Arts 9.
Suggested Syllabus for One Year English/Language Arts 9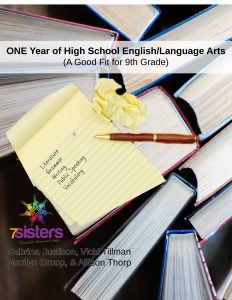 We are big fans of teaching teens to use a syllabus. This helps them stay organized, learn time management and develop independent learning skills. With that in mind, we regularly add suggested syllabi to 7Sisters e-store (and they are always free). These syllabi are downloadable and adaptable to your family's particular needs.
Remember, there's not ONE right way to homeschool high school and there's not ONE right way to create or use a syllabus. If you would like to create your own and want guidelines, check out this post and resource on creating and using a syllabus.
Many homeschooling high schoolers love 7Sisters One Year English/Language Arts (suggested for grade 9) and parents have been asking us for a syllabus to help guide their teens through the curriculum. So, our beloved Stacey Lane Clendaniel created a practical syllabus that covers all the pieces of the curriculum.
As you remember, English/Language Arts is a huge credit each year, covering:
7Sisters ELA bundle contains teen-vetted study guides for the full year. As always, 7Sisters study guides (literature, writing and public speaking) are no-busywork, don't-kill-the-book-or-topic and adjustable to various levels of rigor. Download the ELA bundle for your teens and give them an enjoyable ELA learning experience.
Okay, here's the suggested syllabus. You can adapt it to your needs and goals.
Download and adapt the syllabus from the store. (BTW- for a suggested syllabus for 10th grade Another Year of English/Language Arts, click here.)
Here's what it will look like:
Course Title: One Year of High School English/Language Arts
Length: 32 weeks
Curriculum: One Year of High School English/Language Arts by 7SistersHomeschool.com
Description: A full-year, adaptable English credit. Books and movies from various literary genres were selected for learning literary analysis. Students will complete four genres of writing assignments:research paper, essays, short story and poetry. Vocabulary and grammar are included in literature and writing guides and with resources suggested, if needed. Public speaking is included, using literature and poetry as the subject matter.
Goals: Students will complete literature, cinema, writing and speaking guides to increase competence in literature analysis skills, reasoning and inferential skills, to learn the APA format of research paper writing, to gain confidence with writing essays, short stories and poetry as well as introductory skills in public speaking.
Grading Scale: Create your own grading scale or follow the very detailed example provided in the how to use guide.
Schedule: The curriculum is designed to cover all the components of the English/Language Arts credit. Most of the Literature and Cinema guides have assignments for all 5 days of the week. Most of the writing guides have assignments for 4 days of the week. Occasionally Friday is scheduled for a catch-up day. Public Speaking is scheduled for one week in the first semester and one week in the second semester.
Note: Vocabulary from the literature and cinema guides can be done all at once at the beginning, as you read along or all at the end of the book. It is mentioned daily as a reminder. Grammar is mentioned as an optional depending on what you have decided to use.
Week 1: To Kill a Mocking Bird Literature Guide and Family Narrative Short Story
Day 1:
Read Introductions to both guides before beginning. For example, you want to train your brain to watch for PERSONIFICATION as mentioned in the literature guide.

Read chapters 1 and 2 and take notes, work on vocabulary

Week 1 Lesson 1 of short story

Optional grammar
Day 2:
Read chapters 3 and 4 and take notes, work on vocabulary

Week 1 Lesson 2 of short story

Optional grammar
Day 3:
Read chapters 5 and 6 and take notes, work on vocabulary

Week 1 Lesson 3 of short story

Optional grammar
Day 4:
Read chapters 7 and 8 and take notes, work on vocabulary

Week 1 Lesson 4 of short story

Optional grammar
Day 5:
Read chapters 9, 10 and 11 and take note, work on vocabulary

Answer questions for part 1 in literature guide

Optional grammar
Week 2: To Kill a Mocking Bird Literature Guide and Family Narrative Short Story
Day 1:
Read chapters 12 and 13 and take notes, work on vocabulary

Week 2 Lesson 1 and 2 of short story

Optional grammar
Day 2:
Read chapters 14 and 15 and take notes, work on vocabulary

Week 2 Lesson 1 and 2 of short story

Optional grammar
Day 3:
Read chapters 16 and 17 and take notes, work on vocabulary

Week 2 Lesson 3 of short story

Optional grammar
Day 4:
Read chapters 18 and 19 and take notes, work on vocabulary

Week 2 Lesson 4 of short story

Optional grammar
Day 5:
Read chapter 20 and take notes, work on vocabulary,

Look back over the questions you answered last week in literature guide and see if you want to add any thoughts to them

Optional grammar
Week 3: To Kill a Mocking Bird Literature Guide and Family Narrative Short Story
Day 1:
Read chapters 21 and 22, take notes, work on vocabulary

Week 3 Lesson 1 and 2 of short story

Optional grammar
Day 2:
Read chapters 23, 24, and 25, take notes, work on vocabulary

Week 3 Lesson 1 and 2 of short story

Optional grammar
Day 3:
Read chapters 26 and 27, take notes, work on vocabulary

Week 3 Lesson 3 of short story

Optional grammar
Day 4:
Read chapters 28, 29 and 30 and take notes, work on vocabulary

Week 3 Lesson 4 of short story

Optional grammar
Day 5:
Read Chapter 31 and work on vocabulary

Answer the Part 2/end-of-book questions in literature guide,

Optional grammar
Week 4: To Kill a Mocking Bird Literature Guide and Family Narrative Short Story
Day 1:
Using your notes, think about, plan for and outline your dramatic foils writing assignment. (One paragraph is fine; three paragraphs if you are a strong writer). Write a rough draft.

Week 4 Lesson 1 short story

Optional grammar
Day 2:
Edit, write a final draft, proofread for dramatic foils writing assignment

Week 4 Lesson 2 and 3 of short story

Optional grammar
Day 3:
Using your notes, think about, plan for and outline your theme essay and choose your examples.

Week 4 Lesson 2 and 3 of short story

Optional grammar
Day 4:
Write a rough draft for your theme essay from literature guide

Week 4 Lesson 4 of short story

Optional grammar
Day 5:
Edit, write a final draft, proofread theme essay from literature guide

Optional grammar
Week 5: Guess Who's Coming to Dinner #1 Cinema Guide and Family Narrative Short Story
Day 1:
Read Introduction to cinema guide

Week 5 Lesson 1 of short story

Optional grammar
Day 2:
Vocabulary for cinema guide

Week 5 Lesson 2 of short story

Optional grammar
Day 3:
Watch the first half of the movie, pausing as you go to jot down your thoughts in response to the questions

Week 5 Lesson 3 of short story

Optional grammar
Day 4:
Watch the second half of the movie, pausing as you go to jot down your thoughts in response to the questions

Week 5 Lesson 4 of short story

Optional grammar
Day 5:
Review your answer to all questions in cinema study guide

Optional grammar
Week 6: Guess Who's Coming to Dinner #2 Cinema Guide and Introduction to High School Essay Writing
Day 1:
Review the introduction material and your notes and answers to questions from the first viewing. Read the instructions for the writing assignment to have an idea in the back of your mind as you watch the movie tomorrow.

Read Introduction to High School Essay Writing

Week 1 Lesson 1 of essay

Optional grammar
Day 2:
Watch the movie again without pauses.

Week 1 Lesson 2 of essay

Optional grammar
Day 3:
Think about and outline your writing assignment from cinema guide

Week 1 Lesson 3 of essay

Optional grammar
Day 4:
Edit your writing assignment from cinema guide

Week 1 Lesson 4 of essay

Optional grammar
Day 5
Finish your final draft and proofread from cinema guide

Optional grammar
Week 7: Antigone Literature Guide and Introduction to High School Writing Essay Writing
Day 1:
Read introduction to literature guide

Read lines 1 to 200, work on vocabulary

Week 2 Lesson 1 of essay

Optional grammar
Day 2:
Read lines 201 to 400, work on vocabulary

Week 2 Lesson 2 of essay

Optional grammar
Day 3:
Read lines 401 to 600, work on vocabulary

Week 2 Lesson 3 of essay

Optional grammar
Day 4:
Read lines 601 to 700, work on vocabulary

Week 2 Lesson 4 of essay

Optional grammar
Day 5
Begin answering the questions in the literature guide from what you have read.

Optional grammar
Week 8: Antigone Literature Guide and Introduction to High School Writing Essay Writing
Day 1:
Read lines 701 to end, work on vocabulary

Week 3 Lesson 1 of essay

Optional grammar
Day 2:
Finish answering all question in literature guide

Week 3 Lesson 2 of essay

Optional grammar
Day 3:
Begin your character analysis essay that examines any of the main characters in the play. (One paragraph is fine; three paragraphs if you are a strong writer). Write a rough draft of your essay from literature guide

Week 3 Lesson 3 of essay

Optional grammar
Day 4:
Edit, write a final draft, proofread essay from literature guide

Week 3 Lesson 4 of essay

Optional grammar
Day 5
Catch-up on any incomplete work

Optional grammar
Week 9: God's Smuggler Literature Guide and Introduction to High School Writing Essay Writing
Day 1:
Read Introduction to literature guide and complete historical terms to explore

Week 4 Lesson 1 of essay

Optional grammar
Day 2:
Read chapters 1 and 2, work on vocabulary

Answer questions for chapters 1 and 2 in literature guide

Week 4 Lesson 2 of essay

Optional grammar
Day 3:
Read chapters 3 and 4, work on vocabulary

Answer questions for chapter 3 and 4 in literature guide

Week 4 Lesson 3 of essay

Optional grammar
Day 4:
Read chapters 5 and 6, work on vocabulary

Answer questions for chapters 5 and 6 in literature guide

Week 4 Lesson 4 of essay

Optional grammar
Day 5
Read chapter 7, work on vocabulary

Answer questions for chapter 7 in literature guide

Optional grammar
Week 10: God's Smuggler Literature Guide and Introduction to High School Writing Essay Writing
Day 1:
Read chapters 8 and 9, work on vocabulary

Answer questions for chapters 8 and 9 in literature guide

Week 5 Lesson 1 of essay

Optional grammar
Day 2:
Read chapters 10 and 11, work on vocabulary

Answer questions for chapters 10 and 11 in literature guide

Week 5 Lesson 2 of essay

Optional grammar
Day 3:
Read chapters 12 and 13, work on vocabulary

Answer questions for chapters 12 and 13 in literature guide

Week 5 Lesson 3 of essay

Optional grammar
Day 4:
Read chapters 14, work on vocabulary

Answer questions for chapter 14 in literature guide

Week 5 Lesson 4 of essay

Optional grammar
Day 5
Catch-up on any incomplete work

Optional grammar
Week 11: God's Smuggler Literature Guide and Introduction to High School Writing Essay Writing
Day 1:
Read chapters 15 and 16, work on vocabulary

Answer questions from chapters 15 and 16 in literature guide

Week 6 Lesson 1 of essay

Optional grammar
Day 2:
Read chapters 17 and 18, work on vocabulary

Answer questions from chapters 17 and 18 in literature guide

Week 6 Lesson 2 of essay

Optional grammar
Day 3:
Read chapters 19 and 20, work on vocabulary

Answer questions from chapters 19 and 20 in literature guide

Week 6 Lesson 3 of essay

Optional grammar
Day 4:
Read chapter 21, work on vocabulary

Answer questions from chapter 21 in literature guide

Week 6 Lesson 4 of essay

Optional grammar
Day 5
Catch-up on any incomplete work

Optional grammar
Week 12: No Literature Guide and Introduction to High School Writing Essay Writing
Day 1:
Week 7 Lesson 1 of essay

Optional Grammar
Day 2:
Week 7 Lesson 2 of essay

Optional Grammar
Day 3:
Week 7 Lesson 3 of essay

Optional Grammar
Day 4:
Week 7 Lesson 4 of essay

Optional Grammar
Day 5
Week 13: A Christmas Carol Literature Guide, Introduction to High School Writing Essay Writing and Kid Literature Public Speaking
Day 1:
Read the introduction to the literature guide

Read stave 1, work on vocabulary

Week 8 Lesson 1 of essay

Read the introduction to public speaking

Complete the research page and warm up goal activity from the speech guide

Optional grammar
Day 2:
Read stave 2, work on vocabulary

Week 8 Lesson 2 of essay

Read the instructions, select your book, practice a few methods from the speech guide

Optional grammar
Day 3:
Read stave 3, work on vocabulary

Week 8 Lesson 3 of essay

Practice more methods with your book from the speech guide

Optional grammar
Day 4:
Answer questions for stave 1 and 2

Week 8 Lesson 4 of essay

Complete 1 or 2 of the practice options from the speech guide

Optional grammar
Day 5
Answer questions for stave 3

Present your reading to a group

Optional grammar
Week 14: A Christmas Carol Literature Guide and Introduction to High School Writing Essay Writing
Day 1:
Read stave 4

Week 9 Lesson 1 of essay

Optional grammar
Day 2:
Read stave 5

Week 9 Lesson 2 of essay

Optional grammar
Day 3:
Answer questions for stave 4 and 5

Week 9 Lesson 3 of essay

Optional grammar
Day 4:
Answer questions for stave 4 and 5

Week 9 Lesson 4 of essay

Optional grammar
Day 5
Optional suggested supplemental activities from literature guide

Optional grammar
Week 15: A Christmas Carol Cinema Guide and Introduction to High School Writing Essay Writing
Day 1:
Read the introduction to the cinema guide, complete vocabulary

Watch the first half of the movie, pausing as you go to jot down your thoughts in response to the questions

Week 10 Lesson 1 of essay

Optional grammar
Day 2:
Watch the second half of the movie, pausing as you go to jot down your thoughts in response to the questions

Week 10 Lesson 2 of essay

Optional grammar
Day 3:
Complete looking at Motif 

Week 10 Lesson 3 of essay

Optional grammar
Day 4:
Watch movie without pausing, think about and outline your writing assignment from cinema guide

Week 10 Lesson 4 of essay

Optional grammar
Day 5
Edit, finish your final draft and proofread from cinema guide

Optional grammar
Week 16: Joni: An Unforgettable Story Literature Guide and Writing Your Personal Mission Statement
Day 1:
Read Introduction and background information in guide, read chapters 1 and 2, no vocabulary for this guide

Answer questions for chapters 1 and 2 in literature guide

Read What is a Personal Mission Statement

Read Who Should Write a Personal Mission Statement

Optional grammar
Day 2:
Read chapters 3 and 4,

Answer questions for chapters 3 and 4 in literature guide

Complete Steps 1, 2 and 3 of mission statement

Optional grammar
Day 3:
Read chapters 5 and 6,

Answer questions for chapters 5 and 6 in literature guide

Review Step 3 and make any necessary edits in mission statement

Optional grammar
Day 4:
Read chapters 7 and 8

Answer questions for chapters 7 and 8 in literature guide

Optional grammar
Day 5
Catch-up on any incomplete work

Optional grammar
Week 17: Joni: An Unforgettable Story Literature Guide and Writing Your Personal Mission Statement
Day 1:
Read chapters 9 and 10

Answer questions for chapters 9 and 10 in literature guide

Complete step 4 of mission statement

Optional grammar
Day 2:
Read chapters 11 and 12

Answer questions for Chapters 11 and 12 in literature guide

Complete step 5 of mission statement

Optional grammar
Day 3:
Read chapters 13 and 14

Answer questions for Chapters 13 and 14 in literature guide

Complete step 6 of mission statement

Optional grammar
Day 4:
Read chapters 15 and 16

Answer questions for chapters 15 and 16 in literature guide

Complete What Do I Do After I've Finished These Steps of mission statement

Optional grammar
Day 5
Optional supplemental activities from guide

Optional grammar
Week 18: Mr. Holland's Opus Cinema Guide and APA Style Research Paper
Day 1:
Read introduction to cinema guide

Week 1 Lesson 1 of APA 

Optional grammar
Day 2:
Complete vocabulary for guide

Week 1 Lesson 2 of APA 

Optional Grammar
Day 3:
Watch the first half of the movie, pausing as you go to jot down your thoughts in response to the questions

Week 1 Lesson 3 of APA 

Optional grammar
Day 4:
Watch the second half of the movie, pausing as you go to jot down your thoughts in response to the questions

Week 1 Lesson 4 of APA 

Optional grammar
Day 5
Review your answer to all questions in cinema study guide

Optional Grammar
Week 19: Mr. Holland's Opus Cinema Guide and APA Style Research Paper
Day 1:
Review the introduction material and your notes and answers to questions from the first viewing. Read the instructions for the writing assignment to have an idea in the back of your mind as you watch the movie tomorrow.

Week 2 Lesson 1 of APA 

Optional grammar
Day 2:
Watch the movie without pauses

Week 2 Lesson 2 of APA 

Optional grammar
Day 3:
Think about and outline your writing assignment from cinema guide

Week 2 Lesson 3 of APA 

Optional grammar
Day 4:
Edit your writing assignment from cinema guide

Week 2 Lesson 4 of APA 

Optional grammar
Day 5
Finish your final draft and proofread from cinema guide

Optional grammar
Week 20: Anne of Green Gables Literature Guide and APA Style Research Paper
Day 1:
Read introduction to guide, read chapters 1 and 2, work on vocabulary

Answer questions for chapters 1 and 2 in literature guide

Week 3 Lesson 1 of APA 

Optional grammar
Day 2:
Read chapters 3 and 4, work on vocabulary

Answer questions for chapters 3 and 4 in literature guide

Week 3 Lesson 2 of APA 

Optional grammar
Day 3:
Read chapters 5 and 6, work on vocabulary

Answer questions for chapters 5 and 6 in literature guide

Week 3 Lesson 3 of APA 

Optional grammar
Day 4:
Read chapters 7 and 8, work on vocabulary

Answer questions for chapters 7 and 8 in literature guide

Week 3 Lesson 4 of APA 

Optional grammar
Day 5
Read chapters 9 and 10, work on vocabulary

Answer questions for chapters 9 and 10 in literature guide

Optional grammar
Week 21: Anne of Green Gables Literature Guide and APA Style Research Paper
Day 1:
Read chapters 11 and 12, work on vocabulary

Answer questions for chapters 11 and 12, in literature guide

Week 4 research, notes and outline of APA 

Optional grammar
Day 2:
Read chapters 13 and 14, work on vocabulary

Answer questions for chapters 13 and 14 in literature guide 

Week 4 research, notes and outline of APA 

Optional grammar
Day 3:
Read chapters 15 and 16, work on vocabulary

Answer questions for chapters 15 and 16 in literature guide

Week 4 research, notes and outline of APA 

Optional grammar
Day 4:
Read chapters 17 and 18, work on vocabulary

Answer questions for chapters 17 and 18 in literature guide

Week 4 research, notes and outline of APA 

Optional grammar
Day 5
Read chapters 19 and 20, work on vocabulary

Answer questions for chapters 19 and 20 in literature guide

Optional grammar
Week 22: Anne of Green Gables Literature Guide and APA Style Research Paper
Day 1:
Read chapters 21 and 22, work on vocabulary

Answer questions for chapters 21 and 22 in literature guide

Week 5 research, notes and outline of APA 

Optional grammar
Day 2:
Read chapters 23 and 24, work on vocabulary

Answer questions for chapters 23 and 24 in literature guide

Week 5 research, notes and outline of APA 

Optional grammar
Day 3:
Read chapters 25 and 26, work on vocabulary

Answer questions for chapters 25 and 26 in literature guide

Week 5 research, notes and outline of APA 

Optional grammar
Day 4:
Read chapters 27 and 28, work on vocabulary

Answer questions for chapters 27 and 28 in literature guide

Week 5 research, notes and outline of APA 

Optional grammar
Day 5
Read chapters 29 and 30, work on vocabulary

Answer questions for chapters 29 and 30 in literature guide 

Optional grammar
Week 23: Anne of Green Gables Literature Guide and APA Style Research Paper
Day 1:
Read chapters 31 and 32, work on vocabulary

Answer questions for chapters 31 and 32 in literature guide 

Week 6 Lesson 1 of APA

Optional grammar
Day 2:
Read chapters 33 and 34, work on vocabulary

Answer questions for chapters 33 and 34 in literature guide

Week 6 Lesson 2 of APA 

Optional grammar
Day 3:
Read chapters 35 and 36, work on vocabulary

Answer questions for chapters 35 and 36 in literature guide

Week 6 Lesson 3 of APA 

Optional grammar
Day 4:
Read chapters 37 and 38, work on vocabulary

Answer questions for chapters 37 and 38 in literature guide

Week 6 Lesson 4 of APA

Optional grammar
Day 5
Catch-up on any incomplete work

Optional grammar
Week 24: Anne of Green Gables Literature Guide and APA Style Research Paper
Day 1:
Read page 15 Going Deeper

Answer questions on page 15 and 16 in literature guide

Week 7 Lesson 1 of APA 

Optional grammar
Day 2:
Review Classifying Characters

Answer questions on page 17 in literature guide

Week 7 Lesson 2 of APA

Optional grammar
Day 3:
Read Character Development on page 18

Answer questions on page 18 in literature guide

Week 7 Lesson 3 of APA 

Optional grammar
Day 4:
Write rough draft to your paragraph or essay from literature guide

Optional grammar
Day 5
Edit, write a final draft, proofread your paragraph or essay from literature guide

Optional grammar
Week 25: Anne of Green Gables Literature Guide and APA Style Research Paper
Day 1:
Read page 19 Personification

Answer questions from page 19 in literature guide

Week 8 Lesson 1 of APA 

Optional grammar
Day 2:
Read pages 20 and 21 Motif

Answer questions from pages 20 and 21 in literature guide

Week 8 Lesson 2 of APA 

Optional grammar
Day 3:
Optional suggested supplemental activities in literature guide

Week 8 Lesson 3 of APA 

Optional grammar
Day 4:
Optional suggested supplemental activities in literature guide

Week 8 Lesson 4 of APA 

Optional grammar
Day 5
Catch-up on any incomplete work

Optional grammar
Week 26: Hook Cinema Guide and APA Style Research Paper
Day 1:
Read introduction to cinema guide

Week 9 Lesson 1 of APA 

Optional grammar
Day 2:
Complete vocabulary

Week 9 Lesson 2 of APA 

Optional grammar
Day 3:
Watch the first half of the movie, pausing as you go to jot down your thoughts in response to the questions

Week 9 Lesson 3 of APA 

Optional grammar
Day 4:
Watch the second half of the movie, pausing as you go to jot down your thoughts in response to the questions

Week 9 Lesson 4 of APA 

Optional grammar
Day 5
Review your answer to all questions in cinema study guide

Optional grammar
Week 27: Hook Cinema Guide Guide, APA Style Research Paper, and Public Speaking Presenting Spoken Word Poetry
Day 1:
Review the introduction material and your notes and answers to questions from the first viewing. Read the instructions for the writing assignment to have an idea in the back of your mind as you watch the movie tomorrow.

Week 15 Lesson 1 of research paper

Read the Introduction to public speaking, complete the research page and warm up goal activity from the speech guide

Optional grammar
Day 2:
Watch the movie without pauses

Week 10 Lesson 2 of APA 

Read the instructions, select your poem, practice a few methods from the speech guide

Optional grammar
Day 3:
Think about and outline your writing assignment from cinema guide

Practice more methods with your poem from the speech guide

Week 10 Lesson 3 of APA 

Optional grammar
Day 4:
Edit your writing assignment from cinema guide

Complete 1 or 2 of the practice options from the speech guide

Week 10 Lesson 4 of APA 

Optional grammar
Day 5
Finish your final draft and proofread from cinema guide

Present your reading to a group

Optional grammar
Week 28: Old Possum's Book of Practical Cats literature guide and Introductory Guide to High School Poetry Writing
Day 1:
Read the introduction to the guide, read the poems mentioned on pages 5, 6, and 7

Answer questions on pages 5, 6 and 7 in literature guide

Read introduction to poetry, Week 1 Lesson 1 of poetry

Optional grammar
Day 2:
Read the poems mentioned on pages 8, 9 and 10

Answer questions on pages 8, 9 and 10 in literature guide

Week 1 Lesson 2 of poetry 

Optional grammar
Day 3:
Read the poems mentioned on pages 11, 12, and 13

Answer questions on pages 11, 12 and 13 in literature guide

Week 1 Lesson 3 of poetry

Optional grammar
Day 4:
Optional rough draft of essay from literature guide

Week 1 Lesson 4 of poetry

Optional grammar
Day 5
Edit, write a final draft, proofread your essay from literature guide

Optional grammar
Week 29: The Practice of the Pr. of God and Introductory Guide to High School Poetry Writing
Day 1:
Read the introduction of the guide, read conversation 1, work on vocabulary

Answer questions for conversation 1 in literature guide

Week 2 Lesson 1 of poetry

Optional grammar
Day 2:
Read conversation 2, work on vocabulary

Answer questions for conversation 2 in literature guide

Week 2 Lesson 2 of poetry

Optional grammar
Day 3:
Read conversation 3, work on vocabulary

Answer questions for conversation 3 in literature guide 

Week 2 Lesson 3 of poetry 

Optional grammar
Day 4:
Read conversation 4, work on vocabulary 

Answer questions for conversation 4 in literature guide 

Week 2 Lesson 4 of poetry

Optional grammar
Day 5
Catch-up on any incomplete work

Optional grammar
Week 30: The Practice of the Pr. of God and Introductory Guide to High School Poetry Writing
Day 1:
Read the letters from literature guide

Week 3 Lesson 1 of poetry 

Optional grammar
Day 2:
Write a letter from literature guide

Week 3 Lesson 2 of poetry

Optional grammar
Day 3:
Edit, write a final draft, proofread your letter from literature guide

Week 3 Lesson 3 of poetry

Optional grammar
Day 4:
Pick 3 quotes from literature guide and respond

Week 3 Lesson 4 of poetry 

Optional grammar
Day 5
Catch-up on any incomplete work

Optional grammar
Week 31: The Truman Show Cinema Guide and Introductory Guide to High School Poetry Writing
Day 1:
Read the introduction to the cinema guide

Week 4 Lesson 1 of poetry

Optional grammar
Day 2:
Complete the vocabulary

Week 4 Lesson 2 of poetry

Optional grammar
Day 3:
Watch the first half of the movie, pausing as you go to jot down your thoughts in response to the questions

Week 4 Lesson 3 of poetry

Optional grammar
Day 4:
Watch the second half of the movie, pausing as you go to jot down your thoughts in response to the questions

Week 4 Lesson 4 of poetry 

Optional grammar
Day 5
Review your answer to all questions in cinema study guide

Optional grammar
Week 32: The Truman Show Cinema Guide and Introductory Guide to High School Poetry Writing
Day 1:
Review the introduction material and your notes and answers to questions from the first viewing. Read the instructions for the writing assignment to have an idea in the back of your mind as you watch the movie tomorrow.

Week 5 Lesson 1 of poetry

Optional grammar
Day 2:
Watch the movie with out pauses

Week 5 Lesson 2 of poetry 

Optional grammar
Day 3:
Think about and outline your writing assignment from cinema guide

Week 5 Lesson 3 of poetry 

Optional grammar
Day 4:
Edit your writing assignment from cinema guide

Week 5 Lesson 4 of poetry

Optional grammar
Day 5
Finish your final draft and proofread from cinema guide

Optional grammar
Suggested Syllabus for One Year English/Language Arts 9