My High Schooler's Favorite Reads in British Literature  Occasionally we like to present our favorites. So today, you get input from the 9th grader.
My High Schooler's Favorite Reads in British Literature
We were reading British authors this fall, so I wondered what his favorite books were and some of his quotes:
"For he that does good, having the unlimited power to do evil, deserves praise not only for the good which he performs, but for the evil which he forbears." Sir Walter Scott
"We are like the herb which flourisheth most when trampled upon"
2) Chronicles of Narnia by C.S. Lewis (you never outgrow them)
"Peter did not feel very brave; indeed, he felt he was going to be sick. But that made no difference to what he had to do."
"When I'm older I'll understand" said Lucy, " I am older and I don't think I want to understand", replied Edmund"
3) The Hobbit by J.R.R. Tolkien
"There is nothing like looking, if you want to find something. You certainly usually find something, if you look, but it is not always quite the something you were after."
"Where there's life there's hope."
4) Winston Churchill's speeches
"It is no use saying 'we are doing our best.' You have got to succeed in doing what is necessary."
"It is a mistake to try to look too far ahead. The chain of destiny can only be grasped one link at a time."
5) Some of the British poets- Kipling, Christina Rosetti, William Cowper
"God moves in mysterious ways, His wonders to performs"
"Knowledge is proud that he has learned so much. Wisdom is humble that he knows not more."
6) The Epistles in English Standard Version (I know, the Brits didn't write it, but it is a lovely British translation.)
Of the 27 books in the New Testament, 21 are epistles, or letters, many of which were written by Paul. The names of the epistles attributed to him are Romans; I and II Corinthians; Galatians; Ephesians; Philippians; Colossians; I and II Thessalonians; I and II Timothy; Titus; and Philemon.
7) Old Possum's Book of Practical Cats by T.S. Elliot
"The Naming of Cats is a difficult matter,
It isn't just one of your holiday games;
You may think at first I'm as mad as a hatter
When I tell you, a cat must have THREE DIFFERENT NAMES."
"Before a Cat will condescend
To treat you as a trusted friend,
Some little token of esteem
Is needed, like a dish of cream;"
8) A Christmas Carol by Charles Dickens
"There is nothing in the world so irresistibly contagious as laughter and good humor."
"I will honour Christmas in my heart, and try to keep it all the year. I will live in the Past, the Present, and the Future. The Spirits of all Three shall strive within me. I will not shut out the lessons that they teach."
As you can see, my 9th grader is working through British Literature. He is working for an honors credit using our 7Sisters British Literature course as his base. We love our British Literature course because it is based on real books and meaningful study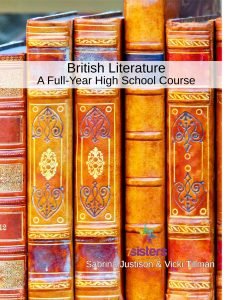 guides. The study guides are no-busywork format and help homeschool high schoolers develop some good inferential skills. Also, each guide covers only one or two literary analysis themes so that the guides don't kill the enjoyment of the book.
7Sisters also sells the guides separate if you want to create your own unique book list for your high school student.
We love that homeschooling gives us the option of creating courses tailored to our teens interests.
If you need more help with homeschooling high school join our Facebook group! Us and other 7sisters are always there to offer suggestions and encouragement on this homeschool journey.
You can also ask what others know are their high schooler's favorite reads in British Literature. We love when everyone shares their journeys and experiences.
If you are looking for more guidance on how to create the English/Language Arts credit for homeschool high school we have posts and products to help.
Here's a post on how to create an Honors-level British Literature credit.
Do your students have a favorite work of British Literature?
7Sisters email subscribers receive periodic practical encouragement, special offers and NO SPAM EVER.
Click the image above to periodically receive real homeschool value in your inbox.
My High Schooler's Favorite Reads in British Literature