Here are 7 tips for a professional-looking homeschool transcript!
Professional-looking Homeschool Transcript
1. The transcript should be easy to read and understand. Some college admissions officers have only time enough for 1 or 2 minutes per application. They need to be able to read quickly through a transcript! Type neatly, use consistent fonts and edit carefully!
2. The transcript should show work completed in each year. While some homeschool parents will break a transcript into subjects rather than use a yearly account of their high schooler's work, it is more traditional to show what your student has accomplished each year. Make sure you show grade and year, for instance: 9th grade 2016-17.
3. The transcript should present information in a manner that is consistent from year to year. Keep the same order of courses for each year. For instance, show Language Arts first, followed by Mathematics, Social Studies, Science, World Language, Fine Arts, Physical Education, Career Exploration, and Electives.
4. The transcript should show courses completed, along with credit and grade earned. High school credits are based on Carnegie Units. Read this post on how to earn credits.
5. The transcript should, if possible, include some extra-curriculars, service, and competitions. Record each category separately. 
6. The transcript should reveal the level of rigor of work done in core subjects (English, Math, Social Studies, and Science). This is absolutely necessary if you want a college admissions officer to understand your homeschool high schooler's academic strengths. If your teen worked hard on Language Arts and earned an Honors credit, that needs to be shown on the transcript. Conversely if your students struggles in Math and only earned an Average level credit in Algebra, an honest transcript will show that also. Make sure you include a key or legend on the transcript to show how those Honors, Advanced, College Prep, or Average credits were earned. Here is more information on levels.
7. Transcripts should be signed by the "principal" and sealed. You are the principal, of course. You are signing the transcript to verify that you have approved all the credits your homeschool high schooler has earned. You should also seal the document. (Buy a document stamp at the local office supply store with your school's name on it.)
However, if your will be uploading the transcript to an electronic college application (such as Common Application or SendEdu) the seal won't show, so you really won't need it. In fact, your signature can simply be your "electronic" signature. (Just type your signature and title at the bottom of the transcript.)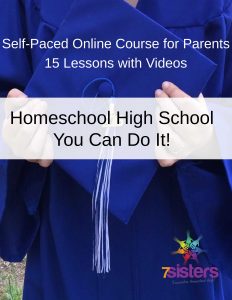 Be sure to update the transcript each year! 

Want to make certain that your homeschool teen has the best high school experience and is prepared for college (or career life) after graduation?
You need our self-paced, online course for parents: Homeschool High School: You CAN Do It! This fun, 15-lesson course for parents included helpful video, lessons, and resources. The affordable $35 you spend now getting your homeschool high school parent-training will be some of your best investments. Start Homeschool High School: You CAN Do It! today!
7Sisters email subscribers receive periodic practical encouragement, special offers and NO SPAM EVER.


Click the image above to periodically receive real homeschool value in your inbox.
Professional-looking Homeschool Transcript