By January, you KNOW when something is not working, so here is how to adjust curriculum mid-year for homeschool high schoolers.
How to Adjust Curriculum Mid-Year for Homeschool High Schoolers
Most of us homeschooling parents have found that Januaries often bring hit-the-wall times. These are the times where we and our teens have to face the fact that some of our curriculum just is NOT working. And when curriculum is not working, no one is happy!
The cool thing about homeschooling is that we are not stuck with a textbook that our teens hate! As you know, there's not ONE right way to homeschool high school so there's not ONE kind of curriculum.
Now is the time to try something new. For the newbies to homeschooling: this is okay! It is part of homeschooling. AND it is fun to ditch something that isn't working. (Check here for some fun ways to scrap your schoolbook!)
If you have not done a mid-year checkup, here are some things to check on with your teens.
The number one question to ask at a mid-year checkup, of course, is:
How are the academics coming along?

 Core courses
Elective courses
If things are going well, have a little celebration! That is wonderful!
If things are behind, ask your homeschool high schoolers:
If academics are not where they should be, do not despair. All it means is that now is the time to recalibrate! Sit down with your teens and ask:
Is their curriculum too boring?

Everyone has different learning styles. For instance, if I had to do a high school math course myself and it did not have some color and photos, I would find it hard to learn. Too much print on a page is boring, in my humble opinion.
We all understand that some SUBJECTS will be boring to teens, no matter which textbook they use. However, if those courses are state requirements for graduation, they must study those subjects anyway.

In this case, it is good to ask:
"Are there textbooks or courses that might inspire my teens?"
Do they simply hate the curriculum?

If your teens HATE the curriculum, it will be hard for them to learn!

I remember one of the math texts we used with one of my teens was highly recommended by some of his friends. They loved the silly, almost snarky, tones in the text. However, my son found that tone was irritating and distracting. We had to switch out textbooks for something more simple and direct. There are SO many different kinds of learners.

Sometimes a curriculum just does not work. It is difficult to toss the curriculum when you have invested time and money in it. However, it is hard for teens to learn well when they are miserable.

Is the curriculum overwhelming with too much to cover?

Sometimes high school textbooks go into way more depth than is useful for many high schoolers. Many teens do not need textbooks that cover everything under the sun. They would do better with a simpler text book.

The exception to this is teens who are taking AP courses (those textbooks cover extra material) or are heading for a more competitive college.

Or is the curriculum way over their heads?

Click image for full description.

Are there too many demands on their schedules and they cannot keep up?

Do they need better study skills?

Sometimes, the problem is not the textbook but the high schooler's lack of adequate study skills. Teens need reading, attention, inferential and organizational skills to read textbooks. Here is post to help you help your teens develop study skills for reading textbooks.

Or do they need an attitude adjustment?
Making the curriculum adjustments
So, if you and your homeschool high schoolers need to make some curriculum adjustments during this mid-year time, here are some tips:
Try something new

Ditch from the stuffy, overly busywork curriculum.
Download something inspirational like 7Sisters' level-able, no-busywork etexts and study guides.
FAQs for curriculum adjustments at the mid-year
When I was serving as academic advisor at our local homeschool umbrella school, I often received these questions when we were working on recalibrating at mid-year.
Do we have to start over at square one with the credit?
No. Take a look at the syllabus, scope and sequence or table of contents for the textbook you are ditching. Then look at the new scope and sequence or table of contents. Cross off the topics already completed and start from there.
How do we record the academic level of the course?
If you have a supervising organization, they may have guidelines for this. In our case, we determined the academic level that would be shown on the transcript at the end of the school year by looking over the work completed to see which level was completed.
Do we have to note the change of curriculum on the transcript?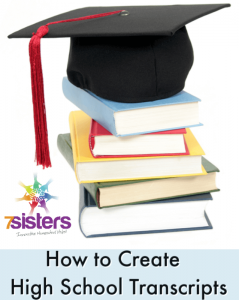 No. Transcripts only show the name of the course, the amount of credit and grade (and often the academic level of the course). It does not include the name of the curriculum.
However, if you are keeping course descriptions (occasionally colleges or transfer schools want these), note the curriculum adjustment in that document.
Your homeschool high schooler does not need to stay stuck! Work together to make academic adjustments during this new semester!
BTW- Have you met our Cousins? They are our BFFs who share wisdom and advice with the 7Sisters community and their own communities. They share resources, how-to's, do coaching and more. Check out the Stuff We Like from our Cousins!
7Sisters email subscribers receive periodic practical encouragement, special offers and NO SPAM EVER.


Click the image above to periodically receive real homeschool value in your inbox.