Here is a big list of electives for homeschool high school.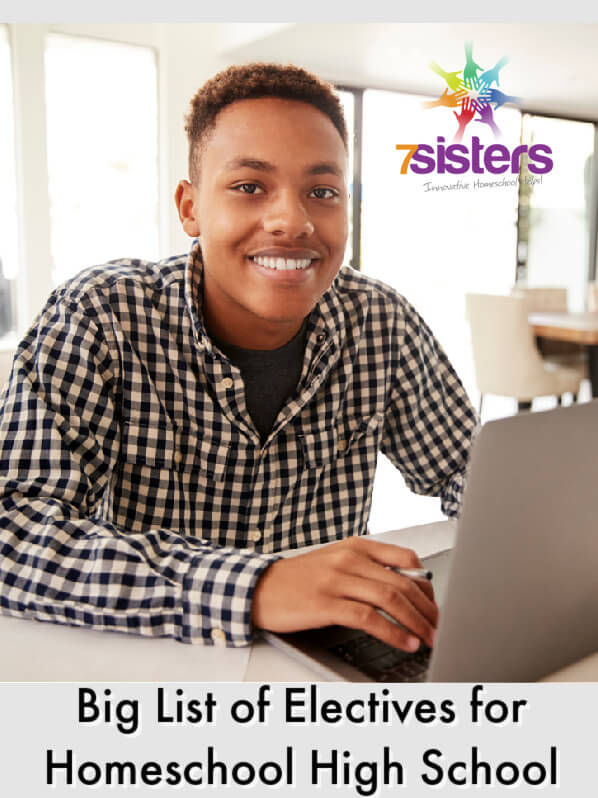 Big List of Electives for Homeschool High School
When my homeschoolers were in high school, their electives were some of the most meaningful and life-changing courses. To this day, they can reflect back to their years and notice how electives prepared them for their career choices and for adulting.
Electives, therefore, in our opinion, are awesome!
There are SO many to choose from that can help your teens explore and grow. How can you figure out which are the best electives for your teens. After all, they can only fit a certain number on their transcripts.
BTW- if you need an in-depth explanation of how electives work in homeschool high school, check out our Authoritative Guide to Electives.
Here are the types of electives
First: Here is a complete list of elective curriculum from 7Sisters.
You can break the types of high school electives into five categories:
Cover a basic need for graduation
In some states, teens need certain types of electives on their transcripts. In other states, these courses may not be required but they are helpful. Some examples:
Develop a life skill
Our teens need to prepare for adulting. The cool things is that we can capture what they are learning on their transcripts! Remember: all of life is education! Here are some examples:
Self Defense and Safety
First Aid
Help teens discover interests or skills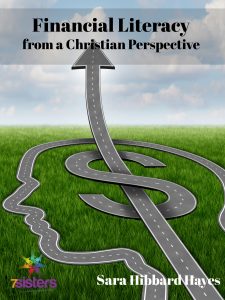 Sometimes teens have no idea what they are interested in or what skills they may actually have. This is often embarrassing to them because they feel pressure to know more about their interests and skills.
I always tell them not to worry! They simply have not found their interests yet. They simply need explore a bit and try new things. Each year, they should try some completely different courses than they have experienced before.
Electives for homeschool high school that explore interests
Once teens have discovered some interests, they can earn homeschool high school elective credits by learning more about that interest.
Steward a gift
As homeschool high schoolers learn about their interests, some of those interests will help them discover their giftings, they would be wise to steward them/grow those gifts. This gift may lead them to a career or college major choice. (Here are some tips from our friend, Betsy, on how to use electives on college applications.)
So, as often as you can, choose electives that will help your teens grow in each of these areas.
With that in mind, here is that list of electives for homeschool high school
This is not an exhaustive list. For more ideas, check out these posts from our friends:
Agriculture
Introduction to Agriculture
Animal Husbandry
Horticulture
Arts and Creative Subjects
Business
Barber training
Barista training
Business Math
Culinary Arts
History
Any topic of interest above and beyond the normal History credits. Here is a post to help with History electives.
Here are some History electives that our teens have earned:
Histories of a country of their choice
History of Fashion
Native Americans
Presidents and Their Families
World Wars
Military
Apologetics (Check out 7Sisters' FREE Apologetics curriculum)
Bible Studies
Theology
Social Sciences
Sports
Any Phys Ed or Fitness credits above those needed for graduation, such as:
Baseball
Equestrian
General Fitness Training
Gymnastics
Hockey
Karate
Yoga
Stem
Advanced Biology
Advanced Chemistry
Animal Anatomy and Care
Anatomy and Physiology
Any math beyond basic Calculus (for example, Statistics)
Botany
Computer and other Technology (for example: Coding, Programming, Game Design)
Environmental Studies
Introduction to Engineering
Marine Science
Web Design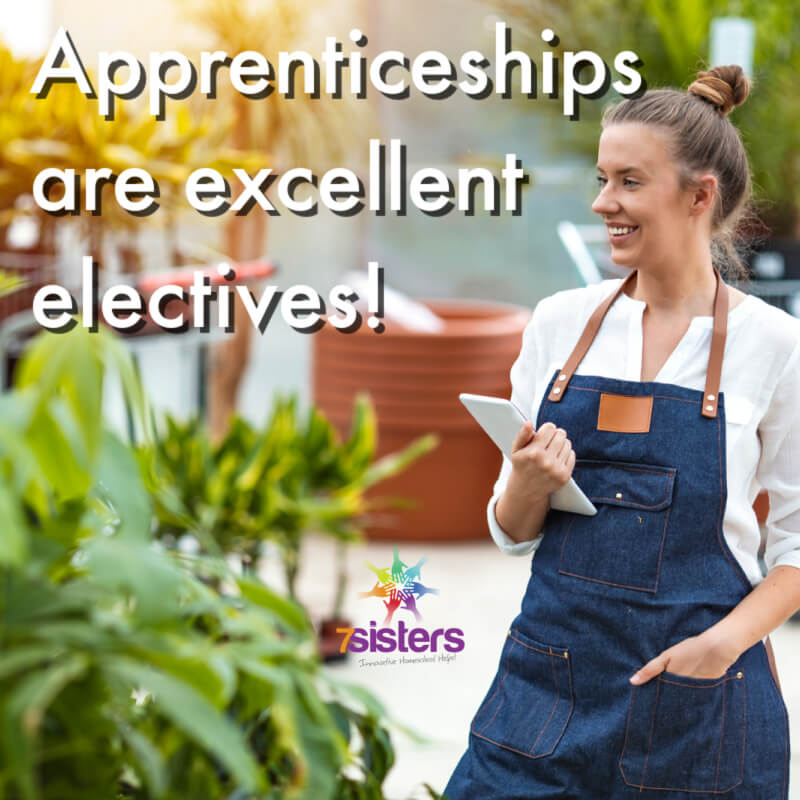 Thinking and Reasoning
Vocational Training
Teens can begin training for trades with several resources such as their community college or local unions. Some trades that our local homeschool high schoolers have included:

Carpentry
Electrical
Painting
Plumbing
World Languages
Some teens like World Languages so much that they want to learn languages above and beyond the basic requirements. Thus, any other languages that are studies can be electives. Some additional languages that our teens have explored are:
Chinese
Korean
Latin
Norwegian
What would you add to this list? What are some elective credits your homeschool high schoolers have earned?
7Sisters email subscribers receive periodic practical encouragement, special offers and NO SPAM EVER.

Click the image above to periodically receive real homeschool value in your inbox.