By request, here's a college planning timeline for homeschool high school.
Timeline for College-Bound Homeschool High Schoolers
Before we start, let me remind you that there's not ONE right way to homeschool high school. The following timeline is a suggestion. It can help you and your teens plan their high school years but be sure to adjust the timeline to fit each teen's needs (and each family's needs).
BTW: For a career (for non-college-bound teens) planning timeline for homeschool high school, click here.
In my years as a homeschool advisor, I helped hundreds of teens plan their course through homeschooling high school and into college. There is a basic timeline for college-bound homeschool high schoolers that I helped guide along our local homeschoolers (and my own teens). Here it is (adjust at will):
College Planning Timeline for Homeschool High School: Ninth Grade
Ninth grade is about identifying interests, abilities and callings. Identifying these things will help guide the rest of your homeschool high school planning.
First off, remember that spring semesters can be great for getting things done, so here's a post to help you plan your spring!
Identify your teens' interests
This is a good time to sit down together and talk about it. Make a list. Read this post together and do make some plans to:
Explore some new interests
Invest in current interests through

Volunteer work
Interest group or club activities
Specific studies.

Remember, interests do not necessarily need to become careers. They might. But if they do not, they have helped to develop your teen's

Click image for full description.

Character
Reference writers/community connections
Sense of fun and/or dedication
Good transcript and maybe a good college application essay topic

REMEMBER: If your homeschool high schooler has invested in an interest (especially one that is part of a group), include this on the transcript in the Extracurriculars section. You can download 7Sisters editable transcript with instructions to create a college-attractive transcript.
Identify your teen's skills or abilities
Have an honest look with your teen at skills, talents and abilities:
Some teens feel they have no skills, talents or abilities. This is a common part of adolescent identity development.
This is a time to be honest as a parent about what you see in your teen. Perhaps have a mentor, youth group leader or other trusted adult explain your teen's strengths.
You can do yourself a favor by checking out these two interviews with Anita Gibson on Homeschool Highschool Podcast (and get her helpful, helpful book: StarFinder to help you identify your teen's strengths as well as your own). We are not affiliates, btw.
Begin discussion college types/choices and working toward those
Your teen does not need to make a decision but the idea should be introduced. There are different kinds of college choices. Start with this post.
There are two types of teens who need to give some serious thought to the kind of college they will want to attend:
Check local college websites and see what they are looking for
Many colleges list admission requirements or preferences which may include:
How many high school credits and of which subjects?
Community involvement (extracurriculars, volunteerism)?
Competitiveness?
SAT, ACT or CLEP scores?
Other categories?
Decide whether to do testing of any kind
You can look into PSAT9 if you wish. This is a practice PSAT. It is not necessary unless you have a teen who will need a competitive score and wants some practice in the test-taking setting.
College Planning Timeline for Homeschool High School: Tenth Grade
Continue your good work from ninth grade with your teen in tenth grade (exploring and developing interests, skills and abilities). Keep the academics strong. Make sure the core academic courses (English/Language Arts, Maths, Sciences, Social Studies, World Languages) are college prep level or higher.
Do a Career Exploration course
This is a good year for Career Exploration. Teens who have a clue what they want to study in college will feel more solid after completing Career Exploration curriculum and some career oriented experiences. Teens who don't have a clue yet, will benefit from a thorough Career Exploration curriculum to help them understand themselves and clarify their thinking.
Discuss college majors
Tenth graders will often change their minds about college majors, but it is a good idea to begin discussing possibilities. Here is a Homeschool Highschool Podcast episode to help and a freebie download.
Then choose a course or two to develop that idea. For instance:
If your teen is interested in Math or Computer Science:

Make sure math courses are on track (Algebra, Geometry, Algebra II, PreCalc, Statistics, maybe even Calculus)

If your teen is interested in Psychology:

Take and Psychology course and a Human Development course

If your teen is interested in History:
Explore college websites
Try to get a feel for the mission and culture of the college. Look at tuition and room/board. Look at graduation rates and how much of the faculty is full time (a college with mostly adjunct professors may not be able to provide the mentoring that colleges with reasonably paid full-time teachers can provide).
Keep the transcript rich
With electives, extracurriculars, service and competitions.
Extracurriculars optimally will show several years' commitment (leadership helps, too)
Here's how to build a college-attractive transcript
BTW- Don't wait until senior year to work on the actual transcript. Keep it up to date
Decide if your teen should do testing
The PSAT10 is available for homeschoolers. It is good practice for the PSAT and SAT but not a requirement.
College Planning Timeline for Homeschool High School: Eleventh Grade
Junior year is the last full year that colleges will see on the transcript when your teen sends in the college application. Thus you will want to make sure that this year looks solid:
Good grades
Academic rigor (make sure the level of coursework is recorded on the transcript)
Courses that sparkle and build college-major interests
Extracurriculars
Service
Competitions
Take college tours (digitally or in person)
Plan ahead so your time is well spent. Have specific things you and your teen will be looking for. Check out this post for specifics.
Take tests where necessary
The official PSAT is fall of junior year. The highest scores in the state might earn your teen a National Merit Scholarship.
Many high schoolers take the SAT and/or ACT in the spring of junior year. (This gives them time to take it again in the fall of senior year if necessary.)
Some colleges have dropped the SAT or ACT requirement for admissions. However, your teen may need it for scholarships (given by the college) or for placement (some colleges use scores for math placement).
Get more tips from this post and this "don't miss it" episode of Homeschool Highschool Podcast for a successful junior year.
Read more about why the junior year is so important.
Decide if your teen will do dual enrollment classes this year.
College Planning Timeline for Homeschool High School: Twelfth Grade
This is the big year! So much to do!
Create good memories
Make sure your senior has time with family and friends, as well as special events to attend (such as a prom, perhaps) These will create memories that they can carry as they head off to college next fall.
Stay calm!
This one's for you, Homeschool Mom. It is so hard not to get stressed when you have a senior. Here are some ways to handle the "I've Got a Senior Panic". Here's an encouraging post for helping teens manage stressful times.
High schoolers: keep the grades up and Moms: keep the transcript up to date!
When applying to many colleges, your teen will most like need to submit first quarter grades and then follow up with first semester grades. Then you'll need to send a final transcript after graduation. This means grades need to stay good, even if your teen has senioritis!
Chose one to five colleges for applications
Generally, more than five colleges will be a waste of your time. Many teens choose three colleges to apply for:
A dream college (that might be a reach because of competitive admissions requirements)
A local and/or state college
A sure-thing college
Start with deciding the answer to the type of college:
Will your teen attend a two-year college? (Application process will be much easier and deadlines later.)
Will your teen attend a four-year college? (Check websites for application information and deadlines.)
Decide when to apply
College websites will tell you about things like:
Early admissions (advantageous for dorm choices at some colleges)
Regular admissions
Rolling admissions
Check out this episode of Homeschool Highschool Podcast on how to apply to college as a homeschooler. First generation college applicants, check out this episode for success tips.
Start EARLY!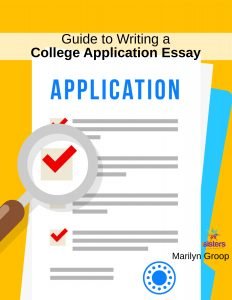 Get the admissions essay done long ahead. 7Sisters has a lovely writing guide with tricks and tips to help with admissions essay writing. Here's a post to get you started on the College Application Essay. Your student might also want to include an experiential resume.
Take care of FAFSA and financial aid
You can file your teen's (with your) FAFSA application in October each year. Colleges will get back to your teen with a financial aid offer. Most colleges will do this after acceptance.
BTW: In 2016, the FAFSA deadline was moved from January to October.
Here's a post with tips for finding scholarships.
Lastly: Talk about skills needed for college success.
Give your teens the skills they need for the college classroom.
Want a month-by-month breakdown of what to do through senior year?
The earlier you start planning, the better. Maybe contacting a homeschool coach would help – read more here.
You can do this! And so can your teen. There's not one right way to homeschool high school and these are the best years of all! For college-prep study skills, check out this post as well as this interview with college professor, Dr. Rachel van der Merwe. Read more about being homeschooled and headed to college.
7Sisters email subscribers receive periodic practical encouragement, special offers and NO SPAM EVER.

Click the image above to periodically receive real homeschool value in your inbox.
College Planning Timeline for Homeschool High School